About Webex
Webex brings together Calling, Meeting and Messaging modes of collaboration into a seamless, engaging, inclusive and intelligent experience. Seamless collaboration across devices, locations and organizations • Use any computer, tablet, phone, browser or Cisco devices to connect • Collaborate with people outside your organization as easily as those inside • Minimize app switching with bi-direction integrations with other popular business apps Make collaboration more interactive and engaging • Reduce disruptions with background noise removal and voice enhancement • Enable audiences to share their reactions with animated emojis and gesture recognition • Improve audience engagement with next-gen dynamic polling and Q&A by Slido • Customized the stage layout to focus on the content and people that matters most Make collaboration more inclusive • Remove language barriers with real-time language translation into 100+ languages • Ensure everyone's voice can be heard with anonymous polling/Q&A by Slido • Encourage everyone to participate with breakout rooms that enable smaller group discussions Let Webex help you work smarter • Make meetings more productive with automatic transcriptions, notes and highlights • Utilize spaces to schedule team meetings and have recordings and transcripts automatically stored in the spaces for easy access • Monitor and manage your work-life balance and professional relationships with personal insights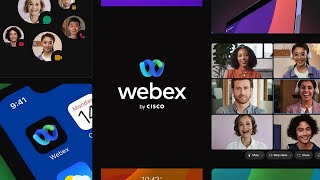 Webex has a free version and offers a free trial. Webex paid version starts at US$25.00/month.
Starting Price:
US$25.00/month
Industry: Electrical/Electronic Manufacturing
Company size: 11–50 Employees
Used

Weekly

for

2+ years

Review Source
---
Host Meetings Professionally!
Cisco WebEx keeps our meetings professional for both internal users and clients we work with! We've noticed that most people are familiar with the software and have used it before so it makes hosting meetings even easier.
Pros
WebEx is really easy to use and setup! From both the view point of the admin setting up a meeting or an end user who was invited to a meeting, it's all really simple! I especially enjoy how WebEx will automatically adjust for time zone changes since many meetings I'm joining or hosting are with people on the other side of the country. Screen sharing also works really well, usually I'd experience some bandwidth issues with other software but for some reason WebEx works wonderfully!
Cons
The only con I can think of is that sometimes if I'm joining a meeting that I have scheduled in my Google Calendar it won't work correctly. It should be able to load the meeting invite and join as intended but I usually find myself having to manually enter the meeting ID, attendee ID, and passcode.
Reasons for Choosing Webex
We wanted a more professional look and feel once we migrated from Google Apps for Business to Office 365 but didn't want to utilize Skype for Business.
Reasons for Switching to Webex
It was pricier than most but because WebEx is such a familiar name with lots of users and so simple to use we felt the price and ROI was justified.
Industry: Staffing & Recruiting
Company size: 1,001–5,000 Employees
Used

Daily

for

1+ year

Review Source
---
Webex for Everyone !
Overall experience regarding WebEx remains top notch as I've been using it more than a year over a long period of time it's consistency has shown a lot of results .
Pros
The most impactful feature about WebEx that it keep us in touch with your colleagues , managers and team leads . End to end update can be shared easily among the team members
Cons
No , Nothing was difficult when it comes to WebEx , it's a very simplified software used by my organisation and i didn't find any difficulty integrating it with the process
Reasons for Choosing Webex
Expensive and a lot of flexible options are available in WebEx
Reasons for Switching to Webex
WebEx is more accessible on vast variety of mobile devices than teams .
Industry: Financial Services
Company size: 10,000+ Employees
Used

Daily

for

2+ years

Review Source
---
How the mighty have fallen
WebEx used to be great software. Now it is mediocre software that is overpriced and underfeatured. Asking a question on a Cisco forum about WebEx has the moderator close your question and redirect you to a WebEx site. WebEx is past its prime, and it shows in the lack of revolutionary or even maintenance features in the WebEx client. Nearly any other choice will be cheaper and offer a better experience to users.
Pros
WebEx was the default leader in virtual meetings. Subsequent to its acquisition by Cisco, things got markedly better. The tool had broad integration with scheduling tools like Outlook, and the (relatively) recent addition of the ability to attend a meeting using only a browser is an added bonus for people who lack administrative rights on their PCs.
Cons
With stiff competition from Microsoft's Skype for Business, the venerable GoToMeeting, and newer arrivals like Slack and Zoom, WebEx is now a choice amongst many. When WebEx works, it does so decently at best. It suffers from bandwidth issues, even with only two participants in the same building. Furthermore, if a large enterprise buys an account, they are given "dedicated" support. When the client recently kept crashing every time I joined a meeting, I called the WebEx support number. After a half hour, I was told I needed to be transferred to our company's dedicated support team, who (after an hour of not being able to fix my problem) said I needed to be transferred to Cisco. Their agents wanted me to roll back device drivers (that hadn't been updated in over three months) and even suggested I may need to reinstall my operating system! I told them I had no issues with any of the other tools I use daily (Hangouts, Slack, Zoom, Skype for Business) and that I could attend a WebEx meeting if I used a browser. The agents only knew how to read from a script, and still haven't solved my problem.
Industry: Education Management
Company size: 1,001–5,000 Employees
Used

Weekly

for

1-5 months

Review Source
---
High Quality Pictures and HD Videos While Online Conferencing
If you are looking for conferences and presentations that stand out, than head to Webex; its bunch of features, clear voice, high-quality pictures, HD videos, and plenty of integrations make it the champion of video conferencing and team meetings.
Pros
Webex is far away than its competitors in video conferencing for the great features and benefits it brings to its users; its quality pictures and HD videos make it stand out much better than Zoom or Google Meet. Though it is complicated to understand at first, the functionalities are packed on your left; they do range from screen and file sharing to recording and annotating tools, and from its compatibility with various devices to security features and third-party integrations, much more! One more thing, Webex is more than a video conferencing platform; it makes any workload easy to manage thanks to many integrations, namely Vidcast messaging and Slido Q and A facility.
Cons
Though a fan of Webex, I still see it expensive than Teams, Zoom and Google Meet. Webex is obviously not for beginners and you need to go along its rich dashboard for a while to understand how it works compared to its competitors.
Industry: Information Technology & Services
Company size: 10,000+ Employees
Used

Weekly

for

1+ year

Review Source
---
A Professional Video Conferencing
This stage is extremely easy to understand and presently we can speak with various individuals across the world. Presently without movement, we can meet anybody, and this is great for our organization and business.
Pros
I feel greater adaptability in my organization now when I can remain associated with video conferencing through Webex Meetings. The elements and choices of this stage are unbelievably proficient. Since they have decreased the interruptions with the high level of commotion expulsion is highlighted. So it's not difficult to talk and examine business matters with partners. The programmed record highlight is likewise generally excellent. Despite the fact that we can record our discussions, it's astounding.
Cons
I figure the streaming length on the fundamental free variant ought to be more. As indicated by my own involvement with Webex Meetings, any remaining highlights are perfect, there isn't so much as a solitary negative point.
Reasons for Switching to Webex
We are involving this extraordinary stage for both video and sound conferencing. On account of its great association, we are making proficient gatherings with different workers. It's truly wonderful for our business.