About Nimble
Nimble offers browser widget and mobile-based sales force automation and social CRM solution for small and midsize businesses. The solution automatically populates customer profiles and interaction histories from contact lists, email conversations and social media activity across a range of popular platforms including LinkedIn. In addition to contact and pipeline management features such as deal tracking, task management, and alerts, Nimble also includes integrated social listening to keep customer profiles updated. This allows businesses to track which contacts are mentioning, following or engaging with them, or who are celebrating milestones such as birthdays—which in turn creates valuable opportunities for informed outreach and follow-ups. Nimble's "Today Page" offers one comprehensive view of to-dos, key deals and engagement opportunities. These are generated by Nimble's "Rules Engine," which learns from user behavior to prioritize social signals and predict which contacts and opportunities are most relevant. Nimble also offers a range of email widgets, allowing users to view rich, contextual detail from their contacts' Nimble profiles even from outside the system.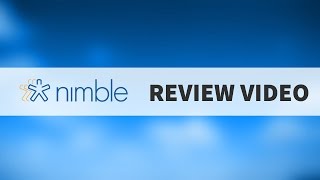 Nimble does not have a free version but does offer a free trial. Nimble paid version starts at US$19.00/month.
Starting Price:
US$19.00/month
Industry: Farming
Company size: 2-10 Employees
Used

Daily

for

2+ years

Review Source
---
Simple & Effecient
Overall I have been happy with this product. It keeps evolving and keeps getting, generally better. The customer service is over the top. Quick response, always there if we have a questions. I like that!
Pros
Easy to assign tags and group the ones you want to use to target specific groups for marketing purposes.
Cons
New UI for data entry is not as efficient as it used to be. Still simple but simple data priorities such as which phone number is primary is no longer available. You actually need to open the whole contact window to see all the data while before the summary gave the most important info.
Industry: Accounting
Company size: 2-10 Employees
Used

Daily

for

1+ year

Review Source
---
Nimble Review: The Difference of Opinions with Business Owners
Overall I truly enjoyed Nimble. It did not take me forever to figure out how to use and become comfortable with Nimble. However, my husband decided he wanted to go for a different CRM. I was not happy and disagreed but he moved us on to another product which is not half bad.
Pros
The Customer service for this application was amazing. This is hard to find in a lot of CRMs. For Nimble it did not require a lot of time getting used too. It was easy to navigate and easy to help other people learn the system. For the computer system, the application is light and moves faster. I don't believe I have ever had the app crash on me while in the process of using it. For a small business owner, it has a fair and reasonable price. This system is really good for tracking time sheets and scheduling. There was never any confusion about which person was taking which job with this section of the application.
Cons
The menus are difficult to find as some of them are hidden, you often have to take a moment to search for them. The limits on the email are quite frustrating. It also does not come with much storage and that can also be frustrating when trying to save and keep things organized.
Industry: Nonprofit Organization Management
Company size: 11-50 Employees
Used

Weekly

for

6-12 months

Review Source
---
If you can't afford to hire a systems administrator, Nimble can be a great substitute
My overall experience with Nimble has been great. When I decided on starting a part-time business management consultancy gig on the side, my biggest worry was how I was going to find the time to merge both effectively. Nimble has made that process seamless and absolutely stress-free.
Pros
What I like the most are it's automation and contacts management features. The ease with which I signed up for the free trial and subsequently upgraded after successful testing was my first indication of how good working with Nimble would be. Doing this as a part time consultancy gig, the effectiveness and efficiency of Nimble's automated processes allows me to save a lot of time on tasks and activities that would have taken up a whole lot of time from my work week.
Cons
Some features are not easily accessible with the way the interface is laid out. Which means for a first time user, you might have to spend a bit of time acquainting yourself with the program. But honestly, since it hasn't interfered much with my work or that of my clients' whose accounts I manage, I couldn't complain.
Industry: Real Estate
Company size: 2-10 Employees
Review Source
---
Private Commercial Real Estate Debt Company Reviews Nimble
We spent a good amount of time investigating our options and so with whatever drawbacks, we are still happy with our investment in nimble. Whatever its shortcomings, its much easier to use than our old system which was designed by a company called blue robin.
Pros
We like the simplicity, browser plug in is really interesting. its engaging but we don't use a lot of the features.
Cons
1) Like I said we do appreciate the simplicity but the biggest disappointment / the thing that would make the system a slam dunk for us if improved is simply the dropdown customization for contact categorizations. We have no use for "Hot Lead" we're not sales people, we're a capital source for the real estate world. We changed those to be subcategories of the lead type which we also customized. The disappointment is in that the system doesn't appreciate that more often than not, a Broker is often also a Buyer, an Attorney often dabbles as a Developer. It would be an easy thing for them to be both. For now we rely on tags although its prone to human error and I don't feel comfortable making mail lists off of them. In summary, our perfect system would allow for broad macro categories that we could customize and subcategories. As well as the ability to check multiple boxes 2) A couple of smaller things, When we connected our twitter account in uploaded all of the companies as people which was a disaster. There was no way to just flip them into companies. We had to delete them and remake them.
3) No customer service. It was a nightmare when we couldn't get an excel of contacts to upload properly, I think my associate had to tweet at Nimble to get any response. Eventually it was resolved. 4) For some reason we thought that connecting people's linkedin would tell us if they changed their job but so far it hasn't.
Response from

Nimble

Thank you for taking the time to review Nimble.

I want to address a few of the concerns you brought up in the Cons to help out.

For 1. We recommend using the Custom Data fields feature in Nimble to create uniform data instead of Tags because they can definitely get messy.

For 2. Twitter doesn't differentiate between people or company accounts over their API, therefore, we can only import all contacts as a person or a company. We chose to go with "person" by default because this is more often the case than not. We're planning to add the option to convert a contact record from a person to a company in the future to help with this pain from Twitter.

For 3. We offer customer support via email M-F from 9-5 PM Pacific and you will always hear back from us if you write to [email protected] We are also addressing CSV upload issues this summer to make it easier to bring your data into Nimble.

For 4. LinkedIn has limited their API from allowing CRM systems to sync job changes, therefore, you may update contacts with the Nimble Smart Contacts App while on LinkedIn if a contact changes their job. It's a different workflow, but it achieves the same result.

All in all, I really appreciate your feedback for Nimble. This is the kind of feedback we want so we can continue to stay at the top.

Best,

Joseph

Replied 23/06/2015
Industry: Marketing & Advertising
Company size: 2-10 Employees
Used

Daily

for

6-12 months

Review Source
---
Best of the best for newbies (oldies, too, maybe)
Blows my mind. I had some experience with CRM's a little, but did not until recently, actually need one. They were all so cumbersome. Nimble is actually fun to use. (shhh! Don't tell the boss. OH! That's me) who knew!?
Pros
It is very intuitive to learn & to use. I started with 2 other CRM's. The learning curve was prohibitive for both. I'd make a little headway, then realize I barely understood how they worked. One of them was so intricate that I never really "got it," despite tons of reference videos. The ability to seek other contact info is a very useful feature.
Cons
I cannot really come up with a disappointment. Nimble keeps working for me, not me for Nimble.