About Nimble
Nimble offers browser widget and mobile-based sales force automation and social CRM solution for small and midsize businesses. The solution automatically populates customer profiles and interaction histories from contact lists, email conversations and social media activity across a range of popular platforms including LinkedIn. In addition to contact and pipeline management features such as deal tracking, task management, and alerts, Nimble also includes integrated social listening to keep customer profiles updated. This allows businesses to track which contacts are mentioning, following or engaging with them, or who are celebrating milestones such as birthdays—which in turn creates valuable opportunities for informed outreach and follow-ups. Nimble's "Today Page" offers one comprehensive view of to-dos, key deals and engagement opportunities. These are generated by Nimble's "Rules Engine," which learns from user behavior to prioritize social signals and predict which contacts and opportunities are most relevant. Nimble also offers a range of email widgets, allowing users to view rich, contextual detail from their contacts' Nimble profiles even from outside the system.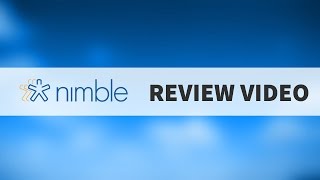 Nimble does not have a free version and does not offer a free trial. Nimble paid version starts at US$24.90/month.
Starting Price:
US$24.90/month
Industry: Nonprofit Organization Management
Company size: 501–1,000 Employees
Used

Daily

for

1+ year

Review Source
---
Making customer relationship management a breeze and exciting experience
Customer relationship management is made easy; this is probably one area not taken so seriously by marketers but once used you will notice how much you have been missing. Nimble has been straightforward from roll-out through to implementation. Product support is satisfying and encouraging
Pros
For the greater part I am impressed by the dashboard presentation of Nimble; it gives all the needed information at a sign glance, you can keep track of new connections and keep them in the loop. It is well integrated into other productivity applications like G-Suite, LinkedIn and Office 365 among others
Cons
Email limitations may be annoying but then that makes it a business as options are available if you would subscribe to premium priced packages
Reasons for Switching to Nimble
We picked Nimble because of the positive reviews it was getting from previous users
Industry: Health, Wellness & Fitness
Company size: Self Employed
Used

Daily

for

1-5 months

Review Source
---
Nimble from a Person who is not techie
Nimble makes it easy for teams to collaborate on projects and tasks. It provides a centralized platform for people to share ideas, assign tasks, and track progress. Nimble helps teams organize their tasks, set deadlines, and track progress. It can be used for both individual and team projects. Nimble allows users to automate certain processes such as task assignments and notifications. This helps keep teams organized and ensures tasks are completed on time. Improved Communications: Nimble makes it easy for teams to communicate with each other. It provides an integrated messaging platform and allows users to have conversations in real-time. By streamlining collaboration and automating processes, Nimble can help teams increase their productivity. It makes it easier to identify and address bottlenecks, which can lead to improved efficiency and performance.Benefits Nimble allows you to quickly and easily build out custom CRM solutions tailored to your specific business needs. Nimble provides powerful tools to help you track customer interactions and sales pipelines in real-time. Nimble integrates with most popular apps and services, allowing you to seamlessly sync data between different systems. Nimble offers customizable reporting and dashboard options to give you complete visibility into your sales and customer data. Nimble's highly intuitive user interface makes it easy to use and navigate, even for those with limited technical expertise. Service, Support
Pros
users to view and interact with their contacts' social media profiles directly within the app.User-friendly interface: Nimble has a user-friendly interface that makes it easy for users to manage their contacts, leads, and sales pipeline.Lead capture: The platform provides lead capture capabilities, allowing users to easily capture and store information about potential customers.Reporting and analytics: Nimble provides detailed reporting and analytics capabilities, allowing users to track their sales pipeline and monitor their success.Customization: The platform allows users to customize their contact database and sales pipeline, making it easier to align with their specific business processes.
Cons
Limited customization options: Some users have reported that the customization options in Nimble are limited compared to other CRM platforms.Technical issues: Some users have reported technical issues with the platform, such as slow performance and system crashes.Cost: Nimble can be expensive for some businesses, especially when compared to other CRM platforms.
Industry: Computer Software
Company size: 2–10 Employees
Used

Daily

for

2+ years

Review Source
---
Good entry level Sales Tracking System
Nimble has enabled us to get sell our service effectively. We have been able to track customer interactions and follow the progress of the Sale.
Pros
Ability to track email interactions. The ability to see all emails from myself and other team members to the customer.
Cons
Reporting and task assignments. I am not able to effectively assign tasks and monitor the process.
Reasons for Choosing Nimble
Lack of functionality in Sugar
Reasons for Switching to Nimble
Price, recommendation
Industry: Computer Software
Company size: Self Employed
Used

Weekly

for

1+ year

Review Source
---
Nimble: This Tool Can Boost Your Productivity and Efficiency.
Overall, Nimble is a powerful tool that can greatly improve your business's customer relationships and workflow, making it a worthwhile investment for many organizations. Nimble offers a mobile app that allows you to access and manage your customer data on-the-go, ensuring that you can stay productive and responsive even when you're away from your desk.
Pros
Nimble's ability to consolidate customer data from various sources into one easily accessible platform. This allowed me to quickly and effectively manage my customer relationships, resulting in better communication and increased productivity. Additionally, I may appreciate the software's intuitive interface and customizable dashboards, which can be tailored to suit my specific needs and preferences.And its ability to integrate with various third-party applications and tools, such as Gmail, Outlook, and Slack, among others. This allowed me to streamline my workflow and reduce the time spent switching between different tools and platforms.
Cons
One potential downside is that I personally find the pricing to be relatively high compared to other customer relationship management (CRM) tools on the market, but these are minor issues that can be overcome with a bit of investment and effort. Additionally, I perhaps find that the software's advanced features and customization options can be somewhat overwhelming at first, requiring a bit of a learning curve before they can be fully utilized.
Industry: Marketing & Advertising
Company size: 2–10 Employees
Used

Daily

for

6-12 months

Review Source
---
Nimble Software review
The relationship-based CRM software is user-friendly and well received by the company's staff. The best part is how easy and better it is to integrate with other software. It also works with MS Outlook, Gmail, and other social networks. It's useful for keeping track of inputs and managing customer history. Additionally, it assisted me in managing and monitoring the activities and performance of the team.
Pros
The marketing Automation works wonders, we have been able to reach potential customers more effectively via email and the internet thanks to Nimble. We have been able to communicate with social network prospects, gather accurate information from them, and have meaningful conversations thanks to Nimble's user-friendly interface.
Cons
Nimble has issues with its interface, and resolutions do not easily adapt without being manually configured.The feature for email templates is a mess. The management of templates is extremely out of date, and the formatting is incorrect. Additionally, managing pipeline stages is difficult. In fact, the app as a whole appears frozen in time. I first used it about ten years ago, and it hasn't changed much since then. I believe the [sensitive content hidden] has switched interests.