About RUN Powered by ADP
The RUN Powered by ADP (RUN) solution is designed to make your small business payroll quick and easy. With a streamlined process and powerful technology, you'll complete payroll in no time. Choose from basic payroll to a full suite of HR tools and services, get what you need, when you need it. Payroll Features: - Process payroll at your desk or on the move, during business hours or in the middle of the night. - Taxes are calculated, deducted and paid automatically. - Have quarterly/annual reports submitted automatically. - Keep ahead of state and federal tax laws and HR regulations with automatic updates covering all 50 states. - Integrate time tracking with payroll. - Always have peace of mind with 24/7 support from certified payroll experts. Human Resources Features: - Get answers to your HR questions through the HR Helpdesk — trained professionals are ready to assist. - Employee handbook wizard helps you create a complete, professional-quality handbook (based on state and federal employment laws) in a few simple steps. - Post open positions to over 100 of the web's leading job boards with one click via ZipRecruiter. - Give your people an edge with a welcoming employee onboarding experience and a market-leading app.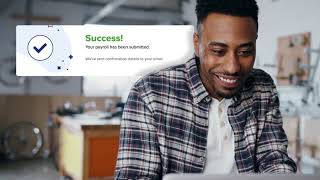 RUN Powered by ADP pricing
RUN Powered by ADP does not have a free version and does not offer a free trial.
Alternatives to RUN Powered by ADP
RUN Powered by ADP Reviews
Industry: Restaurants
Used

Daily

for

1-5 months

Review Source
---
Do you have to pay taxes on payroll? Do you like doing math? Just use ADP.
Peace of mind knowing that I am not making a mistake that puts me in a bad position with the IRS.
Pros
They provide a lot more than just payroll processing. That's the meat and potatoes of it but they also now have the option to use zip recruiter for your hiring needs. That's a big asset. And, they have a great HR portal. You have access to just about every document and standard possible with a simple search or catalog inquiry. I'm a big fan of one stop shop ideas and this is becoming that. They have it easy to track paychecks, employee's files, reconcile past pay periods, pay taxes on manual checks, etc. And they are a great team for customer service. I've never had a bad experience with them. Oh, and they are adding in a scheduling option to schedule you staff and track their clock in/out times with GPS.
Cons
Cost. It's always the cost. But, convenience comes at a price. This is no small fee service. If you have a small staff and don't mind doing the math you can probably just use QuickBooks. But ADP Run makes it really, really easy to pay your team.
Industry: Automotive
Company size: 11–50 Employees
Used

Daily

for

6-12 months

Review Source
---
Great software
My overall experience with ADP RUN was phenomenal, not only because I loved the user-friendly site that made my life as the administrator so much easier, but the customer service I received was top-notch! I had my own personal representative every step of the way. Any time I needed anything and reached out whether it was via email, text, or phone I would get an immediate response. I loved RUN so much that I made multiple referrals to them. Did you know that you can earn gift cards that you can use anywhere when you refer someone who signs up with ADP?! And each time you refer another person/business the amount of the gift card increases!!
Pros
What I like most about the ADP RUN software is how user-friendly it is. You can literally be a first-time user with no instruction at all and successfully execute any task. The way the site is laid out makes it very easy to find what you're looking for. If you're not 100% sure what it is that you need but you have an idea you can even type a keyword into the search and all of the options associated with that word will pop up and trust me, you'll answer will be there!
Cons
The thing that I liked least about ADP Software was the GPS tracking feature. It does offer a feature that will show you the location of the employee when they clock in and out but that's it. For my business I really needed more out of this feature like geo-fencing for each job location and for me to be able to get an alert if the employee clocked in/out outside of the job location. ADP RUN does not offer those additional features.
Reasons for Choosing RUN Powered by ADP
With Heartland Payroll I received only payroll processing and that's it. Sure, it was extremely inexpensive, but I got no other support from them. After I switched to ADP RUN I found out that there were so many things that I wasn't doing for my company that I should've been. Because of the lack of guidance from Heartland I was truly missing out.
Reasons for Switching to RUN Powered by ADP
What made me choose ADP RUN over other payroll processing providers was the customer service I would receive for my money (which isn't expensive at all) as opposed to paying close to nothing for a payroll service that gave me no benefits whatsoever.
Response from

ADP

Melinda,

Thank you for taking the time to post this review of RUN Powered by ADP?.

How wonderful to hear that RUN? provides you with the information and access you require at your fingertips, empowering you to focus on your business!

We appreciate your valuable insights!

-Your RUN Powered by ADP? Team

Replied 17/03/2022
Industry: Accounting
Company size: 2–10 Employees
Used

Monthly

for

2+ years

Review Source
---
Run Powered by ADP Amongst Small Business Payroll Options
Overall, Run Powered by ADP is good for established businesses.
Pros
Run Powered by ADP is fairly user friendly and easy onboarding process as well has many payroll reporting features for the company as well as employees.
Cons
Run Powered by ADP is a bit more pricey than other payroll apps that are available for small businesses. I don't think it is the best payroll app for small businesses that are just starting out.
Industry: Veterinary
Company size: 11–50 Employees
Used

Daily

for

2+ years

Review Source
---
Horrible Customer Service and Clunky Software
Overall, the payroll portion was easy to use, easy to run, and reports were adequate. For the price, we felt that the features were lacking and difficult to setup. Customer service was a joke and it took to long to get a returned answer.
Pros
The sales team over promised and then disappeared after we installed the software. The features that were available were so/so and appeared to be clunky. To process payroll was adequate and easy to operate. Reports were fine and gave me everything that I needed to easily enter payroll into our accounting software.
Cons
The HR features that we had tied to the payroll were a joke. Expert HR was nothing more than a phone call to someone that would then transfer you to someone else, that would then transfer you to someone else, and by the time it was over you forgot your question.
Response from

ADP

Tiffany,

We welcome all feedback to ensure RUN? Powered by ADP continues to empower small businesses to more efficiently manage their payroll and HCM needs.

We are sorry to hear of your experience with RUN? and will pass along this feedback to our Product & Sales Teams. We are always working to enhance RUN? and delight our users.

Your feedback is very important to us here at ADP so we thank you for the review.

- Your RUN Powered by ADP? Team

Replied 04/01/2021
Industry: Real Estate
Company size: Self Employed
Used

Monthly

for

2+ years

Review Source
---
Makes running payroll a breeze!
The customer service was stellar in answering my questions and helping me get through the payroll issues I had. I would highly recommend using RUN Powered by ADP
Pros
The self service portal is important to me since I am the only employee. It allows me to utilize this feature without it being expensive. The customer service is outstanding! When I have questions, they are readily available to answer and help.
Cons
At first, I was a little confused on how the process worked in self reporting, but after I spoke with customer service, we were able to work all the kinks out.
Response from

ADP

Gina, thank you for your review of RUN Powered by ADP®. We love hearing that our product delivers for you. Adding value through our services and giving you time back into your day through our products is truly what we strive for and we are pleased to hear that has been the experience for you.

-Your RUN Team

Replied 07/07/2023