About GLPi
GLPI is an IT Service Management software based on open source technologies. It is a great solution for helpdesk, project, financial, assets and user management thanks to core features and numerous plugins. GLPI is recommended for companies of any size, and offers both on-premises and cloud (SaaS) solutions.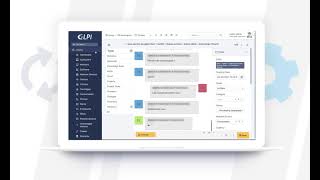 GLPi has a free version and offers a free trial. GLPi paid version starts at €19.00/month.
Starting Price:
€19.00/month
Used

Daily

for

2+ years

Review Source
---
Simple and very useful has helped me to keep my activities organized
I have had several benefits in my work, I have installed it and everyone likes it, the incidents are handled in an orderly manner and are addressed by priority, it has allowed me to deliver reports with graphics to senior management, in my independent work it allows me to have the incidents of my clients ordered to know what the state is, so that they and I are informed of the situations that arise.
Pros
I have installed GLPI in three medium companies and I also use it for my personal projects, I like that it has two large modules, the first of which is the inventory manager, equipment, servers, peripherals, software licenses, network, reservation of shared resources, among others. The second module is the helpdesk for the follow-up of the interventions, allows the administrators and the support staff to link the interventions made to the users and equipment, and can obtain a complete history of maintenance. The graphic interface is currently very well developed and has improved a lot over time. Another thing that I like is that it is easy to use and train the end users is very fast and easy, when you create a incident, it is possible to visualize the state in which you are, which is great to follow. Its integration with "OCS Inventory" is one of the best things you can have, after careful work you can get all the information of a company's hardware in an instant, this improves my analysis and planning with my team. I can not forget to mention that the free software that leads to zero installation costs among the many that I have tried GLPI has always been my favorite.
Cons
GLPI is a great software, however, there are things that I have had problems with in these years, the integration with LDAP is not stable, it is difficult to obtain the data correctly, I have had difficulties with the assignment of profiles to the users that are imported of LDAP, another thing that I do not like is that it is not compatible with Postgresql, which forces me to use mysql.
Industry: Computer & Network Security
Company size: 5,001–10,000 Employees
Used

Daily

for

2+ years

Review Source
---
One application for all IT Solutions
We have been using this software from years now and it has helped a lot to keep track of assets and all the call or tickets reaised, Also can be tracked all the remedy provided.
Pros
This single software has many components software which has helped a lot in tracking the asset and the tickets raised along with solution provided history.
All the assets are once updated into the system, It has helped to track assets in and out. It also provides desk support feature by which any body in organization can raise a request and can be tracked the same.
Cons
Manual updation, all asset entry has to be done manually. There is no feature for auto discovery like in OCS.
Since it is a paid software subscription is required.
Reasons for Switching to GLPi
It was cost effective and less training required for working on to it. It does the job which it was procured to do.
Used for

2+ years

Review Source
---
Comprehensive administration of IT resources, but not very friendly and dated interface
Pros
It is free, and even if you are not dealing with IT resources, you can tailor this software to use it to manage your support service. I have used it a couple of years to manage an academic research laboratory in a public University, but migrated to another solution because usability drawbacks and old-fashioned interface. Anyway, I do recommend it for people working with IT, because it is rich inbuilt-in features that makes easier to use it for the purpose he was originally designed for. On the user side, however, the software works without much problems.
Cons
The interface is dated, and initially may be very difficult to find where are the settings that the administrator want/need to change.
Industry: Information Technology & Services
Company size: 1,001–5,000 Employees
Used

Daily

for

1+ year

Review Source
---
GLPI is an open source ITSM
For companies who have little budget and they need an ITSM tool is ok, but it's not awesome at all.
Pros
After other ITSM tools, GLPI was not very hard to configure and deploy.
Cons
The flexibility for changing the standard behaviour of the solution. You should develop your functionalities.
User interface was old style and the users didn't like it at all.
Industry: Health, Wellness & Fitness
Company size: 1,001–5,000 Employees
Used

Daily

for

1+ year

Review Source
---
Good open source service management platform
Using that was ok with no big problems. The main point would be the reports and how to export information from there to have dashboards to support business.
Pros
It is an ITSM that guarantee the management of large IT infrastructures with lots of assets.
Cons
It is an expensive tool and it is not easy to configure to have the broad view of all information in there.