About Kaseya VSA
Kaseya VSA is a cloud-based IT management and remote monitoring solution for businesses of all sizes across various industries. It provides a central console for managing IT operations including handling complaints, ticketing, auditing, monitoring performance and reporting. Users can receive complaints, generate complaint tickets and service complaints around systems, servers, networks and mobile devices remotely. Designed for in-house IT staff, Kaseya VSA provides an integrated IT management platform to manage IT issues and service complaints remotely. The patch management module automatically updates servers, workstations and users' computers with the security patches and software updates. IT staff members can schedule updates at an individual system level, departmental level or throughout the entire organization. The solution provides information on CPU, network bandwidth and server load through an integrated console to monitor the performance of IT infrastructure in real-time. Kaseya VSA is available on a per user per month basis that includes support through an online knowledge base.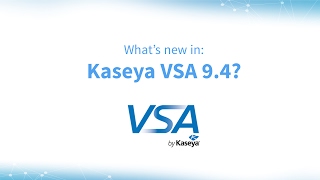 Kaseya VSA does not have a free version but does offer a free trial.
Alternatives to Kaseya VSA
Industry: Information Technology & Services
Company size: Self Employed
Used

Daily

for

2+ years

Review Source
---
Great Product
I have been using Kaseya VSA for about 10 years now. It has transformed my business. I travel less and less to clients sites and do most if not all work remotely for them. Their customer support is top notch and they work hard to help you. Their billing department could be improved, but they're working on it. They have Kaseya Connect every year in Las Vegas. I wish they would hold it somewhere other than casinos and strip clubs.
Kaseya is a must for your business. They can scale with you as you grow your business too.
Pros
Kaseya is awesome in the automation department. I am able to set scripts in place and have them run in the middle of the night. No more staying up after hours pushing out patches and fixes. I can set the patch management to scan for new updates, then push them out on a schedule that I determine.
Cons
The product works great on Windows machines, but updating a Mac can be tricky. I would like to see them move into the Android field more too. There are more and more Android devices coming into the work sphere that having an option to remotely fix androids would be great.
Industry: Information Technology & Services
Company size: 11-50 Employees
Used

Daily

for

2+ years

Review Source
---
increasing helpdesk staff productivity
-- Tactical Responsibilities
Use remote monitoring and management tool KASEYA to deliver pro-active remote support
Establish monitoring and maintenance necessary for new and existing clients
Monitors Server Windows Operating System performance and takes action to resolve problems
Monitors the Microsoft Exchange Service and resolved any issues regarding the email systems
Monitors Workstation Windows Operating System performance and escalate actions
Monitors network Devices status and performance and escalate actions
Monitors Storage Devices health and takes action to resolve problems
Monitors VMware Infrastructure performance and takes action to resolve problems
Prepare and present service and monitoring reports to management regularly
Documents problems and resolutions on production servers
Completes scheduled audits and provides reports to customers periodically
Pros
Kaseya is one of the best RMM (Remote Monitoring and Management) tools in the market
we have moved from REACTIVE to PROACTIVE and now we are moving to SERVICES
related to "Service Management Maturity model"
thanks to Kaseya we achieved
1. Analyze trends
2. Set thresholds
3. Predict problems
4. measure applications availability
5. Automate (highly appreciable when you handle hundreds of devices)
6. Mature Problem Configuration, change, asset and performance management
7. Increase Security in multiple layers
8. Manage the entire Windows updates process
9. Remote Control
10. Compliance and audit Reports
Cons
unfortunately using kaseya core modules, it is not stronger to manage network devices
Reasons for Switching to Kaseya VSA
integration with internal and third party products
Industry: Computer & Network Security
Company size: 2-10 Employees
Used

Daily

for

1+ year

Review Source
---
Terrible support, worse customer service
We paid for the 25 licenses up front and paid for the "on boarding" which they promise 8 hours of training on how to use their software. The Tech that did the on boarding had problems doing anything and said it was bug in the current system and the fix would be out in 3 months he would give us a credit and re-do the onboarding when the problems were fixed. we never heard from him again, we did not use the software as we were never showed how to use it and got next years bill on my cc and called in and spoke to a supervisor who refused to give us any kind of credit and said onboarding hours expire. So we tried using the software ourselves and called support for help. They literally just email you the link to the general help page and say figure it out or you were supposed to learn this in the onboarding (which we never got). So after calling the supervisor and telling him we have a client that is waiting for something we need their help to get it done in their software so we didn't have to manually remove a user & program to the 50+ computers we had added that week or we were leaving Kaseya. The supervisor promised to have support call us and help us with what we needed, would get us the promised credit & would have us re-do our onboarding. Except support never called us and when we called them they said they couldn't do anything but email us links. we have not gotten the credit or a response from the supervisor and the 8 hours of onboarding they promised us & that we paid for we get 2 hours instead.
So if you want support they will just email you a link and say figure it out which is fine sometimes but when you need something right away and don't have time to read 50+ pages.
Customer service promises the world but has 0 follow through (and yes I have all their promises in writing they don't care)
the software is extremely slow and takes 1-2 minutes to load each page. (we have a 50/50 connection) you can host the software on your own server as they list the hardware requirements of a P1 (yes Pentium 1) 2.4ghz 166 fsb 4 gb of ram and 10gb of hard drive space. with requirements that low you would think their software would run fast.
the licenses are expensive over $6.50 a month per computer considering they have no templates, no support, no best practices guides, nothing but instructions on how to setup massive amounts of worthless features but very little actual useful features.
Pros
their initial sales pitch was good and convinced us to buy it.
Cons
terrible customer service, NO Support, slow, lousy features for the price
Industry: Computer & Network Security
Company size: 2-10 Employees
Used

Daily

for

1+ year

Review Source
---
Manage all devices everywhere easily
We are now able to use all our tools under one umbrella; VSA, BMS and IT Glue seamlessly interact with each other making this a great asset to keeping everything fast and organized.
Pros
The automated workflow rules allow for easy ticket management. We are able to manage all devices/endpoints on one app.
Cons
Getting from an agent to Live Connect is a big laggy in time to connect.
Industry: Information Technology & Services
Company size: 1,001-5,000 Employees
Used

Daily

for

2+ years

Review Source
---
Solid RMM
Pros
Kaseya just scaled up on my number of end points without any issue over the years. It is stable and I hardly face any issue with the agent stability as I have bad experience other RMM that keep needing reinstallation of agent and etc. Kaseya also offers a huge range of solutions ranging from DRaaS, Network Monitoring, Ticketing and security to choose from that integrates nicely inside the RMM.
Cons
Nothing much except the price is a bit steep but I guess you have to pay for solid software.