About Kaseya VSA
Kaseya VSA is a cloud-based IT management and remote monitoring solution for businesses of all sizes across various industries. It provides a central console for managing IT operations including handling complaints, ticketing, auditing, monitoring performance and reporting. Users can receive complaints, generate complaint tickets and service complaints around systems, servers, networks and mobile devices remotely. Designed for in-house IT staff, Kaseya VSA provides an integrated IT management platform to manage IT issues and service complaints remotely. The patch management module automatically updates servers, workstations and users' computers with the security patches and software updates. IT staff members can schedule updates at an individual system level, departmental level or throughout the entire organization. The solution provides information on CPU, network bandwidth and server load through an integrated console to monitor the performance of IT infrastructure in real-time. Kaseya VSA is available on a per user per month basis that includes support through an online knowledge base.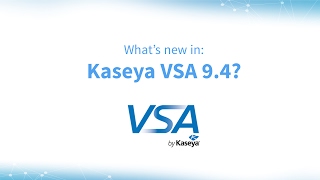 Kaseya VSA does not have a free version but does offer a free trial.
Alternatives to Kaseya VSA
Industry: Building Materials
Company size: 201-500 Employees
Used

Daily

for

6-12 months

Review Source
---
Best tool for Sysads!
Super happy to have this tool. It makes life funu for our IT office which makes them even more proactive than traditional reactive. :)
Pros
Best feature... remote access to end-points! This allowed our small helpdesk team us to monitor and manage hundreds of end points (mostly desktops) all over different sites. No need to physically go to the office to install a patch or troubleshoot.
Also, it was very useful for our hardware and software inventory. The reports are easy to generate and use especially for budget decisions.
We get to monitor also unauthorised software, and sometimes, with the consent of the respective pc users, we get to monitor their pc activity in real-time.
Plus! It supports all our devices (mac to pc and even linux, iOS and android).
Cons
Functionality wise, I have no complaints. However, in terms of UX, it looks a little dated. Perhaps the interface navigation can be improved.
Industry: Information Technology & Services
Company size: 11-50 Employees
Used

Daily

for

2+ years

Review Source
---
increasing helpdesk staff productivity
-- Tactical Responsibilities
Use remote monitoring and management tool KASEYA to deliver pro-active remote support
Establish monitoring and maintenance necessary for new and existing clients
Monitors Server Windows Operating System performance and takes action to resolve problems
Monitors the Microsoft Exchange Service and resolved any issues regarding the email systems
Monitors Workstation Windows Operating System performance and escalate actions
Monitors network Devices status and performance and escalate actions
Monitors Storage Devices health and takes action to resolve problems
Monitors VMware Infrastructure performance and takes action to resolve problems
Prepare and present service and monitoring reports to management regularly
Documents problems and resolutions on production servers
Completes scheduled audits and provides reports to customers periodically
Pros
Kaseya is one of the best RMM (Remote Monitoring and Management) tools in the market
we have moved from REACTIVE to PROACTIVE and now we are moving to SERVICES
related to "Service Management Maturity model"
thanks to Kaseya we achieved
1. Analyze trends
2. Set thresholds
3. Predict problems
4. measure applications availability
5. Automate (highly appreciable when you handle hundreds of devices)
6. Mature Problem Configuration, change, asset and performance management
7. Increase Security in multiple layers
8. Manage the entire Windows updates process
9. Remote Control
10. Compliance and audit Reports
Cons
unfortunately using kaseya core modules, it is not stronger to manage network devices
Reasons for Switching to Kaseya VSA
integration with internal and third party products
Industry: Information Technology & Services
Company size: 10,000+ Employees
Used

Daily

for

6-12 months

Review Source
---
The most buggy and useless pile of nonsense code in existence.
BUGGY, enough to drive anyone crazy. Take the tree structure drill down... They're actually drill UP, in that if you click ANYTHING, every "+" in the tree expands. If there are 300 customers in the tree, you've got to scroll like mad for an hour through everything you didn't want expanded, just to re-find what you WANTED expanded. Tons of applets in the program simply don't do work at all. The "Discovery" app, which should identify all devices on a given network actually can't identify anything that doesn't already have the Kaseya management agent on it, making deployment a totally manual process. The network monitor doesn't provide any meaningful information, just sends you thousands of emails telling you it failed.
Pros
Not one single "feature" is at all likeable.
Cons
Mostly it doesn't work, that is to say, it doesn't do what it's supposed to. When you ask support how to get a part of the app to function correctly, they just tell you "it's a known issue, we're working on it" The product has been out for over ten years, but they're working on it. One you pay them, say goodbye to that money, and they will never fix it. Why should they, you already paid them, so they have zero incentive.
Reasons for Switching to Kaseya VSA
Forced to use it as part of the franchise.
Industry: Executive Office
Company size: 201-500 Employees
Used

Daily

for

2+ years

Review Source
---
Kaseya VSA - Not just for MSPs
Kaseya VSA has helped me overcome hurdles with outdated software, missing updates, and deployment of new software. I used Kaseya to locate which devices are using old version of Office and using Windows version XP, 7 and and 8 and 8.1. This has helped me in the process of updating all of our devices to the newest Office and Windows 10.
Pros
Kaseya VSA is not only for MSPs, but for anyone who needs help managing their assets in the office and in the field. I'm the IT Security Manager with all the hats in the IT world at a large confectionery broker. I manage over 250+ devices on my own, with the help of Kaseya VSA. I could not do my day-to-day job without Kaseya VSA.
Cons
I'm not a fan of the app as the functionality seems to be spotty. Right-clicking the client app sometimes brings up a menu, and sometimes it only offers a simple selection of "Refresh". This is my only gripe in the 3 years I've been using this product.
Used

Daily

for

1+ year

Review Source
---
A full-featured product that could use better support and documentation
Remote Monitoring and Management of user PCs.
Pros
This software is very full-featured and allows quite a bit of granular control and automation. It continues to improve and has a nice amount of features that are included.
Cons
Features that would be nice to have in the base version must be purchased as additional plug-ins so that one feels somewhat "nickeled and dimed" every time you want to expand your feature-set.
The cost is on the higher end for a remote management product which could be justifiable if the support were better. I have found that it is a mixed bag of tricks in terms of how quickly you get a response and every time my ticket is addressed it is outsourced to someone for whom English is a 2nd or 3rd tongue. I don't have a problem with the outsourcing aspect but I often find there is more than a bit of a communication gap and it can be frustrating spending a solid chunk of time trying to get my point across due a language barrier. If this were a very low-cost product this would be more understandable but it is not.
There is also a very solid learning curve in terms of understanding all of the features. They offer a Kaseya University option to address that (which I am currently involved with) but it requires a subscription that keeps having to be renewed or you lose access. As the content is static, it would be much better to have a pay once and access forever -certainly for the same version.