About Pipedrive
Pipedrive is a web-based Sales CRM and pipeline management solution that enables businesses to plan their sales activities and monitor deals. Built using activity-based selling methodology, Pipedrive streamlines every action involved in converting a potential deal into a successful sale. As a cloud-based application, the solution can be accessed from anywhere 24x7 using any web browser or dedicated mobile apps. Pipedrive provides sales personnel full visibility of different sales pipelines. A robust interface displays the progress stages for each deal with the complete details for next actionable items. The activity & goal feature allows users to track the pending activities in each pipeline. Pipedrive also offers custom sales reporting tools to monitor individual and team level targets, analyze sales data and generate visual reports. Pipedrive's mailing system seamlessly integrates with multiple email service providers including Outlook, Gmail and Yahoo. Users can send and receive emails from multiple accounts using their Pipedrive account. The solution also integrates with various leading CRM tools to transfer contact details, communication history and other information across applications. Apart from these, the solution also integrates with Google Maps, MailChimp, Trello and Zapier.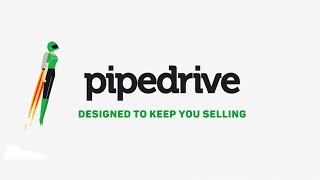 Pipedrive does not have a free version but does offer a free trial. Pipedrive paid version starts at US$14.90/month.
Starting Price:
US$14.90/month
Alternatives to Pipedrive
Industry: Transportation/Trucking/Railroad
Company size: 11–50 Employees
Used

Daily

for

2+ years

Review Source
---
Customizable CRM that is easy to deploy and offers endless customization possibilities
It is great! I've used it in the past, got locked into Hubspot for too long, and once I was out of their contract, I immediately came back to Pipedrive.
Every so often, I test other CRM, and while some others may have cool bells and whistles, the features that other CRMs have and Pipedrive lacks tend to be related to shiny object syndrome. Pipedrive is practical, easy to use, and simple to train and onboard new employees.
Another great thing about Pipedrive is its active community. Their forum is a great place to gain inspiration for the service and communicate with others for assistance in building unique integrations.
Their support is excellent and always available via chat right from your CRM.
Pros
Most CRMs force you to use it the way they think is best. But not all sales teams are alike. Pipedrive works well for us because we can customize it to work exactly how we need it. Customizing is easy and does not require coding.
Pipedrive integrates nicely with services like Zapier and various forms of plugins. This allows us to connect our CRM with all of our software applications.
Cons
Pipedrive has great email functionality, but it lacks a shared inbox (similar to Help Scout). We have a general sales email that our team manages as a sales team. If you want to use Pipedrive, you are forced to require all salespeople to communicate with their email instead of company-wide accounts.
This creates separation within our organization as we can't rely on Pipedrive for email communication.
Industry: Internet
Company size: 11–50 Employees
Used

Daily

for

1+ year

Review Source
---
PipeDrive is the best "Beginner" CRM Platform out there!
PipeDrive is functional CRM platform and a viable/cheaper alternative to SalesForce and other counterparts. It is easy to use and has a wonderful graphical interface. If you are a budding enterprise, PipeDrive is the software for you. If you're a full-fledged corporate, I'd personally recommend you evaluate other options because although PipeDrive is amazing, it still sports limited functionality that won't do a large company any justice.
Pros
1) You can send emails directly from the platform! This gives you an edge on your communication efforts and helps you trigger alerts, get notifications and manage a large volume of clients - often simultaneously.
2) The interface is very easy to use and there is no steep learning curve necessary for one to get accustomed to the platform. This also encompasses of how easy it is to navigate through the platform.
3) PipeDrive can seamlessly integrate with many third party service providers. We have had no problems integrating PipeDrive with MailChimp, Slack, Gmail, LinkedIn, etc
4) PipeDrive will never let your leads go stale. Leads that need following up with will be highlighted based on the criteria designed by the user. Intuitive icons beside each lead can give you a detailed picture as to what stage of your business process the lead is on and what required action needs to be taken.
5) PipeDrive makes it super easy to enter leads and move them through various stages of your business process.
6) Inter-departmental communication is a breeze. I've noticed a strong synergy between our sales and marketing department after implementing PipeDrive in our organization. It's very convenient to identify high potential leads and PipeDrive eliminates the need of trying to give the next department a detailed back-story about leads during a hand-off. This saves a LOT of time.
7) Dashboards can help you evaluate and track project progress at a glance.
Cons
1) We are unable to send one email to multiple contacts. Right now, we have to send them out one after the other. Sincerely wish they look into this.
2) Usually hands when processing large volumes of data.
3) Not suitable for large firms and organizations. I deem this to be an entry/Beginner CRM platform.
4) There aren't any built-in marketing and contract management tools.
Industry: Apparel & Fashion
Company size: 11–50 Employees
Used

Daily

for

6-12 months

Review Source
---
Pipedrive Review
Pros
Leads management is beneficial as well as having different owners within the team to transfer to and from.
Cons
It would be nice to carry out cold calling through Pipedrive and equally remove customised analytics from behind the paywall. It would also be nice to categorise based on last outreach date therefore follow-up could be improved.
Reasons for Switching to Pipedrive
Cost and felt closer to our needs
Response from

Pipedrive

Thank you for your feedback!
We will forward it to our dedicated teams.
If you need any help, let us know by contacting our Support.

Replied 19/09/2023
Industry: Marketing & Advertising
Company size: 11–50 Employees
Used

Daily

for

2+ years

Review Source
---
Avoid this software unless you like terrible support + constant problems with features.
The fact is, there are SERIOUS issues with this software, their support do NOT know what they are doing at all... if you report an issue, their 'engineering' team will tell you its 'supposed' to work like that instead of fixing the issue (for example, you can select a calendar in google calendars, it then doesn't work right, and they will blame how the calendar was created, but there is no guide on how to create a calendar properly, you can select the calendar that is of a wrong time, and there is no warning that it wont work correctly to scheduler people until you start getting double booked.)
As an experience development agency owner of 15+ years, these guys need to seriously learn what customer centric design is, and train their engineering team as they seem to live in some kind of 'programmers' bubble. Their first tier support staff need serious training as they cant do anything troubleshooting wise and expect you to spend hours upon hours to troubleshoot the issue for them even if they can replicate the issue.
Customers would be VERY UPSET to know the issues we've uncovered that were never announced, like MASS email delivery issues... in a sales environment that would cost company's thousands, its cost us at LEAST 10's of thousands in sales before we realised and now send important sales emails via another method
Pros
The pipeline management is good in this tool, it has a good base feature set, the problem is however, that many core things are MISSING or dont work right out the box.
Cons
From the outset, this product looks good value, which is likely why it has so many great reviews, however, the more you use it and the moment you need to contact support, you realise the trouble you've got yourself into. If you are a team greater than one, then DO NOT use this software (remember, you might want to grow in future too).
Reasons for Switching to Pipedrive
We choose Pipedrive because of its pricing at the time, and its base feature set was enough for us to grow into, however, during this time we've grown to a large team and uncovered dozens of massive issues, to switch would cost us a considerable investment time and money wise, we feel stuck and cheated as this company is too busy spending money on flashy new features that don't work properly to fix major issues with their workflow and existing feature set.
Industry: Computer Games
Company size: 501–1,000 Employees
Used

Daily

for

1+ year

Review Source
---
Pipedrive in the sales area does the job perfectly
Pipedrive is a highly effective tool. They have a huge and active network of third-party partners who actively contribute to the Pipedrive Marketplace. For email marketing, phone calls, and digital signatures, we employ the utilization of three such partner programs.
Pros
In the end, we like Pipedrive because it provides excellent value for the money at all of its subscription tiers. It's quick, straightforward, and centered on the insights of working salespeople. The sales manager might also narrow in on specific metrics to get the information she or he needs.
Cons
A few features are lacking, and that's a problem for us. In particular, the product's generally excellent automations cannot (yet) be triggered by dates, either in the past or the future.