About Microsoft SharePoint
Microsoft Sharepoint is a knowledge and content management system (CMS). The product also provides collaboration tool capabilities. The solution offers typical CMS features like document and digital asset management, case and contract management and reporting and analytics. All these combined features enable users to create, manage, and review various content types from one central location. SharePoint enables organizations to manage documents and other file types throughout their publishing lifecycle. Users can also leverage its interactive dashboards and scorecards to create content reports. These reports can help users pinpoint and build solutions for content and publishing needs. Sharepoint's CMS system also includes website content management capabilities. It features capabilities for managing both published content on websites, as well as unpublished content. Sharepoint has content support capability for both external sites as well as internal intranet sites. Sharepoint offers both on-premises and cloud-based options. Pricing structures are different depending on the chosen deployment options.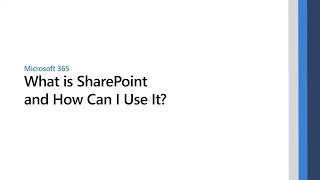 Microsoft SharePoint pricing
Microsoft SharePoint has a free version and does not offer a free trial.
Alternatives to Microsoft SharePoint
Microsoft SharePoint Reviews
Industry: Utilities
Company size: 10,000+ Employees
Used

Daily

for

2+ years

Review Source
---
Microsoft Sharepoint
User friendly and easy to use. Has guides and tutorials that assist on how to use the software
Makes business collaboration simplified
Updating documents seamless
Easy to track changes and manage access
Pros
It is user-friendly and easy to deploy. Enable simultaneous access to the documents, and provides real-time updates and collaboration. Simplifies day-to-day business collaborations. Shared documents across different companies. Assist with meetings regulatory requirements, content management streamlined, and have effective decision-making tools. Easy to manage surveys and provides stats as required. Can integrate with other systems.
Cons
Integration requires extra development
Very expensive
Industry: Education Management
Company size: 1,001–5,000 Employees
Used

Daily

for

2+ years

Review Source
---
Microsoft SharePoint: A Complete Solution for Document Storage, Sharing, and Workplace...
Microsoft SharePoint is a huge assistance to me in my everyday life; it keeps all of my project-related documentation and study materials organized in one location.
Pros
Records can be stored, arranged, and edited in at a single spot with Microsoft SharePoint's outstanding management features. Collaboration on the same assignments along with data sharing amongst teams are made simple by the application. Furthermore, its integration with every other Microsoft program is excellent.
Cons
For an individual who uses it for the first time, it is not easy for them. Although it took me longer to realize, once you had it in your fingers, it truly does assist. My recommendation is to make it easier for users.
Industry: Government Administration
Company size: 5,001–10,000 Employees
Used

Daily

for

2+ years

Review Source
---
I use SharePoint for everything
Shapepoint is a platform that is is growing for content management services and offers a high amount of value today for any adopter.
The experience is quite positive as users who gets trained once to use a SharePoint site are ready to use any other site due to the standard uniformity that is baked into the application.
Once you have office 365, you should try to built your next enterprise internal focus app in sharepoint.
Pros
SharePoint is like a flat table top that is empty at first but you can use it to create all sorts of database and data storage application for you small to mid size organization without the heavy lifting and IT capital expense.
Apps can be designed and developed for internal organizational staff use in days.
Apps can be modified with low or no code experience.
Organizational users, after using the SharePoint tool can transfer their practice on any other SharePoint site/app, this helps with institutional strengthening where the framework is one standard platform that can be used to fit most or all internal system.
SharePoint is at least secured as much as O356 can be. I use SharePoint online only these days.
I must say that sharepoint list are greatest tool every but you have to get a forms designer to make them very exciting and function especially when you are considering to build a full system.
Cons
It a growing platform. Today, I think that Microsoft need to include an easy to use SharePoint forms design tool with the product. Customization of forms with PowerAPP is not suitable today, too much work to get just little activities and task.
There needs to be an infopath replacement that is easy to use.
Sharepoints at this time of wring sucks from a design and layout perspective. If you looking for functionalities, Sharepoint got you back, if you want to have the best modern UI then you will not like SharePoint.
Reasons for Switching to Microsoft SharePoint
It is offered as part of the O365, I did not originally choose it. But then after using NetDocument which then started to point to integration with OneDrive I notice that a decision was to be made. The decision is SharePoint and OneDrive. Collaboration, Controls, liberation, without any of the IT headaches.
Industry: Entertainment
Company size: 10,000+ Employees
Used

Daily

for

2+ years

Review Source
---
Essential for Collaboration
Pros
SharePoint makes it seamless to collaborate with others across the company. Powerful sharing and permissions settings allow secure document storage and sharing. Version control and ability to restore prior versions are essential for reducing errors
Cons
Some of the more advanced features are hard to use such as custom permissions settings. Takes some time to get used to the user interface.
Industry: Telecommunications
Company size: 10,000+ Employees
Used

Daily

for

1+ year

Review Source
---
Transfer of documents
Microsoft SharePoint show the data when files are shared for proper maintenance and management to eliminate errors.
Pros
As area supervisor I used this product to share documents of reports and accountabilies via email to the center and the service is efficient.
Cons
As SharePoint file can be shared to different platforms in a very less period of time with high security performance.