About Microsoft SharePoint
Microsoft Sharepoint is a knowledge and content management system (CMS). The product also provides collaboration tool capabilities. The solution offers typical CMS features like document and digital asset management, case and contract management and reporting and analytics. All these combined features enable users to create, manage, and review various content types from one central location. SharePoint enables organizations to manage documents and other file types throughout their publishing lifecycle. Users can also leverage its interactive dashboards and scorecards to create content reports. These reports can help users pinpoint and build solutions for content and publishing needs. Sharepoint's CMS system also includes website content management capabilities. It features capabilities for managing both published content on websites, as well as unpublished content. Sharepoint has content support capability for both external sites as well as internal intranet sites. Sharepoint offers both on-premises and cloud-based options. Pricing structures are different depending on the chosen deployment options.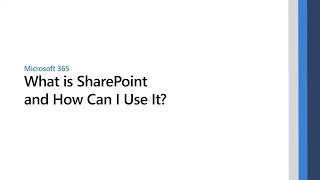 Microsoft SharePoint pricing
Microsoft SharePoint has a free version and does not offer a free trial.
Alternatives to Microsoft SharePoint
Microsoft SharePoint Reviews
Industry: Industrial Automation
Company size: 201–500 Employees
Used

Daily

for

2+ years

Review Source
---
Company file sharing gets projects moving quickly
Pros
Being able to share and collaborate with anyone internally to our company plus the ability to send files outside of the organization is extremely useful.
Cons
Share functions can be a bit cumbersome, especially when sending outside of the organization and sometime security settings block common sense capabilities
Industry: Telecommunications
Company size: 5,001–10,000 Employees
Used

Daily

for

2+ years

Review Source
---
Collaboration, backup and automation
Sharepoint has allowed me to be more efficient in different ways, with many of its functionalities, I generally hope that one of them will allow me to make a process more collaborative, controlled and at the same time automated.
Currently the entire organization has access to use the software, in the same way the introduction and migration to Sharepoint from local servers has been gradual, mostly due to people's resistance to something new and unknown. In my department specifically, has been a greater acceptance, integration and discovery by constant learning by some team members who are not exploiting all the advantages of the software yet.
Pros
Permission management: This is super relevant and wonderful for controlling what your audience can see and do, for example, when you need someone to constantly see changes to a "living document" but not have the ability to intervene in the process.
Contact groups: I find it super good since not necessarily the site administrators are the only ones who can manage the group, you can make any member of the group can manage the rest of the members without this being involved in other site settings . Also when granting permissions, distributing documents, announcements, tasks, it is very easy to do it by group of contacts than one by one.
Version history: We know that we are exposed to errors and accidents, so having the previous versions of a document, being able to see who has modified and having the possibility of restoring any of those versions can save the day. I always feel that I am protected and that is why I always promote working in the cloud.
Cons
Please provide some detailed examples of areas where MS SharePoint has room for improvement. These could be features that are hard to use, missing functionality, or just things that you'd like to see done differently.
Modern view / classic view: I really appreciate the minimalist change that has been made with many of the menus in the latest versions of sharepoint, but most of the time it complicates me and generates many more clicks (much more time) wanting to do one This action can be done by changing to the classic view from the ribbon, for example, managing permissions for a site, being able to manage sharepoint groups.
A little more advanced configurations, without becoming complex that depend a lot on the IT department.
Descriptions of some options or settings can become confusing, complicated and you simply are not able to know if it is what you are looking for or not, the language to the user is sometimes understood only through trial and error.
Industry: Biotechnology
Company size: 11–50 Employees
Used

Daily

for

1+ year

Review Source
---
Big convenience for collaboration-focused workplaces!
Sharepoint and the wider MS environment provide an extensive suite of tools, and the level of detail works well even for demanding firms. If you're already deep in this environment (e.g. you have other systems relying on Azure), you'll get a lot of value here--but be sure to have training materials prepared for newcomers. Apart from occasional sync problems, this is a robust platform & can reduce a lot of friction vs. a traditional server setup.
Pros
Sharepoint works well for orgs where information changes hands frequently--it's incredibly easy to share files & relatively easy to provision users to access only the ones they need. Syncing works fairly well for both remote and in-office, and the storage capacity is substantial, so it could work for you if your org benefits from having a literal shared point of reference for everyday documentation.
Cons
Occasional syncing hiccups and, for those not steeped in the MS ecosystem (which is more people than you'd think!), there can be a steep learning curve as you figure out how all the various pieces fit together & where exactly Sharepoint's place in that is since there's some feature overlap with e.g. Teams, Outlook, Access, and OneDrive.
Industry: Media Production
Company size: 11–50 Employees
Used

Daily

for

2+ years

Review Source
---
Misses The Mark
We had hoped that Sharepoint would offer the cloud-to-local sync functionality and performance of Dropbox, but with integration with Office and Excel. In reality, its bugs and inconsistent syncing make it a highly frustrating and a miserable experience for our staff. Dropbox offers some Office and Excel integration and in our testing its simpler and works more consistently. We will be switching to Dropbox Enterprise within the next few months. This is sad, because Sharepoint comes "free" with our Office and Excel licenses, so it just ends up being something we paid for in the bundle price that will sit on the shelf.
Pros
SharePoint integrates with Office and Excel, which are tools we use regularly. It serves as a cloud-based central file store, and you can open files from it via the web browser or use its sync utility to sync the files locally similar to Dropbox. When it works as intended, it's a passable experience.
Cons
There are daily failures by Sharepoint that add up to a miserable user experience. The biggest issue is the sync utility. On a daily basis there are problems with local changes syncing back to the cloud, or cloud changes syncing locally. We work on Macs, which I suppose is understandable that our platform wouldn't be as well-supported, but we do pay the same money that Windows users do. The integration with Finder is passabe, but the icons for "synced" or "up-to-date" are not always accurate. Also, the utility that shows you what is syncing is not always accurate. I can save a file locally and watch that utility and I see no sign that my change is syncing to the cloud. On a weekly basis, we have a user open a file from the web browser only to discover that some other user had saved a version of the file that never synced. Also, the web browser file views frequently load folders with empty file lists, you have to refresh to see the files, which is just problems with basic usability.
Industry: Computer Software
Company size: 2–10 Employees
Used

Weekly

for

2+ years

Review Source
---
Enhance Workflows with Microsoft SharePoint
While SharePoint offers a robust set of features, some users may find certain customisation options and advanced workflows rather complex. Integration with non-Microsoft systems can require additional effort and technical expertise, depending on the specific requirements of existing business processes.
Pros
Microsoft SharePoint offers impactful collaboration tools, comprehensive content management, and seamless project tracking. While there is a learning curve, the platform provides user-friendly interfaces. Integration with existing processes varies, with smooth integration with Microsoft tools but requiring effort for non-Microsoft systems. SharePoint enhances productivity and teamwork in organisations.
Cons
While SharePoint is a robust platform, some users may desire more advanced customisation options, improved user interface for certain tasks, and enhanced integration with non-Microsoft systems to further enhance flexibility and ease of use. But I am ok with features available