About OnBoard
Now available: Microsoft 365 Integration. As the most reviewed solution on Capterra and the G2 category leader in Board Management, OnBoard offers a simple, secure, and effective way to run board meetings. With OnBoard, you can say goodbye to complicated, outdated, and time-consuming board meeting processes and focus on achieving your organization's mission. OnBoard offers centralized resources and secure communications to make board meetings more collaborative, productive, and effective. You can access OnBoard from your iPad, iPhone, Android devices, and Microsoft Surface, ensuring that you stay informed wherever you are. OnBoard provides excellent security features such as two-factor authentication, biometric identification, and remote device wipe to ensure that your board materials stay secure. The easy-to-use interface and personalized dashboard of OnBoard make it possible for directors, executives, and administrators to access and update documents, collaborate in real-time, and see activity for upcoming meetings. The granular permissions enable board administrators to designate user, group, and committee access to sensitive materials. OnBoard's engagement analytics track interactions with board books, including notation locations, and which sections received the most attention. The Minutes Builder feature helps you take accurate minutes quickly during the meeting. Join more than 5,000 board-led organizations who trust OnBoard to deliver more effective governance in over 55,000 meetings every year. Upgrade your board meetings with OnBoard today!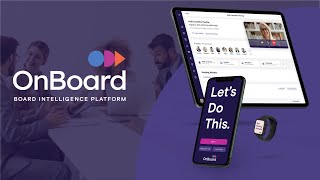 OnBoard does not have a free version but does offer a free trial.
Industry: Financial Services
Company size: 201–500 Employees
Used

Daily

for

1+ year

Review Source
---
Drive well-planned meetings
Pros
The entire meeting planning process is very easy to manage. It allows all our team members to collaborate in real time from anywhere at any time using different endpoints. The minute generator greatly simplifies the workflow. It provides automated meeting summaries that provide highly significant information for later analysis.
Cons
It has a wide variety of functions that for new users it is a bit complicated to start using it.
Industry: Nonprofit Organization Management
Company size: 11–50 Employees
Used

Daily

for

2+ years

Review Source
---
Exceptional software and professional employees
The benefits from implementing OnBoard for our board management are countless! From day one the staff was professional, advised us during implementation, friendly, and respond immediately. It was a seamless implementation process. Our board started using OnBoard and instantly approved of using the portal for all board management. As the lead administrator and developer of the portal I have enjoyed the entire process and love all aspects of OnBoard and the staff. They provide ongoing training webinars and tutorials for new users. They are innovative and ask clients for feedback and features they would like implemented into OnBoard. I have recommended OnBoard to others and would highly recommend OnBoard to anyone considering board management software.
Pros
Impactful features include composing the agenda from a word document, Zoom links can be accessed from OnBoard, improved calendar, Resource Library. User friendly. New features, upgrades, and improvements implemented on an on-going basis. Integration was seamless.
Cons
There are no aspect of this software that are difficult to use. Seriously, there is nothing I don't like about OnBoard.
Industry: Transportation/Trucking/Railroad
Company size: 1,001–5,000 Employees
Used for

2+ years

Review Source
---
RRTS
It's not as user-friendly as I had expected. Understand I have not used this type of software before, so I have nothing to compare it to, but it was presented as such a phenomenal tool, and given my experience with it, I don't agree with that assessment.
Pros
It is not terribly complicated to use once you experience it and understand it, but I struggled with the limited instructions that are available to help you learn. I have been struggling with entering a survey, where the same answer options will be given for each question (and not the options you provide). After working on this over the course of 2 days and pulling my hair out at times, I called CS and heard 'oh yeah, that's easy to do" (of course your CS rep would say that, he's been taught how to complete the task). But I shouldn't have had to call CS for the answer; it should be in some tutorial or book at my fingertips.
Cons
It does not appear to be as customizable as we would like . . . we don't have the ability to change any formatting or appearance of the printed product, we don't seem to have the ability to add items to the agenda unless they are listed as an agenda item (sometimes we just want to add a footnote or additional note of explanation).
Industry: Financial Services
Company size: 201–500 Employees
Used

Weekly

for

2+ years

Review Source
---
OnBoard-Get On Board
I really love working with OnBoard. It is easy to use for the end-user and was an easy adoption for them. As an admin, I can set permissions to various employees, and they can upload documents without my intervention. I like that new features are always coming out to test/try. The company continues to grow, but I have not seen any negative effects of it.
Pros
The features which I love about OnBoard are the e-signature and approval options. I am able to create surveys and get results much quicker as users are already used to the OnBoard portal. e-signatures were critical during COVID as we couldn't meet in person, but I needed signatures for approval of documents. I also love the customer support of my relationship manager. They are always listening on how to improve the product. Innovative is necessary in an electronic world.
Cons
The minutes feature is a work in progress. I am sure it works fine for some organizations, just not me. I do not like the fact that the pre-form automatically creates links of documents in the meeting minutes. Starting from scratch is cumbersome as well. They have taken my comments into consideration. Perhaps there will be a third option someday.
Industry: Higher Education
Company size: 201–500 Employees
Used

Daily

for

1+ year

Review Source
---
OnBoard has made my job so much easier!
Pros
We used to produce a printed and bound board book for each meeting, requiring materials to be submitted far in advance, and last-minute changes were not able to be included. OnBoard gives me the flexibility to continue to make changes right up to the meeting date. Board members are able to access the virtual board book from wherever they are using the device that they prefer. We are also able to use OnBoard for committee meetings and cabinet meetings and capture any votes that take place directly in OnBoard.
I also use the polls/voting option almost daily with cabinet. There are many small items that need cabinet consensus and instead of waiting until the next cabinet meeting, we upload the needed documentation and send it out for a vote. The results are recorded in OnBoard for future reference, which is especially helpful for any board votes needed during the audit.
I also love the ease of use and implementation. I have had to do very little individual training with board members, and customer service has been super responsive whenever I (or a board member) has had an issue.
Cons
It would be great to be able to store a little more information about board members that you could run a report on - such as term information, etc.
Reasons for Switching to OnBoard
At the time we were choosing the layout and ease of use seemed more user-friendly.