About Zoho CRM
Zoho CRM is a cloud-based business management platform that caters to businesses of all sizes. It offers sales and marketing automation tools with helpdesk, analytics and customer support functions. Zoho CRM helps users respond to customers across channels in real-time. Zia, Zoho CRM's AI-powered sales assistant, can predict an appropriate time to contact customers. It scans emails for urgency and can display relevant statistics or documents when performing searches. Users can integrate with G Suite, WordPress, MailChimp, Evernote, Unbounce and other third-party systems. Zoho CRM's software development kits provide tools to build custom functions to add to the CRM. Zoho CRM is available on monthly or annual subscriptions and support is extended via phone, email, documentation and other online measures.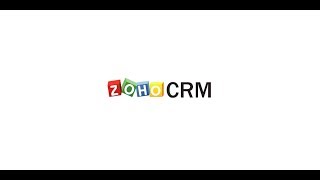 Zoho CRM has a free version and offers a free trial. Zoho CRM paid version starts at US$20.00/month.
Industry: Marketing & Advertising
Company size: 51-200 Employees
Used

Daily

for

2+ years

Review Source
---
Your clients in the cloud
In my organization we need to have access to our customers' information, anywhere, so we think we should migrate everything to Cloud, and Zoho helped us to do it quickly and easily.
Pros
Easy, everything is everywhere, easy to access even from the cell phone, it is incredible that all the information is online. It helped me a lot not to depend on sitting in the office to work.
Cons
It can be adapted for all companies, however for Latin America and certain information such as the NIT field that is not found but solve it by generating an alphanumeric field
Reasons for Choosing Zoho CRM
We needed a cloud solution, in order to have access to information outside the office.
Reasons for Switching to Zoho CRM
The price.
Industry: Veterinary
Company size: 2-10 Employees
Used

Daily

for

2+ years

Review Source
---
Great for Sales Teams
My overall experience with ZOHO CRM has been a long one, but in the end I'm glad that I've stuck to ZOHO CRM's program for our sales teams.
Pros
I enjoy the capability of ZOHO CRM and the amount of integrations that work with ZOHO CRM.
Cons
ZOHO support often times, first answer the chat to send you to a FAQ or self help article. Rather than diagnosing the problem, finding the underlying cause and then proceeding accordingly. It does take a long time to learn and many of the modules can't be modified the same way as another (Example: I can create a pipeline with one module but with the other I can't). Also to become very proficient within ZOHO CRM's education, you'll have to invest more into your education. Instead of it being provided for you with the program.
Industry: Computer Software
Company size: 51-200 Employees
Used

Daily

for

2+ years

Review Source
---
If you want to keep your sanity, then stay away from ZOHO
The benefits this software provides is nothing more than any other CRM available. Keep records of your accounts, logs of communication, track your sales pipeline, etc. etc.
Pros
The CRM is easy to use. Unlike other CRM products, with Zoho you don't have to be an expert to get started. The interface is clean and easy to use. It doesn't have all the insane features that other products have, but that is what sets Zoho apart because they are trying to keep it simple for small businesses.
Cons
There's too many issues with this product to even begin listing. The application is buggy. I started reporting bugs to their support department but they occupied too much of my time and would remote into my computer and repeat the same steps over and over again, expecting a different result. I gave up on reporting issues. They don't even care to fix them anyways. The support is extremely poor. I'd rather have them offer no support than the support they provide, as you'll get even more frustrated with their support than not even having support at all. We had an "Enterprise Account Manager" which wasn't very responsive. Any unresolved issues with the application he would just send back to the support department (the same support department you'd been previously fighting with for months on petty issues) and then nothing would end up getting done. Based on my conversations with the account manager, I can confidently say that nobody in the organization has any clue what's going on. Nobody in the company has any empowerment to do anything, everybody acts like pre-programmed robots. There is a horrible communication gap between departments, nobody is on the same page, everybody just passes the buck thinking somebody else will take care of the issue. You can tell there is a pretty bad work ethic and culture. You'll get the run around and end up getting exhausted and give up. You end up having a second job just trying to deal with Zoho. It's quite simple, STAY AWAY.
Industry: Writing & Editing
Company size: Self Employed
Used

Weekly

for

6-12 months

Review Source
---
An inexpensive yet powerful, feature-packed CRM
Zoho CRM is made it so much easier to capture leads, and manage them properly in one space, leading to sales more often. I have no need to get another mail client or funnel, or spend time trying to add all leads from different platforms into one use boards and spreadsheets.I am very impressed with Zoho CRM and what it can do.
Pros
Zoho CRM is very easy to use, and also easy to customize to your liking. Features I like the most are the 1. lead/contact dashboard showing all activity for each contact and where they are in the sales pipeline. 2. Integration with Zoho mail and social media for immediate posting and communication, one-click calls and meeting schedules in the dashboard, 3. segmentation according to follow-up actions or campaigns and reporting.Integration with the rest of the Zoho Suite makes it so easy to use and set up everything with no third party software needed.
Cons
Zoho CRM is integrated with the rest of the Zoho Suite, which might add to your monthly subscription bill depending on what you are looking for. However, you can get an all-inclusive rate as well.Even though it is straight forward, there is a learning curve as with most software, but the tutorials really help a lot in this regard.
Industry: Information Technology & Services
Company size: 10,000+ Employees
Used

Daily

for

2+ years

Review Source
---
I Will Tell You The Truth About Zoho CRM.
Pros
Along with integrated mail templates, the daily email limit, contact management, invoice management, and much more, I get to use the CRM. It is best for a company or organisation to maintain the centralization process for documentation since it is simple to use, data-transferring, and efficient. With Zoho, there are many customization possibilities accessible. You may add extensions and integrations to the Zoho Marketplace to improve a variety of aspects of your company, including productivity, sales, and financial management.
Cons
I don't have any dislike or least favorite about this software.