About Avaya Cloud Office
Avaya Cloud Office is a cloud-based communications and collaboration solution designed for small to midsize businesses. It features auto dialing, conferencing, screen sharing, instant messaging, and more. Avaya Cloud Office is available with different levels of functionality such as mobility convergence, unified communications and call center management feature so that users can choose a phone system that suits their business model. The Avaya contact center assists in management and administration of calls. It also helps in gathering, measuring and analyzing customer interactions. The Avaya learning service helps in providing training to employees using different forms of training module such as virtual training, classroom training, self-paced training in which sessions can be scheduled and users can organize custom classes. It integrates via Telephony Application Programming Interface (TAPI) with other Avaya applications as well as third-party contact management software. Avaya Cloud Office can be deployed as an appliance, dedicated server or virtualized software. Support is available via phone and live chat.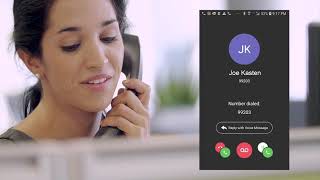 Avaya Cloud Office pricing
Avaya Cloud Office does not have a free version.
Alternatives to Avaya Cloud Office
Avaya Cloud Office Reviews
Industry: Transportation/Trucking/Railroad
Company size: 10,000+ Employees
Used

Daily

for

2+ years

Review Source
---
Avaya IP Office
Overall, It's a great software. Allows you to make phone calls remotely from the office number without needing a physical phone. This software helped our company thrive during the pandemic and working from home.
Pros
Easy integration, easy to use. Avaya IP Office, allowed us to work remotely through the pandemic with only needing access to our laptop.
Cons
Avaya is a bit outdated, limited features and requires VPN.
Industry: Marketing & Advertising
Company size: 51–200 Employees
Used

Daily

for

1+ year

Review Source
---
Avaya survey
Good experience
Pros
Easy to use and very fast to manipulate
Cons
Nothing at all I can't complain about it
Reasons for Switching to Avaya Cloud Office
Easy
Industry: Telecommunications
Company size: 2–10 Employees
Used

Daily

for

1-5 months

Review Source
---
Avaya Cloud? Yikes..
Pros
No pros. Might be if you could get the phone system setup. It took 3 months then I cancelled. They don't have time for new customers it seems.
Cons
Signing up with Avaya was the biggest mistake I have made in a long time. You here about all the software, integrations and see the amazing advertising team kicking but. What you don't know is that Avaya is very unorganized. The sales team did an okay job at getting me setup, however once it came to porting, getting the phones programmed and gathering information about basic phone system setting the nightmare begins. The sales guys and setup teams seem to have no communication with each other. Once I was with the setup team they changed ordered me an extra $45 a month for 11 vanity numbers. Those vanity numbers are free with my existing provider. I was asked the same questions at least 9 times as I was switched from one person to another to another to another over and over. Two and a half months later I have had enough and asked for a refund on all the phones. They countered with an okay offer to refund me all the money I paid on the phones but then I told them about the vanity numbers and the change order and they called it hold numbers for when... lol here it is when my port numbers come in. So I guess they are charging me that in for holding the same for the numbers I have to port when we are waiting the 2.5 months for them to get me setup. Also.. they charged me monthly already with no phones even programed. I would steer way clear of this company. After I asked them what about the vanity numbers they have not responded to an upset customer now for 5 days. It's been a un
Industry: Chemicals
Company size: 11–50 Employees
Used

Daily

for

6-12 months

Review Source
---
VIKING Chemical Co.
The has been a massive increase in efficiency and ease of communication since the service has been implemented.
Pros
The system is very easy and intuitive to use. I like how the app and the desktop phones all seamlessly integrate will e-mail.
Cons
Some of the integration was taxing, and on rare occasions calls are dropped when I am out of the building.
Industry: Hospital & Health Care
Company size: 201–500 Employees
Used

Daily

for

2+ years

Review Source
---
It is a powerful tool to manage communications within the organization.
The system is very robust and stable, the failures experienced are minimal and the service received from the equipment is great.
Pros
The IP telephony has helped us solve major operational problems, in addition the system has several tools that allow you to have a good administration, the configuration is relatively simple and maintenance is simple. In addition you can add other optional benefits such as voicemail, call recording, the Avaya Equinox app among many other features.
Cons
The equipment and licenses are expensive, there are rumors that the system will disappear what creates this expectation if we have made the right investment.