About BQE CORE Suite
BQE's powerful all-in-one platform and expert support give Architecture, Consulting, and Engineering firms the intuitive tools they need to meet the demands of their firm, empower their team, maximize profitability, and deliver superior results to clients. BQE CORE was designed for the A&E industry by architects and engineers. You need a platform that truly understands your firm and supports it with the specialized tools you need. After running their own successful A&E firms, our founders created the best-in-class platform they needed from the ground up. Our platform supports the specialized needs of the A&E industry. We understand your pain points like no one else. We don't stop at our software. You can also have access to our friendly, expert support team that's as invested in your success as you are. Enjoy access to expert support to ensure your firm operates at its best. Our packages include customer onboarding and 24/7/365 support so you can make the most of the platform. Our support team understands your day-to-day challenges and can identify opportunities for back-office optimization. Today, over 400,000 users trust BQE's award-winning software to streamline their business processes while offering groundbreaking insights that grow their firm and boost their profits.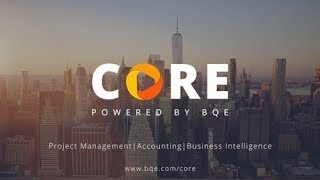 BQE CORE Suite does not have a free version but does offer a free trial.
Alternatives to BQE CORE Suite
Industry: Architecture & Planning
Company size: 2–10 Employees
Used

Daily

for

2+ years

Review Source
---
Yep, there is a feature for that!
Good. Invoicing and time entry in the program fit our needs. There are always more features that we discover when we need more from CORE.
Pros
The program is cloud based which keeps us current. Most of the time when I have specific report, feature, or activity that I want, I can find what I need quickly. As with many programs, CORE does more than my office utilizes it for. Invoicing and time entry are usually smooth processes.
Cons
We migrated from ArchiOffice and feel that the way contacts are managed in CORE is utterly useless. We've abandoned it in favor of a piecemeal assortment of Office 365 and Mac built-in programs.The structure of projects is also something that can be improved. When a project transforms from hourly to percentage or adds phases, CORE has some flexibility but there are troublesome aspect such as migrating time from a single phase project to ensure it can be captured in invoices.
Reasons for Choosing BQE CORE Suite
Saved money through the al a carte module cost structure compared to previous program.
Reasons for Switching to BQE CORE Suite
Easier to migrate our ArchiOffice data into CORE.
Industry: Architecture & Planning
Company size: 11–50 Employees
Used

Daily

for

6-12 months

Review Source
---
Best product out there, basically out of the box .... no implementation needed
Just great, it allows me to have a far quicker pulse of the business in financial terms and also marketing wise keeping track of proposals.
Pros
It is very well structured, in a logical manner and has put a lot of attention into details of how projects can be deployed in so administrative ways in the AE industry. It can keep a project very simple o very sophisticated in terms of phases, budgets, reporting, etc.
Cons
Moving from Archioffice (the previous software from BQE) to CORE was not flawless at all. I would have liked more support from BQE and that they acknowledge it is not flawless or that things willl appear automatically.
Reasons for Choosing BQE CORE Suite
Archioffice was too old, needed cloud based software.
Reasons for Switching to BQE CORE Suite
It was jumping to something more familiar, avoiding costs of people learning something new, avoiding migration costs, and CORE is overall the best bang for buck software out there for small and midsize companies.
Industry: Construction
Review Source
---
BillQuick - A look at one year post conversion
Pros
BillQuick is a powerful tool in tracking project time and expenses for professional services. We converted from 7 years of Quick Books data. Although the conversion and integration was not a seemless process, and the learning curve was much longer than originally anticipated, we are now tracking project profitability at a much higher level than we ever have before.
BillQuick Tech Support is fantastic. They are patient and knowledgeable, and we have received a lot of added value by having the Gold Care Tech Support package added onto our services. Additionally, we have invested quite a bit of extra money on having Bill Quick Customization Department write customized reports. Although the standard reports section is extensive, we were unable to find reports that gave us exactly the data we wanted to see. It's nice that this additional service is offered, but it would be nice for them to give us a handful of customized reports as part of the conversion process and then charge extra from there on out.
Cons
The software is not as user-friendly as it could be. Some things are overly complicated and require detailed use before you understand the functionality of the software. It could not be more different that QuickBooks, and the transition for us was difficult. Personally, I highly underestimated the learning curve.
In the beginning, we were only using BQ for time and expense logging and we maintained our Quick Books file for all other general accounting, which I would strongly discourage. Although the SYNC feature does work to sync data between programs, it is not a clean sync and much of it needed cleanup on either side of the sync. This was very frustrating. We just recently converted all of our general accounting in QB over to the Accounting portal in BillQuick. This has helped to have all of our financial records in one software system and our data is much more consistent. However, the "Accounting" portal is not perfect and there are a number of features that are lacking where QB has it all dialed in. Examples: 1) in looking at a vendor bill, there is no indication or PAID FLAT to see it has been PAID or not. To see if it is paid, I have to look at the previous checks. 2) In a report that lists all AP checks written for a particular time frame, there is no TOTAL at the end of the report. 3) BQ allows duplicate check numbers. (This is not a complete list, but the top 3 things that drive me insane.) These seem like basic accounting features and for them to not be included in an accounting software is frustrating. DISCLAIMER: we have not yet upgraded to BQ2015 and remain on BQ2014 for a while longer. My understanding is that BQ2015 has updated a number of accounting features, so I look forward to seeing if any of those issues are remedied.
Industry: Construction
Company size: 51–200 Employees
Used

Daily

for

2+ years

Review Source
---
Great Product
It has revolutionized the time tracking process and saved us tons of time filling out spreadsheets.
Pros
The ability to track progress and determine where funds are allocated based on the stage of design.
Cons
Occasionally the website does down but it goes back up fairly quickly.
Industry: Architecture & Planning
Company size: 2–10 Employees
Used

Daily

for

6-12 months

Review Source
---
A helpful tool, once you get used to it.
When we compared different software options (Quickbooks, Monograph, Deltek Ajera, Smartsheet) BQE offered the most options we needed (project management, invoicing and time tracking) at the best price.
Pros
I like having so much data at my fingertips to get a sense of finances for the company, tracking accounting (invoices, vendor bills, etc.). Customer service is AMAZING, you can call right from the app on your computer and they are available pretty much anytime, even when I'm working late. The workflow to be able to send things internally. The dashboard view is really helpful to see what's important to you. If you are already set up as a company, onboarding can be really quick as they have a team that can enter your data.
Cons
Data entries are sluggish, you have to wait for the line to be created before you can add information to additional cells. Invoices are not as tidy as I would like (activity & description, really duplicate the information). Individual training needs improvement, the consequences of choosing option A or B to enter information has consequences down the line that were not clearly explained and only discovered after months of entering in a way that was not what we really needed.