About Abby
With Abby, an auto-entrepreneur can manage administrative procedures on a single platform, streamline the automatic calculation of contributions, and send declarations to Urssaf. The invoicing module assists with the creation of estimates and invoices and includes an automatic reminder system as well as online payment links. Users can track cash flow and generate purchase and revenue books automatically. Teams can manage your clients and tasks, record working time and connect applications.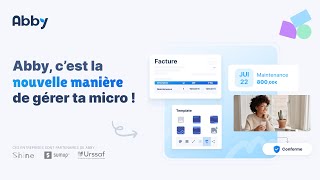 Abby has a free version and offers a free trial. Abby paid version starts at €0.01/month.
Starting Price:
€0.01/month
Industry: Photography
Company size: Self Employed
Used

Daily

for

1-5 months

Review Source
---
Un outil comptable indispensable !
Nette amélioration de ma gestion comptable quotidienne, j'aimerais beaucoup que la fonctionnalité de signature en ligne soit incluse et non en supplément... un jour peut etre :)
Pros
Depuis 7 ans j'avais un logiciel très basique, de devis et facturation simples. J'ai découvert Abby et le changement a été radical : beaucoup plus intuitif, beaucoup de critères qui manquaient à mes factures jusqu'ici (alors que mentions obligatoires !). Une facilité à suivre sa comptabilité jour après jour sans devoir faire appel à un comptable. Pour els plus récalcitrants aux chiffres, c'est un vrai soulagement.
Cons
Quelques bugs qui ont necessité des créations de tickets, pas toujours rapidement gérés (ou du moins pas aussi rapidement que j'aurais aimé). Il n'en reste pas moins que ces tickets ont toujours été résolus, de manière sympathique qui plus est.Abby améliore son logiciel jour après jour, c'est appréciable
Industry: Architecture & Planning
Company size: Self Employed
Used

Weekly

for

1-5 months

Review Source
---
J'adore ce logiciel !
J'adore Abby ! Je gagne un temps fou grâce à ce logiciel. Il me permet de mieux m'organiser, suivre ma facturation, relancer mes clients pour mes devis ou factures, voir en instant mon CA, mes cotisations et ma marge.
Pros
Abby est très simple d'utilisation, peu cher et son design est vraiment agréable. J'utilise Abby depuis 1mois et j'ai déjà gagné en productivité ! J'adore le fait de personnaliser les devis et factures pour coller à 100% à mon image de marque, le suivi de projet est aussi un plus, il me permet de mieux gérer mes chantiers en cours. J'aime également le fait qu'Abby soit accessible en ligne : il est ainsi disponible tout le temps et partout avec moi !
Cons
J'aimerai pouvoir organiser mes devis/factures en lots, en créant des sous-totaux. Il serait aussi utile de pouvoir lier le montants des documents associés à un projet dans les colonnes du suivi de projet (plutôt que de les rentrer à la main pour chaque projet). D'un point de vue organisationnel, il serait vraiment top d'avoir accès à un diagramme Gantt (mais je sais qu'Abby est avant tout un logiciel de suivi de facturation).
Industry: Renewables & Environment
Company size: Self Employed
Used

Daily

for

1-5 months

Review Source
---
test Abby
Pros
facilité de prise en main, personnalisation des devis, transformer un devis en facture, faire des factures d'acompte, déclaration Urssaf et TVA et j'ai pas encore tous testé.
Cons
pour l'instant rien, seulement l'impossibilité de figer le texte de bas de page sur toutes les page et pas seulement sur la dernière, mais ça va venir d'après Abby.
Industry: Alternative Medicine
Company size: Self Employed
Used

Weekly

for

6-12 months

Review Source
---
Fiable, réactif et humain !
A date, je reste sur un forfait gratuit car je me lance, et ce n'est pas du tout pénalisant. Je passerai avec plaisir sur une version pro lorsque j'y verrai plus clair dans mes finances, mais Abby ne pousse pas dehors lorsque nous sommes en version gratuite : ce qui est aussi un plus non négligeable.
Pros
Le logiciel est immédiatement fonctionnel, en constante évolution et en constante veille législative : un luxe pour garder l'esprit tranquille et ne pas douter de ses mentions légales.La forme est pro mais harmonieuse, tout est facile d'accès et facile d'utilisation. C'est très intuitif et agréable.De plus, l'équipe technique est hyper attentive et réactive en cas de besoin !
Cons
Rien de particulier. Pour l'usage que j'en fais, je ne trouve rien à redire.
Industry: Consumer Goods
Company size: Self Employed
Used

Daily

for

6-12 months

Review Source
---
Au top ! Inégalable !
Franchement j'adore ABBY et je le recommande autour de moi. Une facilité d'utilisation, de configuration. Des robots qui nous aides via des chatbox bref foncé !!
Pros
Après avoir utilisé 5 autres logiciels en ligne abby est incomparable. Il y a tout ce qu'il faut. Il m'manque des petites choses mais c'est toujours en continuelle amélioration et développement.
Cons
Le fait que l'on ne peut raccorder avec une API à woocommerce c'est super contraignant.