About eM Client
eM Client is a fully-featured desktop email client for Windows and macOS. Beyond email management, the system also offers features for management of calendars, tasks, events, contacts and notes, and integrates chat. The software supports all major email services including Gmail, Exchange, iCloud and Outlook365 while deployment is quickly implemented thanks to automatic setup and data import from all major email apps (including Microsoft Outlook, Outlook Express, Windows Mail, Thunderbird, Incredimail and more). eM Client provides a multifunctional sidebar containing daily agenda, communication and attachment history with a selected contact, tasks or chat. Additionally, the system has a snooze email feature that can literally postpone selected emails and return them back to inbox only after a set time. You can also use email encryption via PGP and S/MIME. The app also provides email archive, signatures, templates, QuickText, email rules (local and synchronized), conversations and threads. Integrated spell-check and automatic message translation is also available.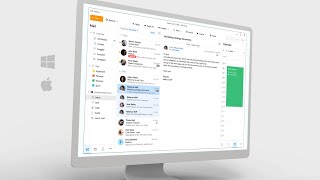 eM Client has a free version and offers a free trial. eM Client paid version starts at €34.95/one-time.
Starting Price:
€34.95/one-time
Alternatives to eM Client
Used

Daily

for

2+ years

Review Source
---
Great email, calendar, contacts, and task manager.
It has completely replaced MS Outlook. I use it multiple times a day for all my email, calendar, contacts, and task management functions.
Pros
Synchronizes well with Google email and calendar. Easy to use layout with all of the features I want in a combination email, calendar, contacts manager. Pulls up email correspondence chain in separate view. I can customize views, categories, themes, etc.
Cons
Does not have a corresponding Android version. The contacts sync has sometimes resulted in duplicate entries. There is a duplicates tool to remove duplicates but it would be nice to have an easier to use merge contacts function added.
Industry: Translation & Localization
Company size: Self Employed
Used

Daily

for

2+ years

Review Source
---
The A Team of E-mail Client
I used to spend too much time logging into different e-mail providers just to check e-mail messages and communicate with colleagues and clients. Now I only need to open my eM Client software and see all e-mail accounts in one integrated dashboard. There is no more hassle and productivity has increased manyfold during my use of this software.
Pros
I like its superb functionality and flexibility. You can add accounts for the majority of e-mail providers, create contacts and tasks, subscribe to internet calendars, use Google Hangouts directly from within the software without having to logging into your Gmail account, assign labels to e-mail threads with different colors. The greatest advantage is that you can purchase a lifetime license at a bargain and receive all future updates for free.
Cons
It lacks official themes and seldom releases feature updates.
Reasons for Choosing eM Client
I made the switch because I was looking for a more flexible and secure software at a great price.
Reasons for Switching to eM Client
I chose eM Client over this alternative product because I liked the pricing scheme and all features and benefits that it might offer to users.
Industry: Computer Software
Company size: 2–10 Employees
Used

Daily

for

1+ year

Review Source
---
I was excited, but terrible reliability and horrible support changed that.
The reliability is awful, but the customer service... wow. If they were any quieter over there, we'd have to be in the vacuum of space.
If I could buy this company, fire every employee and finish their system I would. I suspect they have very little development capability, or they are outsourcing all of this and that explains why getting fixes done is impossible at best.
Pros
The interface looks great (but has issues), it's fast and has some good features, but mostly they don't work as expected.
Cons
The search function doesn't work.
That's right IMAP users... No searching for e-mails. No matter what.
If I am looking for an e-mail from my #1 client, I first have to look on my cell phone, find the date and time in eM client and then sort by the Received By name. Sometimes it is there, sometimes it isn't. 99% of the time I am stuck using my cell phone to reply to people because eM client search doesn't work.
If I have an upcoming meeting, occasionally (1 time out of 30) I can find the e-mail by typing in any ONE word that I can think MIGHT be in the e-mail message. You can't search by e-mail address, or name, subject nothing.
I dealt with it for 2 years. I submitted countless documents, proof and technical information to support, and all they do is ignore me. I now am forced to just send them an e-mail every two weeks saying "Hello? Any update?" .... Silence.
I'm a software engineer. I own a software company. I told them how to fix all of it. I offered for free, since it's been 2 years. They're not interested at all in fixing it.
Beyond that, e-mails in the inbox show that they are from different people, people that I haven't talked to since I created my e-mail account. Why you ask? They blame it on "incomplete headers". I submitted header comparisons between all sorts of mixed up messages showing no difference... What was their explanation? Nothing. Silence.
Industry: Information Technology & Services
Company size: 2–10 Employees
Used

Daily

for

2+ years

Review Source
---
The most complete mail client
Pros
Has every features that you need to manage all mail, task, contact, notes, calendar and it's perfect with icewarp server because it's very well integrated. You can use smart attach directly from emclient and use video conferencing.
Cons
I have not found anything to bad, Now thay are developing also android app.
Industry: Computer Software
Company size: Self Employed
Used

Daily

for

2+ years

Review Source
---
A modern email, calendar and contact manager
I have a very large mail database which can make it slow, however most things work very well.
Pros
Integration of the different features. GMail and Exchange integration.
Cons
Mail filtering is too simple. Need to be able to create complex rules, using different headers.
Calendar should alert conflicts when accepting an invitation or scheduling a new meeting.
Reasons for Choosing eM Client
Calendar, Contact and Mail integration. Look and feel.
Reasons for Switching to eM Client
Desktop application that mostly just works.