About Kiwi for Gmail
Kiwi is an email management application for Mac and Windows PCs. It enables users to bring together all their Google Workspace applications. Once they are collated, it works as a standalone Google desktop package instead of multiple browser tabs. This desktop application merges multiple Google accounts and multiple applications together. It has all the capabilities of Gmail, Google Docs, Slides, Sheets, Calendar, and Keep. User accounts are grouped together, and inboxes are color-coded and displayed on a single menu. For managing several inboxes at once, users can set up focus-filtered inboxes. Kiwi provides a dashboard that combines all email messages, including starred, important, unread, even if different accounts have different filters. Users can access all their Google applications from the Gmail interface. Other features include the do not disturb toggle buttons and instant notification banners.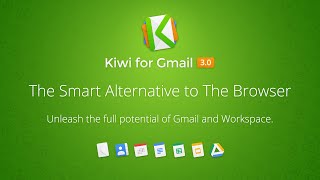 Kiwi for Gmail has a free version and offers a free trial. Kiwi for Gmail paid version starts at US$2.75/month.
Starting Price:
US$2.75/month
Alternatives to Kiwi for Gmail
Industry: Consumer Goods
Company size: 11-50 Employees
Used

Daily

for

Free Trial

Review Source
---
Solves my multiple gmail account problems
I have 5 gmail accounts for different businesses and need them all accessible. Gmail doesn't have a native app to see them all on my mac and it bogs Chrome down to have it all open. With Kiwi, all my accounts are accessible, my most used google docs are accessible, and none of it affects Chrome
Pros
All my five gmail accounts are in one program and not bogging down Chrome.
Cons
I wish google photos was one of the options.
Reasons for Choosing Kiwi for Gmail
Shift was too expensive and harder to use.
Reasons for Switching to Kiwi for Gmail
Cost and features.
Industry: Computer Hardware
Company size: 51-200 Employees
Used

Daily

for

1+ year

Review Source
---
Very nice UI for Gmail
I really like the product. Greatly a better experience than Gmail in Chrome browser.
Pros
Very rich and dense application. Gives a desktop-like experience.
Better memory management compared to Chrome.
Very easy to switch between accounts in a single window.
Cons
Lack of tabbing feature which leads to too many windows being open.
Make the color palette a bit more intense to easily tell colors apart.
Doesn't seem to integrate with the password manager during the initial login.
Industry: Marketing & Advertising
Company size: 11-50 Employees
Used

Daily

for

1+ year

Review Source
---
Its ok. Nothing standout in a positive way, and some negative things
Based on #3 above, I plan on finding new software whenever I have the time to get a good alternative. This bug has been present for several months now, and is unacceptable.
Pros
Its basically the same as google suite, but a stand alone app. Does what it needs to.
Cons
1. Nothing net new is added that I can't do from the web-based g suite.
2. Email draft windows will randomly close out. If I was using that to remind myself of something, it can then slip my mind.
3. [IMPORTANT] Calendar reminders have completely stopped working. I now longer get a pop up reminding me. This, along with email, are the two main things I need to work for this app. I've reported it, and there is no timeframe to fix this.
Industry: Design
Company size: Self Employed
Used

Daily

for

1+ year

Review Source
---
Organization and QUICK access to all features. No need to log on to browser is a BIG PLUS.
I tried many other apps to organize multiple Gmail mailboxes/addies. Kiwi has outdone them all. I could not believe it worked so well for so long at no cost ... happy to pay the annual subscription price!
Pros
Five Gmail addresses are smooth and easy to organize. Quick and easy to fly through messages and prioritize. Time saver!
Cons
Implementing filters still a bit quirky.
Industry: Marketing & Advertising
Company size: 2-10 Employees
Used

Daily

for

1+ year

Review Source
---
Wonderful Desktop email client for businesses running GSuite
This is my go-to desktop email Client and I can't see myself changing anytime soon.
Pros
I like the simple filtering you can use to just show mail from the last day and mail that is unread. I also love the ability to have emails open in different windows
Cons
I would like to see some more integrations.