About Kiwi for Gmail
Kiwi is an email management application for Mac and Windows PCs. It enables users to bring together all their Google Workspace applications. Once they are collated, it works as a standalone Google desktop package instead of multiple browser tabs. This desktop application merges multiple Google accounts and multiple applications together. It has all the capabilities of Gmail, Google Docs, Slides, Sheets, Calendar, and Keep. User accounts are grouped together, and inboxes are color-coded and displayed on a single menu. For managing several inboxes at once, users can set up focus-filtered inboxes. Kiwi provides a dashboard that combines all email messages, including starred, important, unread, even if different accounts have different filters. Users can access all their Google applications from the Gmail interface. Other features include the do not disturb toggle buttons and instant notification banners.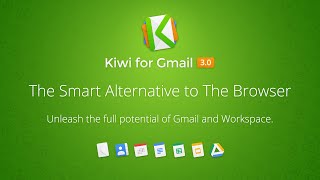 Kiwi for Gmail has a free version and offers a free trial. Kiwi for Gmail paid version starts at US$2.75/month.
Starting Price:
US$2.75/month
Alternatives to Kiwi for Gmail
Industry: Information Technology & Services
Company size: 501-1,000 Employees
Used

Daily

for

1+ year

Review Source
---
"Awsome software for all Google products in one place"
It gives me the power to handle all my Gmail in one place.  My experience with Kiwi is great.  It helps me everything organized. Kiwi makes my life easy in many ways.  In beginning can try it for free. It's a very clean and easy interface.  Kiwi is a very reliable app. I recommend this to everyone.  It's very cost-effective too. It keeps me updated every time.  I like this because it saves me time. Kiwi is the best method to interact with all Google services.  Awesome software comes with excellent customer support.
Pros
I like the interface of this software.  It's very easy to use and helpful when needed to switch many emails. I can manage all Google programs in one place. The window feature is also great. Kiwi gives me the freedom to access all my emails at the same time without a browser.  They added Grammarly and Zoom features in the basic version. It's a good deal for me.  It gives me time freedom too. Very cost-effective and manage all Google and Google Workplace accounts easily.  Not only manage Google accounts but also gives the freedom to launch Google Slide,  Google Drive,  Google Docs, Google Sheets. I like the performance when switching between all services.  Notification and integration are also good. I like the colour theme because with the help of Kiwi can easily identify every account.  I can manage many accounts in one app.
Cons
It's a very fabulous app. I like this software.  I wish could be an app for iPad. there is some lag in a startup this is a minor thing. It doesn't come with more than 100 emails per view. Sometimes difficult to find unread emails. Sometimes it freezes and I have to exit and restart this.  Fans of dark mode disappoint sometimes.
Khan Md Mohaiuminul Islam
Industry: Civil Engineering
Company size: 201-500 Employees
Used

Daily

for

6-12 months

Review Source
---
Pleased to use KIWI, able to use multiple Emails as professional way
Kiwi is an independent tool which gives me chance to use Gmail and other google client in a single app , without opening a browser. For professional purpose it is very hard to use browser only for email checking. After using KIWI i can use multiple email account at a single time by professional way.
They continuously increase their support by providing other software access, Now i can directly use Grammarly and Zoom via desktop app also.
Pros
Easy to setup and use, for Professional use sometimes I need several email account, Kiwi gives me chance to use several email at same time without having browser. Beside I can use G suite also like Google docs, sheets at drive. Recently they added ZOOM and Grammarly in their Basic version. It saves my time .
Cons
During my use , Sometimes it freezes up , to continue I need to restart.
Industry: Nonprofit Organization Management
Company size: 2-10 Employees
Used

Daily

for

1-5 months

Review Source
---
So much easier than logging on to Google Workspace to get things done
We now have an easy way to access our Google Workspace products that all levels of tech experience can use.
Pros
What I like the most is that I have everything I use frequently right in one piece of software.
Cons
At this time, I do not know what I would say I like the least, I have not found anything yet.
Reasons for Switching to Kiwi for Gmail
I can use my shared Google Calendar with it without any hassle and it will sync bi-directionally
Industry: Consumer Goods
Company size: 11-50 Employees
Used

Daily

for

6-12 months

Review Source
---
Please for the love of God add a way to login via browser
Pros
It's Gmail in a program. It allows me to have a bunch of email inboxes in one place.
Cons
Why does it not have a modern login utilizing a browser redirect? It bothers me immensely and I have considered abandoning the program due to this. At least have a way to tie in to a browsers autofill.
Industry: Insurance
Company size: 2-10 Employees
Used

Daily

for

6-12 months

Review Source
---
A premium program that does not make much of a difference in managing gmail accounts.
It is a good program but it needs important improvements on the things I mentioned above. In my opinion you get pretty much what Gmail already offers but you are paying a premium for it. At least for what my needs are.
Pros
Is easy to access as an app on the mac desktop.
Cons
It is hard to differentiate between accounts, there's colors assigned but when you have several accounts that does not help. the account names should be visible all the time on the menu, they are greyed out and in a very small and difficult font to read, annoying. No way to search on all mailboxes at once, it makes it cumbersome to find an email when you are not sure which address it was sent to. This is a huge miss in my opinion for this program. Gmail does a much better job on this.For me is a deal breaker. It keeps asking to verify passwords every few days on each account as well, this is time consuming and it kind of defeats the purpose of having a "one in all" email program.