About Namely
Namely makes life easier for you, your boss, and your employees. Sounds nice, right? Namely gives you the resources, technology and people to support your company every step of the way throughout your HR process and landscape. With modern, intuitive technology and a world-class team of HR experts, Namely empowers people teams with an all-in-one HR solution designed for mid-sized businesses (25-1000 employees). Namely is an HR solution for people leaders who want to save time, avoid error and build culture. With Namely, you get everything you need to build a better workplace through our single platform that is implemented with your unique business needs in mind. Namely's all-in-one solution allows you to: - Streamline all of your HR data - Run and manage payroll with ease and efficiency - Ensure you are staying up to date on compliance regulations - Re-engage and ignite your workforce - Attract and retain top talent - Administer and manage employee benefits - Build trust in your business leaders - Review robust HR data and analytics to make smarter decisions Namely's modern and intuitive platform includes: HR (Onboarding, HR Analytics & Reporting, and Compliance Support) Talent (Applicant Tracking and Performance Management) Payroll (Payroll Processing and Tax Management) Benefit Administration (Life Events, Enrollment, and Administration) Compliance Plus (LMS, Handbook Creator, Live HR Advisors and more) Time & Attendance (Time Tracking & Scheduling) Need more hands-on support? We've got you covered with Namely's enhanced services: Managed Payroll (Outsourced Payroll Administration) Managed Benefits (Benefits Consulting and Brokerage) Check out some of our latest updates! Slack Integration Bring your team together with instant communication through Slack! With Namely's integration with Slack you can make instant company announcements, encourage employee recognition, celebrate milestones, welcome new hires and more right into your designated Slack channel. Continuous Feedback Keep the performance conversations going with Continuous Feedback! Stay engaged and proactive by having an open line of communication throughout the year and provide ongoing feedback to your employees, not just around review time. Expense Reimbursements Employees can now easily submit expenses and receipts for reimbursements directly within their platform, and administrators can quickly approve these expense reports for direct processing. This process is easy for both the employee and admin, providing an improved user experience! Onboarding Manage your onboarding process with more ease! The newly updated template creation wizard, administrator dashboard, and automated task lists allows you to set up the onboarding process and required information quicker and easier for both you and your new employee.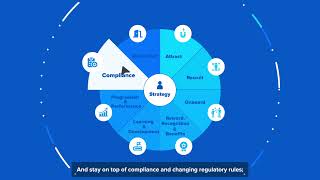 Namely does not have a free version.
Industry: Information Technology & Services
Company size: 201–500 Employees
Used

Weekly

for

2+ years

Review Source
---
Namely keeps us connected and focused at work.
Namely has helped us to manage the workforce, employee retention, understand data and insights within our organization, and keeping us connected in a single package, and we are able to benchmark our productivity, accountability, and credibility in terms of HR. We are able to set time cards, clock-in features at work, as a result, we are able to get optimum results. Managing time-off requests, sick leave(vacation) for employees has been a lot easier, and also the reporting and analytic feature of Namely has helped to keep track of every record at work. Overall, Namely has helped our organization in managing the workforce, employee engagement along with payroll, benefits, and talent management.
Pros
Namely is simply a great platform for HR, Payroll, and benefits management within the organizational framework, as it helps to create better workplaces with varying functionality to adapt in small to mid-size businesses and comply with different regulations at work.
Cons
No particular downsides of the software. Sometimes, I got a problem syncing employee's data to Namely. The API call is not worth handled by the application and keeps me disconnected. Hope this would be solved in the next update.
Response from

Namely

Thank you for your review! We really appreciate your feedback and are happy to hear that Namely helps you manage your workforce, keep employees engaged, and build a better workplace.

Replied 30/11/2020
Industry: Retail
Company size: 51–200 Employees
Used

Daily

for

1+ year

Review Source
---
Great Service
In the beginning, there were a few bumps in the road. But once we were assigned a team like [SENSITIVE CONTENT HIDDEN] we were all set. These three are the dream team as I call them. They have the answers and if not they will ensure they get you the answers. We have been extremely pleased with how they continue to provide us with the best customer service a client can ask for. They have enabled us to utilize the system to the fullest.
Pros
I find the Help Community to be a great asset and feature when you are looking for. quick response. I have to say with all that is happening with COVID-19 Namely has been on top of every new law.
Cons
The ability to run reports and headcount.
Reasons for Choosing Namely
We wanted a system that allows our team members to go in and utilize the system. Namely offered us this service and it has been a great experience thus far.
Reasons for Switching to Namely
The Facebook like feature.
Response from

Namely

Thank you for your review! We really appreciate your feedback and are happy to hear that you have found your service team and the Namely Help Community to be helpful - especially during this difficult time.

Replied 27/07/2020
Industry: Internet
Company size: 201–500 Employees
Used

Daily

for

2+ years

Review Source
---
Avoid at all costs
Terrible - service reps do not know the system, standard payroll practice, let alone any questions. Service tickets get lost, takes months for resolution of more complex tasks and extreme micromanagement
Pros
It's pretty. There is really no other pro.
Cons
HRIS:
No proper Leave tracking for maternity/paternity, jury duty, bereavement leave ETC
There's no way to see a PTO accrual history
Employees are not alerted when their address format is invalid
Only one set of holidays - UK sees all US Holidays
When reporting structure changes you have to make MANUAL changes in Namely Payroll IN ADDITION to doing a mass upload in the HRIS
Doesn't auto track history of Job titles
Need to manually assign PTO to employees not automatic
Leave approval amends, not sent
Lack of point in time reporting
Does not auto assign pay group based on the type of pay entered
Payroll:
You can't retract partial payments
Had to print W2s and sort through employees that electronically consented and send out those that did not
"We have to do all of the calculations manually when there is a comp change in the middle of a pay period "
Invalid addresses prevent us from proceeding with payroll
We are unable to easily add "time and a half" for employees who work on holidays
Takes weeks to add a new department code
Tax withholdings do not flow seamlessly from HRIS to Payroll
If we need to Mark an employee as FICA tax exempt we need have to reach out to Namely as only they can do this
Employee ID do not flow over to HRIS
Manually have to add holiday pay for employees does not flow into payroll
You have to manually exclude employees from payroll once terminated
Time and attendance:
Time card entry is tedious
PTO doesn't communicate to Payroll
You have to man
Industry: Biotechnology
Company size: 501–1,000 Employees
Used

Daily

for

6-12 months

Review Source
---
User friendly HR platform
In other words, to make my job easier in every aspect. You can just like the post, add a comment. On the left you will see a panel where you will find several links to help you navigate the platform. You can also view compensation and benefits in the profile area. Goals and performance reviews are also easily accessible from there.
Pros
The best thing about Namely is that it is user friendly and the reports are valuable. We have easy access to our resource section where we can post any policy, brochure, company or benefit related information.
Cons
Could be more intuitive, especially going back and forth between all the modules. Also, I think some features could use more customization.
Industry: Information Technology & Services
Company size: 201–500 Employees
Used

Daily

for

2+ years

Review Source
---
Namely Product Review
My overall experience has been very positive. They have an updated customer service center that provides you with related articles to your question which is very helpful. The customer service reps are usually pretty timely and are always very nice and polite.
Pros
What I like most is the ease of use for our employees. It is a very intuitive system to use and an employee's profile, performance management, PTO and onboarding tasks are visible to them.
Cons
What I like least about this software is that we have brought up questions, multiple times, about performance management system generated responses that do not make sense and they have never been fixed. You will receive an email that says "your approval required" even though the text below it says the review is incomplete.
Reasons for Switching to Namely
Flexibility with the performance management piece, ease of use.
Response from

Namely

Thank you for your review! We really appreciate your feedback and are happy to hear that you find our platform easy to use. We are also excited to hear that you have enjoyed working with our new Pod Service Model, as it has been designed to enhance clients' overall experiences.

Replied 02/04/2021