About Acuity Scheduling
Squarespace Scheduling is a cloud-based appointment scheduling software solution that enables business owners to manage their appointments online. The product caters to the needs of small and midsize businesses as well as individual professionals. Squarespace Scheduling lets users automate appointment bookings by offering a real-time view of their own time available. It has the capability to automatically sync calendars according to users' time zones and can send regular alerts and reminders to users regarding their appointment schedules. Squarespace Scheduling's scheduling feature set includes customizable intake forms, embeddable calendars, third party application calendar synchronizing and group scheduling for workshops. Squarespace Scheduling is suitable for service-based businesses such as training and tutoring centers, coaching and consulting, photography and video production companies, fitness studios, salons and spa centers and health and dental clinics. The solution offers a free basic module and is available as a monthly subscription. The product offers APIs and integrates with third-party applications such as QuickBooks, FreshBooks, MailChimp, Google Analytics and WordPress.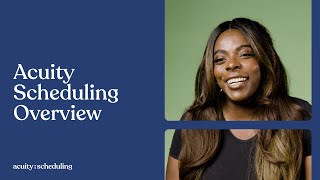 Acuity Scheduling pricing
Acuity Scheduling does not have a free version but does offer a free trial. Acuity Scheduling paid version starts at US$16.00/month.
Starting Price:
US$16.00/month
Alternatives to Acuity Scheduling
Acuity Scheduling Reviews
Industry: Individual & Family Services
Company size: Self Employed
Used

Daily

for

Free Trial

Review Source
---
Checks all my boxes
I'm managing my time for multiple groups of needs and Acuity is allowing me to do that all in one place. I can manage my personal needs, my life coaching needs, and my nonprofit needs all in one place and still keep my hair (because I haven't pulled it out trying to keep myself afloat). I look forward to continuing to use the software as it has room for me to expand and handle other needs that I foresee in the future. For me, Acuity is a great one stop shop to manage and connect people to the services provide.
Pros
I switched from Calendly because I was having people make appointments at the last minute and back to back. I really appreciate that Acuity has functionality to account for my preferences in both situations.
I really enjoy the ability to personalize my different scheduling links since I set up scheduling for a few different scenarios. I tend to use the specific appointment type scheduling link, which is great to have separated from the overall link so that there is no confusion in booking.
There is so much other functionality that I haven't had a chance to use yet link the intake forms and billing, but I'm looking forward to using it.
Also, I really enjoy the emails and correspondence that I've had with organization. I haven't even submitted a help ticket, but every email is funny and engaging and it feels like someone is personally attending to me!
Cons
I had a little bit of confusion with the set up of my calendars. It took some searching to figure out how to combine all my appointments to one calendar. All in all I figured it out and still love my account.
Reasons for Choosing Acuity Scheduling
The ability to add buffer time between meetings and to disable the ability for a last minute meeting to be scheduled overnight without giving me time to prepare for it.
Reasons for Switching to Acuity Scheduling
The ability to add buffer time between meetings and to disable the ability for a last minute meeting to be scheduled overnight without giving me time to prepare for it. In addition, I use Squarespace as well. I love that product and wanted to maintain fluidity between both products. Both are made well and make my life simple so I can do what is most important to me rather than spending all my time on designing a website or figuring out scheduling.
Industry: Hospital & Health Care
Company size: 10,000+ Employees
Used

Daily

for

2+ years

Review Source
---
Great for staying organized with appointments
The ability to specify your availability and provide a link to a client via email or a signature is fantastic. It fulfills my requirements for class registration and roll management perfectly. Also, it works flawlessly and is beautifully linked with other services like Stripe and Zoom.
Pros
Both I and my customer appreciate the text message reminders. The schedules that require payment. Furthermore, I appreciate being able to sync my CRM with several scheduling options. Appointment kinds help me categorize my replies and create more efficient, tailored work flows.
Cons
My list of dislikes is surprisingly short. My main issue is that I keep leaving Acuity Scheduling to try something else, but I always end up back here because my CRM doesn't have nearly as many capabilities as Acuity Scheduling.
Industry: Alternative Medicine
Company size: Self Employed
Used

Daily

for

2+ years

Review Source
---
Good for basic needs
I used Acuity for a more than 5 years to manage my schedule and offer online booking to clients as a holistic health provider. It was very affordable, and covered my needs for a long time. However, when I wanted to get digital session notes, Acuity doesn't really have an option that works for me (though they do have the option for basic notes and forms). I decided to upgrade to another software that is a more integrated client management system. If you don't have very complicated needs, Acuity is great and very user friendly. I'm certain having it helped my business for a very long time.
Pros
It was easy to use. Session reminders really kept attendance high for clients. It was also very affordable and covered my essential needs for a long time.
Cons
I needed digital session notes, and better forms. I eventually switched to a more comprehensive client management software geared towards health professionals.
Industry: Music
Company size: 2–10 Employees
Used

Weekly

for

1-5 months

Review Source
---
Actual Acuity
Pros
My company is fairly new using the application. The application is perfect for creating a tour itinerary for touring. It enables me too create different schedules distinctly for each individual artist.
Cons
I haven't ran across any of the bugs yet. I will let you know.
Industry: Management Consulting
Company size: 2–10 Employees
Used

Daily

for

2+ years

Review Source
---
The Bee's Knees in Scheduling!
Acuity truly exceeded my expectations. Its ease of use, quality, features, functionality, customer service, and ease of deployment are all superb. This platform is a game-changer for any scheduling needs. I highly recommend Acuity for anyone seeking a reliable and efficient scheduling solution.
Pros
Acuity's ease of use is simply unparalleled! The intuitive interface makes scheduling a breeze, while its top-notch quality ensures a seamless experience. The array of features and functionality available is mind-blowing, allowing me to tailor the platform to fit my needs perfectly. The exceptional customer service team always goes the extra mile.
Cons
Although Acuity is worth every penny, I would have appreciated a slightly better value for money. However, considering the stellar overall experience, this is a minor concern.