About Marketing 360
Marketing 360 is a cloud-based marketing platform suited for entrepreneurs as well as small and midsize businesses. This solution allows organizations to run social media advertising campaigns, conduct search engine optimization (SEO) programs and analyze digital marketing performance. Marketing 360's UXi websites feature helps users create web pages branded web pages that include call-to-action buttons. In addition, the system provides website templates that can be customized and edited with the help of drag-and-drop functionality. Marketing 360's Natural Listing Ads feature helps users manage organic search results by tracking keyword volume and ranking. In addition, it analyzes competitors' SEO performance with the same keywords and shares real-time reports providing organic conversion rates. The Social Targeting Ads let organizations to segment and target clients on the basis of social details such as age, gender, location and interests.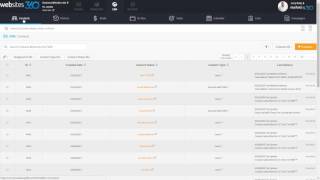 Marketing 360 has a free version and offers a free trial. Marketing 360 paid version starts at US$25.00.
Pricing Details:
Create a free account to get started.
Alternatives to Marketing 360
Used

Daily

for

6-12 months

Review Source
---
Great Team of Professionals to Work With
It all works together. That is incredibly important. You need all your sources to be able to come into one location and be tracked. Leads are the businesses life blood.If you can't track everything you do, you are just shooting in the dark.
Pros
Most small businesses have a person to do their website, another to do their social media. Working with the team at Marketing 360 I have an expert in every field working on my businesses that are working together. They created a great logo, an incredible website that I have received major accolades for, social media, blogs, videos, etc. that all work together to make my business look professional and keep me on page one for all my keywords. Then they do all the things I hate doing like setting up and populating my CRM. They provide a calendar where my assistance can update my calendar. Then they do something most small businesses never do; they track EVERYTHING. We know immediately when something is working or not working. Most businesses are just shooting in the dark. This process take a while. If you only tried Marketing 360 for 6 months, you haven't given it a fair shake. Marketing takes a while. I know. I have been doing marketing for several years. It takes time to dial it in. Time busy business people do not have. That why I turned 99% of my marketing over to a TEAM, the team of Marketing 360; They work together to bring me customers and brand my business with a consistent message.
Cons
I wish the calendar would tie into my other calendars. Other than that, I have been very satisfied with Marketing 360 and the software.
Response from

Madwire

Roy, thank you so much for your review and feedback. We appreciate and value the feedback. All ships rise together and we are excited to work with you and build your business up continuously. Thanks for your business.

Replied 11/07/2018
Industry: Entertainment
Company size: Self Employed
Used

Daily

for

1-5 months

Review Source
---
Great Results from an Incredible Team
Marketing 360 has been great. I was fortunate to be partnered up with [SENSITIVE CONTENT] and his team. We have been able to achieve more in the few months I've worked with him than I was able to on my own over the past several years. He is responsive, awesome to work with, takes my suggestions and ideas, and is able to stay with me and the goals I have.
Pros
The software is fairly simple to use. I have used different CRMs, payment processors, and website tools in the past. This software is right on par (if not more advanced) than the others. It is incredibly easy to use! The built-in automation, payment processor, and nurture tools are incredible.
Cons
The only part of the software that I think could be improved upon would be the social media tools. This could be (mostly) because I haven't used them a whole lot. I find it is almost easier to jump in and post on the different social media accounts myself.
Reasons for Choosing Marketing 360
An all-In-One platform that also had amazing customer service behind it.
Reasons for Switching to Marketing 360
The customer service. After the initial meeting, I was a little worried about getting the biggest bang for my buck. I did my research and thought that I would give it a go. I trusted my gut and put some faith into [SENSITIVE CONTENT]., his team, and Marketing 360. So far...I feel that I made the right decision.
Industry: Retail
Company size: 2-10 Employees
Used

Daily

for

2+ years

Review Source
---
A lot of money for little results.
Pros
There is not much to what we used it for.
Cons
This company supposedly does SEO optimization and such and website design. They did make a decent video and information only website for us, but we were paying way too much a month for something we could have been doing ourselves with a little bit of research and a lot less money.
Response from

Madwire

Hi, Heather. It sounds like you aren't utilizing the software to its full potential. Definitely want to make sure you're getting as much value as possible! We're having a hard time finding your account based on the information provided, but please reach out to us directly so we can explore the possibility of our Onboarding team or Support team providing additional resources to ensure you are benefiting from all apps within the platform.

Replied 09/05/2022
Industry: Real Estate
Company size: 2-10 Employees
Used

Daily

for

1+ year

Review Source
---
Amazing Partner
Our overall experience with Marketing360 is that they are top tier. Our [SENSITIVE CONTENT]is such a great person to work with and has taken our website and social media to a whole new level. We wouldn't be at the level we are currently at without
[SENSITIVE CONTENT] and Marketing360.
Pros
Marketing 360 and their team of associates go above and beyond with their software and customer service. Our [SENSITIVE CONTENT] keeps us on track and updated with the next step we need to take and using their software has made understanding everything in the marketing world so easy to understand.
Cons
I wish we would have found them earlier
Industry: Automotive
Company size: 2-10 Employees
Used

Daily

for

2+ years

Review Source
---
Best decision I ever made was joining marketing 360
I made the switch to marketing 360 a little over 2 years ago and it was the best decision I could of made. [SENSITIVE CONTENT] and his team have no doubt helped grow my business hands down. He is very attentive to detail and always gets right back with me. He truly cares about how my business is doing and wants us to suceed in our marketing goals year after year. I couldnt recommend markeing 360 enough to handle any business's marketing needs.
Pros
I love how simple everything is to use. Very user friendly and I like how I can create sales pipelines with the CRM software and everything stays very orginized
Cons
There really isnt one down fall I have found to marketing 360