About Limble CMMS
A simple to use, mobile first maintenance software solution that even your boss can use it. Our average customer reduces downtime by 32%, increases productivity by 26%, reduces part spend by 23% and increases asset life by 18%. All of this within a matter of weeks from starting with Limble. Request a Demo and we will show you a personalized presentation on how Limble might be able to help you solve your unique needs. Limble is available on both Android and IOS.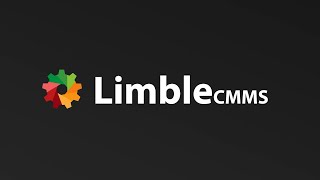 Limble CMMS does not have a free version but does offer a free trial. Limble CMMS paid version starts at US$40.00/year.
Starting Price:
US$40.00/year
Pricing Details:
Pay monthly or save money with an annual plan! Starter: For small companies looking to ditch their paperwork orders and move into the modern world. - Mobile App - Preventive Maintenance - Work Orders - Data Importing - Work Requests (Ticketing) Professional: For small to medium size companies that want a modern CMMS with real-time reports of their unique maintenance KPIs. - Advanced Reporting - Parts Inventory - Downtime Tracking - Multiple Locations - Barcode and QR codes Business Plus: Medium size companies looking to automate their processes with automated workflows, advanced inventory. - Dedicated Support Team - Workflow Automation - API Access - Purchasing (POs, Budgets) - Offline Mode - Vendor Management Enterprise: For enterprise teams looking to organize, automate and report on the maintenance operations across their entire organization. - Regions - Onsite Implementation - AI duplicate Work Request - 21 CFR validation package - Custom Integrations
Alternatives to Limble CMMS
Industry: Construction
Company size: 201-500 Employees
Used

Daily

for

1+ year

Review Source
---
Limble CMMS
We have a large facility with a combination of manufacturing and office space. We use Limble for equipment and facilities preventative maintenance scheduling, employee facilities work requests, tracking equipment downtime and work order history, and asset management.
I've used other CMMS at other facilities, and my experience with Limble has been very positive. Limble makes it easy to stay organized, and respond quickly to work requests.
Pros
Limble's Work Request Portal is easy for all our employees to use. I sent out the link to the entire company, everyone bookmarked it, and now people can easily submit work requests. It did not require lengthy instructions or any assistance from our IT dept.
We've also been very impressed with Limble's customer service. They are easy to reach, and always making improvements.
Cons
There was an item on the work request portal that was unclear, but I mentioned it to Limble's customer support and it was fixed immediately
Industry: Hospital & Health Care
Company size: 1,001-5,000 Employees
Used

Daily

for

1-5 months

Review Source
---
Robust & Feature Packed Yet Simplified CMMS Solution at Unbeatable pricing
Our prior CMMS software was very cumbersome and had very little customer communication. With Limble the customer is kept well informed of progress and we are able to include a survey link when the completed email is sent. We have for the first time, reporting capabilities that allow us insights into the number and types of work requests processed along with cost of labor and materials spent. Not only are we providing a better customer experience, we are able to document the amount of work the department is processing which supports our request for additional headcount.
Pros
What made Limble stand out was the fact that it had all the features we required packed into an intuitive easy to navigate tool, yet avoided unnecessary complexity. The software has the ability to synch with our HR software (azure & UltiPro). It also avoids the complexity of firewalls by using a URL for creating and managing work requests which greatly facilitates implementation. Having been involved in numerous CMMS software roll-outs, I appreciated that Limble provides all the functionality we needed including custom PM schedules, numerous customer feedback loops, 3rd-party contractor access to completing work requests, standard and custom reporting, the ability to include a survey link for each completed work order, and the availability of the mobile application.
Cons
We have discovered nothing major needing improvement. There are opportunities for future tweaks, but these are minor. The Feature Request Board wonderfully captures this.
Reasons for Choosing Limble CMMS
The prior product was antiquated. It did contain a space planning module that we replaced with SpaceIQ.
Reasons for Switching to Limble CMMS
There are many companies bringing solutions to the CMMS market these days and most of them have admirable offerings. However, Limble provided all the functionality without the complexity. It has been an extremely easy product to launch. The Limble Team does an amazing of ensuring a successful launch by the use of a "Customer Experience Manager" as well as an "Implementation Manager". They plan meticulously and stay in constant communication throughout the process. They seem to always be available which in and of itself is amazingly convenient and rare.
Industry: Electrical/Electronic Manufacturing
Company size: 51-200 Employees
Used

Daily

for

Free Trial

Review Source
---
Great product, very intuitive.
Pros
What I like the most about this product is how quickly I was able to implement it in our facility.
Cons
I didn't like the limited features at the lower price point.
Industry: Food & Beverages
Company size: 51-200 Employees
Used

Daily

for

1-5 months

Review Source
---
Slow and not so helpful.
My review should be taken with a grain of salt, because we're not using this software for its exact intended purpose, but it's just not very helpful.
Pros
We're using it to track parts and service, and it does do that.
Cons
Service tickets created in Limble only have a due date. No scheduling can really be done, which should definitely be an option. The app is very frustrating, and makes looking up part numbers on the job such a chore that it seems like less work to memorize the part numbers...
Response from

LimbleCMMS

Hi there! I am sorry to hear you have had a bad experience.

We just released an update to allow you to schedule a specific time of day. If you would like any help seeing how please just let us know.

Additionally looking up parts can be extremely easy with the automatic asset associations so you know exactly what asset uses what part.

Please feel free to give us a call or email at any time and we can help you as soon as possible!

Replied 26/11/2018
Industry: Hospital & Health Care
Company size: 51-200 Employees
Used

Daily

for

6-12 months

Review Source
---
User-friendly, even for non-tech industries!
We have really enjoyed using Limble to manage our property management systems, and it has transformed how our team operates. Limble adds communication AND documentation that we didn't have before.
Pros
The main reason we chose Limble was because of how user friendly it is. We are a human services agency, running about 35 group homes and day programs for adults with developmental disabilities. We needed an easy system that could be used by our small maintenance team and human service managers. The mobile app works great for our maintenance team, and the QR code functionality has been extremely well received by our program managers.
Cons
Learning how to properly set up Limble was challenging at first, and would likely be even tougher for someone without any database knowledge. They assign someone to show you how to set things up to get started, but if your company is in a non-manufacturing industry, you may need to set things up in a unique way in order for Limble to meet your needs.