About Hubstaff
Whether businesses are starting up a new team or looking for a better way to manage employees, Hubstaff has everything required to run teams confidently. With the innovative and robust time tracking and task management solution, enterprises can track their team's time with in-depth timesheets, GPS tracking and project management using the tasks module. As employees track time with the lightweight desktop, web, iOS and Android applications, enterprises will be able to monitor their activity with time tracking, optional screenshots and app tracking, mouse and keyboard usage and even on-site time with geofences. Hubstaff allows team leaders to view detailed reports, send client invoices and even pay employees directly based on their work hours and customizable pay rates. With over 30 application integrations like Basecamp, Trello, Asana, Github and Paypal, Hubstaff seamlessly fits in with multiple businesses, meaning users can work without any interference in their day-to-day operations.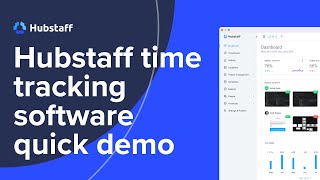 Hubstaff has a free version and offers a free trial. Hubstaff paid version starts at US$7.00/month.
Starting Price:
US$7.00/month
Industry: Online Media
Company size: 11–50 Employees
Used

Daily

for

2+ years

Review Source
---
The best Employee Monitoring Software in Market for Remote Employees
It was a great experience, the software is scalable and affordable. It only adds cost upon usage which is critical.
Pros
As a company with lots of employees working remotely for us, we need strong software to monitor employees' performance and act according to the efficiency analysis. Its best feature is idle time management which helps you know if some employee is sitting idle.
Cons
Customer support is delayed a bit. We sometimes faced problems with Windows computers, this is somewhere Hubstaff needs to work it more user-friendly for Windows.
Industry: Design
Company size: 11–50 Employees
Used

Daily

for

2+ years

Review Source
---
Using Hubstaff for 5 years more. Seem it has improved!
Really just fine. What more should I look for as a freelancer who just need to track time for a project. Then send a a simple invoice at the end. As far as I'm concerned, I have a good experience with the app. If I have to suggest, maybe as a UX/UI Designer, they can enhance the looks an feel of the software to make it more professional and appealing to users.
Pros
Straightforward. Just the thing you need, you'll find it. Pretty much like any other time tracking software - as freelancer it has screen capture, invoicing, offline tracking and all...
Cons
It's just straight forward. Maybe they can add quick chat for client. Instead of additional login to browser when you need to quick communicate with your client.
Response from

Hubstaff

Hey Roldan, thank you for submitting this review for Hubstaff! We are happy to hear that you are enjoying using Hubstaff for your time tracking needs.

We want to continually improve the platform and our offerings, so we do welcome all feedback onboard. Please feel free to go to https://roadmap.hubstaff.com/ and add any ideas for features to be implemented.

Replied 29/03/2022
Industry: Nonprofit Organization Management
Company size: 11–50 Employees
Used

Daily

for

6-12 months

Review Source
---
Efficient and Effective, Yet Privacy Considerations Exist
Pros
As a user of Hubstaff, I find the software to be a reliable and efficient tool for managing my team and tracking our time. The automatic time tracking feature eliminates the need for manual entry and ensures accurate recording of work hours, making payroll and invoicing processes smoother. The GPS tracking functionality has been particularly useful for remote workers, allowing me to stay updated on their location and optimize resource allocation.
Cons
One concern is the potential perception of intrusiveness due to the monitoring features offered by the software. Some employees feel uncomfortable with the level of monitoring provided.Another consideration is that Hubstaff's extensive features may not be necessary or suitable for all types of businesses. Smaller teams or organizations with a more flexible work structure might find the software to be too robust for their needs. Implementing and managing the software could increase administrative overhead, which may not be worth the benefits for certain companies.
Industry: Marketing & Advertising
Company size: 51–200 Employees
Used

Daily

for

1-5 months

Review Source
---
Constantly Rated As Poor Productivity Even When Working Hard
My overall experience with this software is a very poor one. While I appreciate what you're trying to accomplish with the software, especially for remote employees such as myself, it just isn't working out for me personally. As I said earlier, it's going to wind up costing me my job because the software is telling my management that I'm not working when I am. The software also doesn't account for things like needing a lavatory break or taking our (legally required) paid time breaks. If I were to take my 30 minute paid time breaks every day, my productivity would just sink into the teens. There's also no way to account for meetings or times I am on the phone where I am still being productive and working but since I am not clicking anything or typing it thinks I am sitting doing nothing.
Pros
I like the way Hubstaff is designed. It's intelligent and user-friendly. It's sleek and very polished and up-to-date with modern design standards and as a user I am easily able to access the dashboard and different features and see the differences in productivity from minute to minute, see the screenshots, see the tracking points, etc. From the perspective of direct user experience, it's ace.
Cons
However, my qualms with Hubstaff far outweight its superior design structure. The program, to me, is broken. No matter how hard I work, I have never had a day above 40% productivity - and that only happened once. I am usually rate in the mid to high 20s, even on days when I am busting my butt to get work done. I don't know why I am having these problems with the software, because I know I am working, I know I am getting work done, but why am I being rated so poorly? This software is going to wind up costing me my job, and that makes me furious.
Response from

Hubstaff

Hey Diane,

Sorry you aren't having a good experience. Let me explain how Hubstaff tracks activity, and if you still think you should be getting a higher score, please contact our 24/7 support team at [email protected].

Your activity levels may be lower or higher depending on your responsibilities. Manual and mobile time tracking can also lower your productivity levels so include a note to your employer letting them know what you were working on. Here is a helpful article about how activity levels are tracked: https://support.hubstaff.com/how-are-activity-levels-calculated/

Replied 08/02/2019
Industry: Writing & Editing
Company size: 2–10 Employees
Used

Daily

for

6-12 months

Review Source
---
Hubstaff User Experience
As a user of Hubstaff, I can confidently say that it has made a significant impact on my remote team's work processes. The time tracking feature has allowed me to get a better understanding of each team member's workload and dedication to different tasks, which has helped us optimize our work processes and improve overall productivity. Additionally, the project management features in Hubstaff have made it easier for me to keep track of tasks, set due dates, and monitor progress, resulting in smoother and more organized work processes.The mobile app has also been a game changer for us, allowing us to be more flexible and work from anywhere without sacrificing productivity. The comprehensive reporting features have provided me with valuable insights into my team's performance, allowing me to make informed decisions and measure the impact of our work processes.Furthermore, the customer support team at Hubstaff has been incredibly helpful in assisting me with any questions or issues that I have had. They are knowledgeable and always quick to respond, making my experience using the software even better. Overall, I am incredibly satisfied with the impact that Hubstaff has had on my team and I would highly recommend it to any remote team looking for a comprehensive time tracking and project management tool.
Pros
I am impressed with the impact Hubstaff has had on my remote team's work processes. The time tracking feature has helped me understand the amount of time each team member dedicates to tasks, leading to optimized work processes and improved productivity. The project management features have made it easier to track tasks, set deadlines, and monitor progress, resulting in more efficient project completion. The mobile app allows my team to track time and manage projects on the go, making us more flexible. The reporting features provide valuable insights into our team's time and productivity. The excellent customer support team is always available to assist with any questions or issues.
Cons
As a user of Hubstaff, I have found that the time tracking feature, although incredibly useful for understanding the amount of time each team member dedicates to different tasks, can also be a bit intrusive and distracting. The feature requires constant attention to accurately track time, and this can sometimes take away from the flow of work and create interruptions. Additionally, it can be challenging to remember to start and stop the timer for each task, leading to discrepancies in the recorded time and potentially affecting the accuracy of the data. However, despite these challenges, I do believe that the benefits of the time tracking feature far outweigh the drawbacks and it has been a valuable tool in helping us to optimize our work processes and improve overall productivity.