About ActiveCollab
ActiveCollab is a project management solution for creative professionals. It offers cloud-based subscription plans or a self-hosting license. Projects are split into tasks and subtasks. Tasks can be filtered by due date, assigned users or custom labels. Dependencies between the tasks can be set, so there's always an exact order of tasks. Automatic rescheduling allows for the child tasks to automatically follow the change made to the parent task. Tasks can be viewed as a timeline (with shown dependencies), a kanban board, a calendar or a list. Users can track time and budget spent on each task, set hourly rates, send invoices directly from a project and export reports. Automatic reminders for clients can be set when payments are overdue. ActiveCollab offers a platform where all the communication (comments, discussions, reactions), projects, tasks and files are centralized. Support is provided online and via email. Monthly, yearly and one-time price plans are available.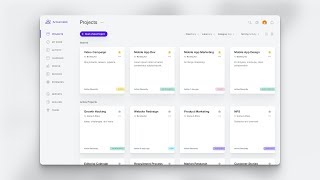 ActiveCollab has a free version and offers a free trial. ActiveCollab paid version starts at US$7.50/month.
Starting Price:
US$7.50/month
Pricing Details:
Free: For personal use or professionals getting started with smaller projects. Limited to the three seats included in the plan. Plus: For smaller teams that need a platform for collaboration and managing projects. Limited to the three seats included in the plan. Annual Billing: $7.5 for 3 members Monthly Billing: $9.00 for 3 members Pro: For larger teams and companies that need to overview the entire business and workflow in one place. Billed per member. Annual Billing: $6.25 per member / per month Monthly Billing: $7.00 per member / per month On-Premise: Buy ActiveCollab for lifetime usage. Pay once, install it on your server, and have unlimited users and storage. You're in charge of server maintenance and have total control over your data privacy.
Alternatives to ActiveCollab
Aleksandar I.
Aleksandar I.
Industry: Computer Software
Company size: 2-10 Employees
Used

Daily

for

1+ year

Review Source
---
Perfect Project management tool.
ActiveCollab is one of the best, if not the best project management tool that I have ever used and I have jumped from one to another tool for different projects and project types.
If offers so many features, perfect dashboard, milestone preview, calendar, planner, contact details, time tracking and much more.
While it is perfect for managing many different types of projects, this is still not the perfect tool for managing software development projects. The only reason for that would be, there is no (or that was not back then) an integration with Git or other version of control system. It was simply a missing feature back then.
I truly hope that nowadays the ActiveCollab team managed to improve and integrate such feature, but talking 6-7 years ago, that was the only downside that I can say about it. If for some reason that is still not available and you are into software development business, look for something else like Asana or Bitbucket.
Pros
Great dashboard, different types of reports, milestone preview, calendars, time tracking tool are just a few of the features that make this software irreplaceable tool when it comes to project management.
Cons
Lack of integration with Git or another version of control system.
Industry: Religious Institutions
Company size: 1,001-5,000 Employees
Used

Daily

for

2+ years

Review Source
---
Self hosted or hosted, an excellent team tool
We have a global team that work on projects together, ActiveCollab keeps us progressing them.
We also use it for collaboration, requests and idea sharing.
Pros
We tried many alternatives, but the simplicity and the ability to self host won us over.
Task lists, Kanban Style boards, Time tracking, Notifying and Assigning all work well.
Cons
I feel the file sharing (or at least referencing a file you have already uploaded) could be simpler. Apart from that we're really happy.
Reasons for Switching to ActiveCollab
Primarily the ability to self host, and have a large team accessing without paying by user per month.
Mari-nella B.
Mari-nella B.
Industry: Design
Company size: 2-10 Employees
Used

Daily

for

1-5 months

Review Source
---
It is a beautiful app but not that useful
It was nice in the beginning but I just soon realised I needed something with easier to use features and no hidden costs. Onces a app like this becomes too complicated to navigate or customise - you will not use it as you need to daily because of that hassle.
Pros
It is beautifully designed so initially it seemed easier to use and navigate.
It had a client portal and I could track my jobs and invoice/do estimates all from one place.
Cons
It has hidden fees. Everywhere it advertises itself as only 7.50 a month. - But using the MAIN FEATURES OF WHY I WANTED THIS APP is extra, like invoicing, time tracking and using the client portal. This was not made clear initially. The client service is terrible. I would ask questions but there response was really terrible english language - not what I would expect from an international app that everyone should be able to understand. Especially a client service person called Darla. Terrible and rude manners and unhelpful.!
Reasons for Choosing ActiveCollab
I wanted a app that I could use to track my projects, my daily tasks, and has a timer. Plus I can send out cost estimates and invoices from and my clients can log into to track and make note of project progress and timeline.
Reasons for Switching to ActiveCollab
Activecollab seems to be the cheapest option where I could managment my projects, finances and clients from one place.
Response from

Active Collab

We appreciate your honest feedback, and we are sorry to hear you had this experience with ActiveCollab.
As for the pricing, additional features such as Invoicing, Time Estimates, Workload, Availability, etc., are listed in the GePaid bundle section, which is charged additionally and is not a part of the basic paid plan. You can check out our pricing on the official site here: https://activecollab.com/pricing

Replied 15/09/2021
Industry: Marketing & Advertising
Company size: 2-10 Employees
Used

Daily

for

2+ years

Review Source
---
We wake up with ActiveCollab and close the work day with it :)
10000% happy camper
Pros
It's been more than 10 years using ActiveCollab since the day they had this 90s looking masterpiece of project scheduling platform. Today ActiveCollab grew sooo much and we love the minimalist style, the fact that they keep integrating and updating new features and functionalities making it every next day better and better.
Cons
I've tried so many other Project planning and Teamwork platforms but this one is the best I've ever seen for what we need - combining teamwork, with project planing, milestones progress, resource scheduling and time tracking.
Industry: Consumer Goods
Company size: 51-200 Employees
Used

Daily

for

2+ years

Review Source
---
Active Collab makes working together simple
My team is spread across the country and Active Collab allows us to work together on projects seamlessly. Our outside partners are also able to work with us easily.
Pros
Great tool for managing complex projects with multiple stakeholders
Pretty robust feature set
Simple to access and easy to invite collaborators in & out of my company
Cons
Upgrades have been a bit buggy and while the team are responsive, they don't always believe that they've broken something
Reasons for Choosing ActiveCollab
Better features competitive pricing All around, Active Collab is a more flexible tool that is easier to use
Reasons for Switching to ActiveCollab
Pricing and features