About Infoplus
Infoplus WMS is a web-based warehouse management software solution for small to midsize 3PLs, eCommerce Retailers, and Wholesalers focused on taking control of overall inventory, warehouse operations and shipping. Key features include the ability to manage unique workflows for different lines of business under a single software platform. Define distinct production line processes compatible with any iOS or Android base devices. Light Manufacturing with 'print on demand' capabilities as well as Kit On Demand functionality to handle eCommerce bundles and flash sales. Give your business the ability to scale based to overcome the next need, challenge or business change with clicks of a mouse. Implementation consultants help each warehouse establish the a custom workflow with industry knowledge to ensure a WMS drives the warehouse operation suited to you and your customers.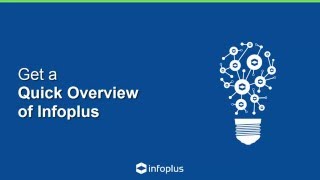 Infoplus does not have a free version. Infoplus paid version starts at US$695.00/month.
Starting Price:
US$695.00/month
Pricing Details:
Infoplus Warehouse Manager: $695/month Infoplus 3PL Warehouse Manager: $895/month
Used

Weekly

for

Free Trial

Review Source
---
Very user friendly WMS
Pros
infoplus has native mobile application which is the need of the day. It's navigation is very easy and fast. Setting up multiple warehouses is very easy. Customer facing teams are very easily accessible.
Cons
some features need re thinking by the design team. Infoplus continuously improving the solution. Security features need to be more robust.
Industry: Pharmaceuticals
Company size: 11-50 Employees
Used

Daily

for

6-12 months

Review Source
---
Great Software & Support Team
Great experience, knowledgeable staff, gave us more insight into our business than we have had before.
We are evolving our business with the new process and the teams expertise.
Pros
The ability to have visability to our day to day shipping/pick & pack operation.
Warehouse locations, Order history and tons of areas to input/retrieve data from.
Learning something new each day b/c of all the data points available.
Cart connnections are very easy
Cons
The need to use a script to have my cost/sell for freight shipping through a report rather than on the shipment table. Small workaround was made, not ideal but gets the job done.
Reasons for Choosing Infoplus
Our old software was obsolete and not maintained
Reasons for Switching to Infoplus
Easy interface to navigate, cart connections are easy and painless. Tons of data points
Industry: Health, Wellness & Fitness
Company size: 51-200 Employees
Used

Daily

for

6-12 months

Review Source
---
eCommerce and Retail Operations
Pros
InfoPlus is open source which gives us lots of flexibility. It a "Plug n Play" type of system. This allows us to customize it to our needs to get what we want.
Cons
This software can be difficult to take full advantage of if you do not have a developer on staff. The company does not provide the option to pay for a developer from their team to customize the product for you. They will answer questions and get your developer going, but you must bring your own developer to the table.
Industry: Medical Devices
Company size: 51-200 Employees
Used

Daily

for

1-5 months

Review Source
---
Felt winning a lottery after choosing the Infoplus WMS as our Warehouse Management System
The fundamental design for the whole system is so great, as the customers, not only we can benefit from the UI experiences, but also we can integrate with our system via API. Also Infoplus WMS provides the internal customization features, so we can add our own business logic inside of the WMS.
Pros
Great features from UI to system integration
Cons
So far we have not found one yet. We will work with the Infoplus if we find one in the future
Reasons for Switching to Infoplus
Features of the product, the people, the support...
Industry: Logistics & Supply Chain
Company size: 11-50 Employees
Used

Daily

for

6-12 months

Review Source
---
Tons of functionallity & features for the price.
If you spend the time configuring everything thoroughly, you'll end up with an automated system that does the work for you. You can sit back and watch your scripts and triggers take over your order processing and fulfillment. Saves us tons of time and money.
The system is setup in a way where you can define how you want your business to run, instead of being forced to do things a certain way which was great for us. I suppose this could be a caveat for you if you are looking for something that is a bit more structured and turn-key.
The dashboard is great, and our customers love how easy it is to just click a metric and view whatever data we have tailored to fit their needs. This system can give an amazing amount of visibility to your customers and management.
Spend as much time with your implementation team as you can, because once that is over- support takes a long time to get back to you. You can't pick up the phone can talk to someone, it's all ticket based.
Definitely have a dedicated programmer on your IT team who knows javascript and has experience with REST API, or someone willing to learn because you will need them to utilize the software to its full potential.
Pros
I love the fact that if the software does not have something out of the box that you need for your business process, you can use building blocks and scripts to create it. With custom fields, API, smart documents, and scripts the possibilities are endless.
A lot of our customers have niche needs so this was a good choice for us. In addition, the ability to hook into the API with other systems is amazing once you get the hang of it. The dashboard is great for managing day to day operations and gives great visibility to everything happening within your warehouses. Reporting is nice, you can build fairly advanced queries easily. Automating things based on triggers and conditions is great once you understand how to use building blocks.
Cons
The weakest part of this software is the billing module. It works... but as a 3PL who bills for a LOT of different things, with each customer being billed in a unique way- our opinion is that the billing module needs *significant* improvement.
At the time of this review, the billing module is a relatively new piece of the software. There have been a lot of glitches and bugs that needed to be sorted out. It is clunky and not intuitive at all. If you do not have a dedicated person or team writing the script logic you will absolutely struggle with the billing module, and even then it can difficult to work with.
Providing backup documentation for invoices is a bit of a pain. At the time of this review, the billing scripts you have to make to do advanced charges don't change the excel files created for invoice backups. There are workarounds... but you will need to get creative with how you configure the system to bill and you'll need a lot of coffee to get through it.