About TeamSupport
Specifically designed for customer-centric businesses, TeamSupport's customer support software provides you with the tools needed to fully understand and meet your customers' needs. Expanding far beyond just ticketing management tools, Support gives you 360-degree views of your customers so you're empowered to grow the relationship and build loyal customers for life. Our customer management tools, which include analytics on account trends, satisfaction scoring, and identified opportunities for growth and expansion, provide you with the context needed to understand their needs. Additionally, you gain the power to meet your customers where they are through extensive omnichannel support including live chat, email-to-ticket, phone-to-ticket, and a customer portal. Lastly, your teams can operate under a less-stressful and more efficient work environment through AI-powered automations and a multitude of integrations. By having all of your tools in one place (Support integrates with CRMs, project management tools, and communication platforms), agents can easily access the data needed to resolve customer inquiries and ensure their account is healthy. They're further empowered through work flow automations, chatbots, and intelligent ticket routing to focus on relationship building rather than tedious tasks.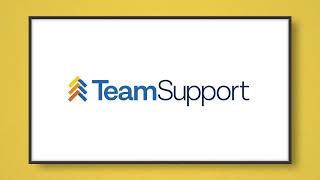 TeamSupport does not have a free version and does not offer a free trial. TeamSupport paid version starts at US$49.00/month.
Starting Price:
US$49.00/month
Alternatives to TeamSupport
Industry: Human Resources
Company size: 51-200 Employees
Used

Daily

for

1+ year

Review Source
---
Team Support Review
My experience with TeamSupport has been very good. The online support help is very responsive. Our Admin is extremely knowledgeable on TeamSupport as well which is helpful.
Pros
When we implemented Team Support, we did not have a CRM system prior, so it was a little tricky at first knowing how we wanted the ticket workflow to occur. After setting up a few ticket types and understanding the logic with the setup, it was smooth sailing setting up different type tickets for product inquiries to escalations to goodwill calls to managing COVID type activities for our clients, etc. At a moment's glance I can tell what is outstanding and what may need immediate attention.
Cons
The reporting can be challenging. We use Activities and Tasks a lot. To be able to include fields across the board in any report would be extremely helpful. Your limited with how you can report on tasks. Clients have shared they feel sometimes the layout of the emails they get are busy looking. TeamSupport recently made changes to improve this. We will be rolling this out soon. Clients seem to like the Ticket Hub feature quite a bit.
Response from

TeamSupport

Thanks for the great review! I will pass on your feedback to the TeamSupport development team. We put a lot of work into that, and we're glad to hear it's serving its purpose and helping you out.

If you have any questions feel free to reach out to [email protected] directly. Thanks again!

Thank you for taking the time to review TeamSupport. Glad to see you're enjoying the platform, particularly the ease of use. We're here to help if any questions arise or you'd like to inquire about additional features. Did you know we have a monthly webinar on the fourth Wednesday of the month exclusively for our clients? Join us to get some additional tips and tricks from our subject matter experts. Learn more and watch previous TSU programs on demand https://www.teamsupport.com/b2b-customer-service-university

Replied 20/05/2021
Industry: Information Technology & Services
Company size: 51-200 Employees
Used

Daily

for

2+ years

Review Source
---
Intuitive, Useful Software Company-wide
Overall, our company has toyed with the idea of using competitors but TeamSupport has held strong as a useful solution for us whose advantages outweigh its detractors.
Pros
I like the largely intuitive interface and functionality. Creating actions (public/private) are extremely easy as is pasting in-line images, adding attachments and customizing ticket types. Once saved, the formatting of actions are ideal and translate to what the user entered. Not all other ticketing software handles it this well.
Cons
Performance/stability has certainly improved over the years and has become more reliable. Despite that, there are the odd instances of slowness or degraded performance. The reporting could be more robust and easier. The ability to create more than one new (unsaved) ticket simultaneously would be very helpful.
Response from

TeamSupport

Hi Tyler, Thanks for writing to let us know your thoughts about TeamSupport. While we were really glad to hear that you've generally had a good experience so far, it looks like we fell short in one area, and that's not okay. I want you to know that I've spoken to our Director of Customer Success about this, and we're going to make sure this isn't an issue moving forward. We're always improving our platform and will also make our development team aware to factor into future updates and enhancements.

We'll look forward to talking directly to learn more and I promise we'll find a solution to your issue.

Replied 26/03/2021
Industry: Logistics & Supply Chain
Company size: 51-200 Employees
Used

Daily

for

2+ years

Review Source
---
Take a shot, give it a GO
Our overall experience with TeamSupport has been fantastic! Their support team is top-notch and from my perspective it shows that they genuinely do care to help you with your ongoing issues.
Pros
The flexibility of TeamSupport was a feature we wanted to use as we grow the business. We wanted to leverage this feature because we wanted the software solution we chose to grow with the us and TeamSupport met that criteria.
Cons
The storage limit of 25MB is probably the one that affects us most. We use videos internally for training and externally as well. I know that this limitation is understandable, but it is something that I wish they would either lift or expand. It would be very nice to offer a remote control feature when you are working an issue, so you can easily take control of the user's computer.
Response from

TeamSupport

Thanks Alain for the great review! I will pass on your feedback to the TeamSupport development team. We put a lot of work into that, and we're glad to hear it's serving its purpose and helping you out.

If you have any questions feel free to reach out to [email protected] directly. Thanks again!

Replied 04/11/2020
Industry: Consumer Services
Company size: 2-10 Employees
Used

Daily

for

2+ years

Review Source
---
TeamSupport a great support and customer management application
We are a B to C customer and while this may not seem like a good fit it is working for us very well.
The ability to create customer Knowledge Base articles is easy and the portal allows customers to view them. Same with the Community feature, we have many articles in both and it's nice knowing that a customer has a resource to solve problems or find information about our product on the portal interface.
We use this to manage both end user customers as well as videographers that work with us to produce Not-Forgotten time capsules.
Pros
I love how easy it is to setup, and the fact that I don't have to worry about how the product is running because it's in the cloud and the team at TeamSupport really do a great job when it comes to making sure the application is ready and available when I use it. Everyone at TeamSupport are easy to work with and really know the product. I can reach out to them at anytime and someone is available to assist me.
They always seem happy to hear from you and it's like talking to an old friend.
Cons
Nothing to say here, I really like it. It's really hard to come up with a negative, except that perhaps I wish I had thought of this.
Response from

TeamSupport

You're awesome for taking time to post a review! We appreciate you being part of the TeamSupport family and we look forward to making sure you make the most of your platform.

If you haven't done so already, please join our Community discussion group found in the TeamSupport Customer Hub and attend our monthly TeamSupport University client exclusive live webinar hosted by subject matter experts.

Replied 04/11/2020
Industry: Computer Software
Company size: 11-50 Employees
Used

Daily

for

1+ year

Review Source
---
Team Support
We use Team Support to track Customer Support issues, upgrades, software bugs, projects, and feature requests. We have populated our knowledge base with client-facing documents as well as internal articles. Team Support makes it easy to find everything from client correspondence to project updates.
Pros
I was hesitant to move from our former ticketing system to Team Support, but it has ended up being a significantly better way to track tickets. Team Support is easy to use for both our employees and customers. With Team Support you don't have to worry about losing tickets or correspondence with clients. Everything can be tracked within your tickets and you retain access to that information after the tickets have been closed.
Cons
Team Support works best when you only have a single window with it open. Unfortunately, that is not how our business works. We often have multiple tickets open at once and, in the past, this has really slowed Team Support down. This functionality has improved over time but it really is one of my few complaints with the system.
Response from

TeamSupport

Thanks Mr. Gardner for sending good vibes our way! Our primary focus is to ensure that our customers have the best possible experience while using the TeamSupport platform and enjoy all the benefits it provides.

We also realize that we need to continue to innovate and improve our user experience and you can look forward to several new updates to our platform this year.

Replied 04/11/2020