About SolarWinds Service Desk
SolarWinds Service Desk is suitable for companies seeking a help desk solution that offers IT service management (ITSM) functionalities. SolarWinds Service Desk offers comprehensive service desk functionality that helps businesses respond to service requests in a timely manner, resulting in improved support. SolarWinds Service Desk is a cloud-based software offered for an annual subscription. In the system, users can manage service tickets and company assets. It also works on the go from any smartphone or tablet equipped with a web browser. SolarWinds Service Desk integrates with other applications, including Google Apps, Salesforce.com, OneLogin and over 140 other applications. Users can submit service tickets through either email or the inbuilt self-service portal. The portal empowers users to search for a solution independently using the system's configurable knowledge base. Customers can also submit a new request and check on the status of a pending issue.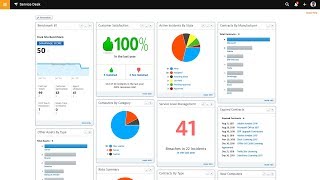 SolarWinds Service Desk pricing
SolarWinds Service Desk does not have a free version but does offer a free trial. SolarWinds Service Desk paid version starts at US$19.00/month.
Starting Price:
US$19.00/month
Alternatives to SolarWinds Service Desk
SolarWinds Service Desk Reviews
Industry: Hospital & Health Care
Company size: 5,001-10,000 Employees
Used

Daily

for

2+ years

Review Source
---
It is simple to implement, administer, and update
In my opinion, web-based program solutions are the way of the future, and SolarWinds is right there with them. I truly mean it when I say I'd want to switch to SolarWinds because of the ease with which everything can be done from a web browser.
Pros
I like that we can measure time, open rates, add project and task users, and connect files to our projects and tasks. This is a must-have for me in my current position. It's a great way to stay on top of tasks. All task updates are sent to you in real time. Support and asset management use cases are at the bleeding edge of this technology here. An good solution that meets the majority of ITSM criteria is available.
Cons
The task arrangement for submitting new tickets might be a little complicated at times. Most users won't be able to see or realize how much backend setup is required, thus someone has to do it or teach them.
Industry: Retail
Company size: 10,000+ Employees
Used

Daily

for

2+ years

Review Source
---
Hossam's SolarWinds Service Desk Review
My overall experience with SolarWinds is very positive, although we have switched to another system due to budget issues, yet i still prefer it.
Pros
SolarWinds Service Desk is easy to use & what i like most about it is its dashboard customization feature, as i can be able to monitor my team's ticket status all day long, without having to look into the tickets of other teams, and being SolarWinds, it gives me the ability to view it in appealing charts, and reporting & notification is well maintained.
Cons
The least i like about it is its cost in relative to other ticketing systems in the market.
Reasons for Switching to SolarWinds Service Desk
Because we are already using SolarWinds Network monitoring tools, so it makes life easier to use the products of the same vendor in terms of integration & ease of use.
Industry: Higher Education
Company size: 201-500 Employees
Used

Daily

for

2+ years

Review Source
---
SolarWinds in a Medium-Sized Environment
Pros
Once the system was setup it provided very detailed information monitoring our network endpoints. The information is very useful.
Cons
The software has become costly for us and the more things you want to do you need to add modules that aren't cheap for a small school.
Industry: Warehousing
Company size: 1,001-5,000 Employees
Used

Daily

for

1+ year

Review Source
---
Good Out-Of-Box product for small, scalable team
We were attempting to solve the issue of ticket management in the IT department. While it was a great out-of-the-box solution, it didn't offer the unique scalability we needed and the customer service wasn't helpful in growing the product with our needs. However, I still believe that, for a small shop, this product offers the best value for the price and is a great entry-level solution.
Pros
I like that, out-of-the-box, Samanage offers great core functionality with a stable product that ties neatly into a beautiful UI for the end users. The UI is where Samanage really knocks it out of the park though. It's modern, simplistic, "forum" layout is attractive and intuitive, and chat indicators on the tickets feels like your moving from a traditional email reply into a IM chat.
Cons
There's a lot to be desired when it comes to the fine details of the service. There are specific customization options for project management and ticket automation that aren't available that we wanted in our shop. When we reached out to our support member to discuss a possible addition/fix. They advised us to post our suggestion on their feedback board and if it received enough votes they would implement it. The same suggestion was found submitted over a year ago on the board (with over 300+ votes) yet no action was taken. I was hoping for a more, collaborative answer, instead of posting on a forum board in hopes that other members validate my need for them to implement it.
Industry: Information Technology & Services
Company size: 10,000+ Employees
Used

Daily

for

2+ years

Review Source
---
An excellent tool for service management
For the most part, Solarwinds Service Desk is utilized for automating incident generation through integration and reducing the amount of human work required. Custom dashboards make it possible to see the weekly, monthly, and yearly trends in various types of tickets, such as incidents, requests, changes, and issues, and to perform analysis.
Pros
It offers a wide range of functions, such as incident tools and an employee support site. In addition, the user interface is simple and clear. To reassign requests, learn about what happened, and access the information you need is simple. I no longer have to worry about maintaining the backend systems. Instead of getting bogged down in making sure all systems are up-to-date, we can concentrate on our business and providing excellent customer support.
Cons
When a ticket is being updated, the user is not informed that the ticket is in the process of being updated. Moreover, the fact that the search engine does not provide slack binding should be stressed more strongly. During the dynamic page refresh, the page becomes unresponsive.