About LiveChat
LiveChat is an all-in-one customer service platform helping brands deliver superb customer service while boosting their sales. LiveChat is intuitive, easy to use, and fully customizable, to naturally blend in with any website. With a number of features inside the app, it's a powerful tool to win over customers. This customer service software is used by over 37,000 customers worldwide. One of them shared that LiveChat helped them achieve a "5 times higher conversion rate, 50% more leads, and a 16 times higher average session value." With LiveChat, you can expect the following: - Happier customers thanks to seamless customer service. With a sneak peek, agents see the questions before they're sent, and with canned responses, they reply faster. Agents can also supervise less experienced agents to solve a case by sending them suggestions right in chat. - More leads thanks to interacting with potential buyers. LiveChat sends automated invitations to chat and can adjust communication based on the data they share. - Boosted sales thanks to Product Cards. They allow you to present your products in an appealing way inside the chat. Agents can also browse the store in the LiveChat App and send customers complimentary products based on what's in their cart. - Smooth experience thanks to over 200 integrations. CRM services allow you to keep all the communication inside LiveChat and personalize the communication based on customer info. Ecommerce services like Shopify and BigCommerce, along with payment services such as PayPal or Stripe, allow customers to make orders directly from the chat and make it easy for you to manage the sales process afterward. - Greater customer base thanks to being available on customers' preferred channels. Messaging apps, like WhatsApp and Facebook, allow customers to reach out to you via these channels while you manage all the communication inside LiveChat. It's much quicker and all the info is in one place. - Saved time thanks to automation, including chatbots that handle repetitive questions 24/7. Agents can easily create engaging, conversational experiences using rich, interactive messages. - Better results thanks to comprehensive reports in LiveChat. With the goals and a sales tracker, you won't leave your sales and quality of customer service up to chance. You keep track of your team's performance and spot room for improvement. LiveChat is used worldwide by over 36,000 companies from every industry. Companies of all sizes, startups, small and medium businesses, and enterprises recommend it. LiveChat adjusted its features to the needs and capabilities of companies based on many years of experience in the ecommerce and communication field.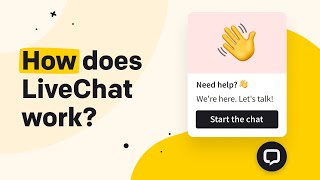 LiveChat does not have a free version but does offer a free trial. LiveChat paid version starts at US$24.00/month.
Starting Price:
US$24.00/month
Used

Daily

for

1+ year

Review Source
---
LiveChat Connects Me to My Candidates Fast!
I get instant connection to my customers with tons of features, customizations, and robust reporting.
Pros
What I like most about LiveChat is it's reliability. When I began researching chat applications to recommend to a client for use in their recruiting efforts, I found a lot of options. I also found a lot of issues. Many of the applications I looked at were complicated and glitchy.
Then I found LiveChat. LiveChat just worked. It was solid application whether online or on my desktop and it handled chat conversations reliable while offering all the features I was looking for in a manned chat application. When I spoke with a representative from the company, I found out why.
LiveChat set out from the beginning to be a manned chat solution and to be the best in the business. I was kind of disappointed with this at the beginning, because I was hoping for a solution to handle both manned and bot style chats. LiveChat didn't have bots, but they were so far above every other manned chat platform, that I had to choose them.
Incidentally, they have developed a bot situation since I first signed up with them and it is just as robust. It's called botengine.ai and I highly recommend it. BotEngine integrates seamlessly with LiveChat and both applications work reliably with Facebook Messenger, Web Pages, Landing Pages, and more.
LiveChat offers tons of customization, professional looking interfaces, and robust reporting. I can easily use it on my desktop computer, my notebook, my tablet, or my phone. And just like I said before, it just works.
Cons
If there was anything to dislike about LiveChat, it would be that it is resource-intensive on my iMac. This is a casualty of my business, though. I have to use a lot of memory-hog applications every day, so a lot of times I will enable LiveChat just on my mobile device or my notebook while I'm working at my desk. That way I can still respond to chats without slowing down my main machine.
Industry: Hospital & Health Care
Company size: 1,001–5,000 Employees
Used

Daily

for

1+ year

Review Source
---
It's simple and fast, so I can contact my teammates right away
Livechat allows for instant, one-on-one interaction with customers, increasing the likelihood that they will become paying clients. Live chat takes a customer-centric approach and equips your company with useful tools.
Pros
The use of real-time chat allows us to communicate with our clients in a highly productive manner. We have found that creating many agent accounts and assigning specific tasks to different teams of workers helps us do more in less time.
Cons
Its price tag is higher than those of its rivals. The delay in getting chat messages is annoying and often leads to misunderstandings. It takes time for support to respond and fix the issue we report.
Industry: Food & Beverages
Company size: 11–50 Employees
Used

Daily

for

Free Trial

Review Source
---
Ch
Yes regardless of other challenges it works well with the dignity
Pros
Live chat has good users interface and friendly to user to support the customers through Live chat.
Cons
Sometimes it is not effective in that way use us current access to work get the network error.
Industry: Consumer Goods
Company size: 2–10 Employees
Used

Daily

for

2+ years

Review Source
---
Only gotten worse over time..
Great for connecting with customers... When it actually works.
Pros
Okay, I really loved this software at first. But then they started to change and add things, and every time they have something technical going on or update their software, the app stops working on my phone. With zero resolution from their 'technical team'.
In general, the software idea is great, but the execution and functionality aren't so great.
Cons
I have had technical issues with this software too many times now. The first time when they updated their app and software, the app stopped working on my phone. I contacted the tech team and they had to restore me to the older version in order for it to work. Later on, just recently, same thing - app stops working, I contact technical team and they can't do anything and tell me it is my phone.. Even though nothing had changed with my phone. I grew up around professional technicians my whole life, and am well aware of how these softwares work, and the technical team honestly does not know what they are doing there. This, this created an issue where I cannot provide the adequate customer service I need to for my business. I am switching to another chat provider next week, have had enough of the issues with this one. Not worth the money when there are better chat softwares out there.
Industry: Marketing & Advertising
Company size: Self Employed
Used

Daily

for

6-12 months

Review Source
---
Enhance Customer Support with LiveChat
Overall, LiveChat has significantly improved our customer support capabilities and customer satisfaction. Its user-friendly interface, powerful chat management, and insightful analytics make it an invaluable tool. Although there is room for improvement in pricing flexibility and mobile app optimization, LiveChat remains a reliable solution for enhancing customer interactions and support.
Pros
What I liked most about LiveChat was its user-friendly interface and accessibility. It seamlessly integrates into our website, making it easy for both agents and customers to engage in real-time conversations. The customization options allowed us to align the chat widget with our brand's visual identity.LiveChat's chat management features impressed me the most. Real-time monitoring and proactive engagement empowered our agents to provide exceptional support. The chat transfer functionality ensured smooth transitions between agents. Tracking typing indicators and read receipts enhanced response times and customer engagement.The reporting and analytics features provided valuable insights into customer satisfaction, response times, and chat volume. Integrations with CRM systems and email marketing platforms allowed us to streamline our support operations and track customer interactions effectively.
Cons
While LiveChat met our needs effectively, there were a couple of areas that could be improved. The pricing structure felt somewhat rigid, and more flexibility in pricing options, especially for advanced features, would be beneficial. Additionally, the mobile app experience could be enhanced for smoother performance and more intuitive features.