About HelpCrunch
HelpCrunch is a customer communication platform combining live chat, email marketing automation and a help desk in one solution. The solution helps support, sales and marketing teams to acquire, convert leads and support their customers. HelpCrunch is suitable for SaaS, e-commerce and any other type of online business. Live chat works as a visitor engagement, lead acquisition and support tool. The feature enables companies to reply to customer queries instantly or later in the same thread, even after the customer has disconnected. An in-app messenger can be integrated with a website or application to engage with customers. Chatbot helps companies automate routine tasks and jumpstart their lead generation activities. Email marketing automation enables users to send email follow-ups right from the chat, launch one-time emails or create event-triggered automated email sequences for onboarding or marketing campaigns. The help desk module can organize all customer communication, prioritize actions, distribute tasks and manage each customer case. Pricing is tiered, based on the number of agents and emails.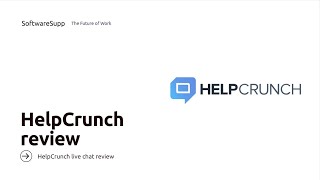 HelpCrunch does not have a free version but does offer a free trial. HelpCrunch paid version starts at US$15.00/month.
Starting Price:
US$15.00/month
Alternatives to HelpCrunch
Industry: Computer Software
Company size: 2-10 Employees
Used

Daily

for

6-12 months

Review Source
---
Good chat client for customer support and feedback
We use HelpCrunch as our primary support tool (for potential customers with questions, for customers with questions, for feedback reports, etc). Installation and subscribing was easy using a WordPress plugin, and the interface is easy to understand, configure, and use if you're familiar with web interfaces like Google Apps, Intercom (to which HelpCrunch is very similar, and far less expensive). The mobile app allows us to respond immediately to customers without being tied to a desk. Being in the early stages (first year) of a software release, this allows us to get immediate feedback from our customers, and, possibly more importantly, from those who would be our customers except for some reason, so that we can make good decisions.
Pros
- Easy to install
- Good basic chat functionality with the ability to scale
- Inexpensive for chat, and, again, can scale in price as new features are added
- Looks good (both the chat that faces the customer and the user interface for our support people)
- Ability to capture customer's email address or not based on a schedule, so that we can allow customers rapid access without entering personal information during business hours, but require name/email after hours
- Responsive customer support
Cons
- Occasional bugs, e.g. schedule not triggering at expected times
- Lack of some basic functionality at lower pricing levels (e.g. if a customer chats, then goes offline, the software won't email the customer that there's a new message unless you're on a higher plan that costs twice as much)
Reasons for Choosing HelpCrunch
We'd used Intercom for a previous product, and when we tried to contact them for this product, they were very slow to respond, and considerably more expensive. Before they'd responded, we'd reviewed other options and installed HelpCrunch.
Reasons for Switching to HelpCrunch
(We also considered a few other chat clients). We plan to use the chat largely for direct interaction and solving of issues, and HelpCrunch seemed best suited to that purpose - e.g. we could use the built-in knowledge base. Other chat clients were either targeted at lead generation or were just too expensive for a small team.
Response from

HelpCrunch

Thanks a lot, Grant!

Replied 14/09/2020
Industry: Internet
Company size: 2-10 Employees
Used

Daily

for

6-12 months

Review Source
---
Excellent value-for-money Software for our SaaS business
While we were only looking for a chat solution, and had two bad experiences with competitors who had "automated solutions" where no-one was actually there to sort their bugs out.
Helpcrunch, on the other hand was reactive from day 1. We were pretty quick to install it on our system (both website & SaaS).
We programmed dozens of automated messages, also use it to push product news to our customers, and get quick feedback through the chat for our on-trial customers.
Overall, I recommand Helpcrunch for Chat Messenging and E-mailing, though I have not tested all the options that are part of our package (such as the integrated Resource Center)
I look forward for further developments of the solution in 2020 !
Pros
- Complete suite for emailing and chat
- Simple enough, yet highly customizable
- Very reactive customer support teams
Cons
- No Drip email marketing implemented (well, not yet as of 12/2019)
Reasons for Choosing HelpCrunch
Customerly did not work properly, and there was no answer for 2 weeks to our questions.
Response from

HelpCrunch

Hey Thomas! Thanks a lot for all the comments. We're pumped you're with us.

Would love for your to explore the Knowledge base (Resource Center) as well - it's really helpful if you want to automate your support and provide a self-service option for customers.
If any questions, we're always there to assist you.

Replied 08/01/2020
Industry: Computer Software
Company size: 51-200 Employees
Used

Daily

for

1+ year

Review Source
---
Way to improve HelpCrunch
Overall it is good based on the functionality it currently has. But there is always ways for improvement, right?
Pros
Integration with iPhone. Easy to track if all chat users were handled and taken care of. Easy to embed on the website. Ability to send an email to offline chatters. The ability to block a person. Emailing a transcript.
Cons
- The fact I always have to open Helpcrunch website to answer chats. Sometimes you just forget to do that! The fact there is no any Windows App which would support HelpCrunch and start with Windows, so the chat would be always be connected to the agent.
- The fact there are no shortcuts or templates which would allow to type something like "/greet" and it would send a templated message i.e. Hello my name is Alex Satler. Please let me know how may I help you today? etc"
- The fact there is no way to guide your chat visitors around your website. Say, a visitor is interested in seeing my pricing. I simply enter a code "/price" and it re-directs a visitor to the page with our pricing and so on.
Reasons for Switching to HelpCrunch
Primarily - because of your support on mobile platforms and based on feedback we received from our sales team.
Response from

HelpCrunch

Hey Alex!
Thanks for the detailed review.

Glad you found most of the functionality in HelpCrunch helpful and easy to use.
Of course, there's always room for improvements - and that's what out team is always after.

Wanted to address a few things you've pointed out:
- Currently there is only the browser version of the product available, but we're looking to develop desktop versions (for Mac and Windows) at some point, perhaps next year.
- You can utilize Saved responses feature to instantly insert templated messages in the conversation. Just type in '#' when entering a new message and you'll see the list of all saved responses which you can insert and modify at any time.
This way you can create a greeting or a pricing-related message with a link to your pricing page.

Hope that helps. If you have any other suggestions or questions, don't hesitate to reach our support team via chat!

Replied 06/09/2019
Industry: Internet
Company size: 11-50 Employees
Used

Daily

for

6-12 months

Review Source
---
The software that really helps
HelpCruch has everything we need to automate the process of catching leads, providing necessary information to them and don't let them forget about us after we had a chat.
All the features are pretty detailed which helps to create what you really need. For instance, a pop-up. You can select different styles, colors, there is no limit on what you do. That's why your work with HelpCrunch is a pleasure.
One more thing, that will definitely win your heart is outstanding online customer support HelpCrunch has. They treat you not as a random user, but like a friend. Furthermore, they do release the features you request. They are just fabulous :)
Pros
HelpCrunch has a user-friendly interface with all necessary features supported. I would say, the team has thought for us by creating top-notch functionality. It was a great surprise, uniquely different pop-ups, and automatic follow-ups.
I would recommend to each new user to set up a demo call to see the full set of functions the HelpCrunch chat platform has.
Cons
There is nothing I can list here :) Like... really nothing :)
Reasons for Switching to HelpCrunch
The features, attractive design, functionality, price, online support have won in comparison with our previous platform (Drift) and a few that we were considering.
Response from

HelpCrunch

Lana, you made our team's day. Thanks for all the love!
We're super glad to have you and supporthunt team as our loyal customers.

Replied 06/09/2019
Industry: Computer Software
Company size: 2-10 Employees
Used

Daily

for

1+ year

Review Source
---
Good but app can be better
I like the chat and the history of the chat by user/contact. If the mobile app could show me the meta data when a chat comes in, that would be perfect.
Pros
I use HelpCrunch because i needed a more advanced chat solution. I use the chat to support my logged in users. I do not want to aks them name or company (meta data) as i have this info as they are logged in already. It was important the chat had a mobile (iOS) app, so i can give support on the road and as soon as possible.
Looks nice and professional.
I do not use a lot of the other functions, like the Knowledge Base.
Cons
I have asked support multiple times to improve the mobile app. As a chat comes in, i can only see the name and none of the meta data, which is very important to me. I don't understand why this is not in the app, as it is an important part of the help solution.
The web application in the browser is a bit heavy. I could not (or very slow) load it on slow (hotel) internet connections. (working in Safari)
Response from

HelpCrunch

Hey there! Thanks for all the feedback.
Our support team received your request regarding user data in mobile apps.
We've already added this to our backlog and we'll see how soon it will be implemented :)

We'll also look into the slow app loading on low internet speed.
Stay tuned! If you want to receive updates on those, just ping our team and we'll be sending you updates on periodic basis.

Replied 03/09/2019