About HelpCrunch
HelpCrunch is a customer communication platform combining live chat, email marketing automation and a help desk in one solution. The solution helps support, sales and marketing teams to acquire, convert leads and support their customers. HelpCrunch is suitable for SaaS, e-commerce and any other type of online business. Live chat works as a visitor engagement, lead acquisition and support tool. The feature enables companies to reply to customer queries instantly or later in the same thread, even after the customer has disconnected. An in-app messenger can be integrated with a website or application to engage with customers. Email marketing automation enables users to send email follow-ups right from the chat, launch one-time emails or create event-triggered automated email sequences for onboarding or marketing campaigns. The help desk module can organize all customer communication, prioritize actions, distribute tasks and manage each customer case. Pricing is tiered, based on the number of agents and emails.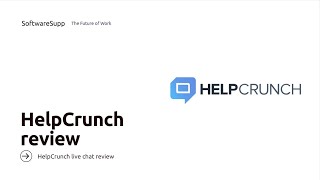 HelpCrunch does not have a free version but does offer a free trial. HelpCrunch paid version starts at US$15.00/month.
Starting Price:
US$15.00/month
Pricing Details:
Try HelpCrunch for Free for 14 days. Visit helpcrunch.com/pricing.html to get more details or a custom quote.
Alternatives to HelpCrunch
Industry: Internet
Company size: 11-50 Employees
Used

Daily

for

6-12 months

Review Source
---
The software that really helps
HelpCruch has everything we need to automate the process of catching leads, providing necessary information to them and don't let them forget about us after we had a chat.
All the features are pretty detailed which helps to create what you really need. For instance, a pop-up. You can select different styles, colors, there is no limit on what you do. That's why your work with HelpCrunch is a pleasure.
One more thing, that will definitely win your heart is outstanding online customer support HelpCrunch has. They treat you not as a random user, but like a friend. Furthermore, they do release the features you request. They are just fabulous :)
Pros
HelpCrunch has a user-friendly interface with all necessary features supported. I would say, the team has thought for us by creating top-notch functionality. It was a great surprise, uniquely different pop-ups, and automatic follow-ups.
I would recommend to each new user to set up a demo call to see the full set of functions the HelpCrunch chat platform has.
Cons
There is nothing I can list here :) Like... really nothing :)
Reasons for Switching to HelpCrunch
The features, attractive design, functionality, price, online support have won in comparison with our previous platform (Drift) and a few that we were considering.
Response from

HelpCrunch

Lana, you made our team's day. Thanks for all the love!
We're super glad to have you and supporthunt team as our loyal customers.

Replied 06/09/2019
Industry: E-Learning
Company size: 2-10 Employees
Used

Daily

for

1-5 months

Review Source
---
Great platform to directly connect with customers
So far it's been great. I saw many people raving about their customer support and yes, it is legendary! So far I've only interacted with them twice and it's been great!
Pros
I'm loving the macro systems which makes replying to help requests quick and easy, also the fact that you can connect and extend the functionality inside your app is going to be helpful. The best thing however I think is just how easy it was to get setup and start having real conversations with people.
Cons
It's really a small thing, but I'm looking forward to when they can allow us to send verified email from our own domains. For the moment this isn't a deal killer for us, but it will be nice to have the highest deliverability possible using our own custom domains.
Reasons for Choosing HelpCrunch
The former company I was using for support tripled their prices without notice. It was a real shock to see a company that was apparently 'for the little guy' change things up like this, and when I contacted their support about it, they said I had been given plenty of notice and really just seemed disinterested in the fact that we are a startup like they are, and every dollar matters. This whole experience really left a bad taste in my mouth so I've been on the lookout for a new support system for a while.
Reasons for Switching to HelpCrunch
It was recommended in a private group I'm in.
Response from

HelpCrunch

Thanks so much for the kind words, Mitch!

Replied 30/08/2019
Industry: Environmental Services
Company size: Self Employed
Used

Daily

for

Free Trial

Review Source
---
Excellent chatbot affordably priced
Positive! Especially the customer support
Pros
It's affordable & the customer service was excellent. I had all my questions answered within 24 hours even though I was only on a free trial version.
Cons
As someone with zero tech background it took me two days to implement the code into my website. This is more a reflection of me than the software, it truly is plug and play I am just terrible with all things tech related.
Industry: Computer Software
Company size: 2-10 Employees
Used for

1+ year

Review Source
---
Web software ok. Mobile app non-functional. Service non-existent
Refused to allow me to cancel, even though I attempted to do so on the renewal date, and even though their app isn't working, so I can't respond to customers through the app. They suggested that I could enable email notifications - completely negating the point of instant response.
Pros
It was reasonably easy to install, although took a while to configure.
Cons
Mobile app didn't work, so when I did get enquiries I wasn't able to respond, making it look like I didn't respond to my customers.
Response from

HelpCrunch

Hi Andrew! We really appreciate your review. Indeed there were some issues with the mobile apps in the last few weeks which a very small part of our customers have, unfortunately, experienced. You were one of them.

We do realize that this has affected your communication with customers and your business. We're terribly sorry for that and just wanted to let you know that we listen to all the feedback and try to react asap. We're rolling out a new update already this week which is aimed to dramatically improve both iOS and Android apps performance and overall user experience, fix the issues you've experienced + provide some new exciting features.

We really hope you'll be able to try out the updated apps. Our team would be looking forward to your feedback! Please don't hesitate to get in touch with us at any time. Take care!

Replied 29/07/2020
Industry: Computer Software
Company size: 2-10 Employees
Used

Daily

for

1-5 months

Review Source
---
Itegrated cost effective solution very suitable for SMB
Pros
Great integrated solution suitable for SMB, easy to deploy and manage, no complicated ticketing system and features uselfull only for enterprices.
Knowledge base and chat integrated in one solution.
KB default design is modern and nice, not necessary to customize too much (compared to Freshdesk for example).
Full KB/chat customization is included (Freshdesk will ask you additional up to 40 USD).
Cons
Support can be faster. In "rush days" you may wait a few hours for response, but then you'll get professional answers that help you solve your problem.
Reasons for Choosing HelpCrunch
HubSpot Knowledge base is available from Professional license, too expensive (>350 USD). Help Scout have issues with chat availabilty in SPA (need page refresh). Freshdesk and Freshchat are overcomplicated, for full KB customization you need to pay +40 USD (default KB design is ugly old style, full customization is necessary)
Reasons for Switching to HelpCrunch
Met all requested features. Affordable price. Best quality / price ratio.