About Sendinblue
SendinBlue is a cloud-based email marketing tool suited for organizations of all sizes. It offers marketing automation, email campaigns, transactional emails and SMS messages functionalities within a suite. SendinBlue allows users to create mobile-responsive emails using design tools. Users can also schedule and automate marketing campaigns and pre-test messages' deliverability before sending campaigns. Transactional emails may be sent via SendinBlue's SMTP service or API. The contact management functionality allows for importing contacts, categorizing lists, collection forms, behavioral forms and more. SendinBlue also features reporting, which allows users to create reports on basic statistics, such as open rate, click-throughs and more. Other reporting features include per ISP, exporting results into Excel or PDF and heat maps. SendinBlue can be integrated with organizations' websites and management tools. SendinBlue plugin is also available to be installed with other content management and e-commerce systems such as WordPress, PrestaShop, Drupal, WooCommerce or Magento.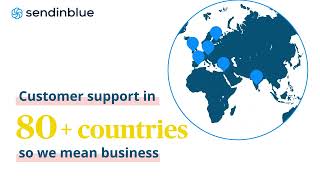 Sendinblue has a free version and offers a free trial. Sendinblue paid version starts at $29.00/month.
Starting Price:
$29.00/month
Alternatives to Sendinblue
Industry: Insurance
Company size: 201-500 Employees
Used

Weekly

for

2+ years

Review Source
---
E-mail marketing made easy
We use it weekly and in some cases daily. It's easy to use, easy to get data and easy to setup and change according with the reports we are able to obtain.
Pros
The platform is really user friendly and it allows us to integrate data with our in-house developed systems.
Cons
The customisation of the design of each e-mail it's a little bit tricky, but we make it work with our own designs being uploaded in the platform.
Reasons for Choosing Sendinblue
Mostly because we were looking for a better integration with our own systems and Sendinblue was the best option.
Reasons for Switching to Sendinblue
Our IT team felt comfortable working the integrations through Sendinblue with our systems, also the price for more than 100,000 sent e-mails was critical in the decision. The marketing department were also happy working with the data and reports the platform provides.
Industry: Financial Services
Company size: 10,000+ Employees
Used

Daily

for

2+ years

Review Source
---
Email marketing is better with Sendinblue
We had a good experience working with this software, our newsletter and email marketing campaign are fully automated and can be scheduled for the next 2 months forward. We are very happy that we can have a full control on the leads and verification on the leads.
Pros
Sendinblue is the best tools that i have use for our email marketing campaign automation. All the emails sent is instantly executed and receive by the recipient in no time. All the report analytics for the opening-click-rate and email reading time can be generated a day after the emails sent. They also offer a good software integration like Mailchimp and Woocommerce.
Cons
There are some aspect that Sendinblue should improve, especially on the customer support service which too slow in responding our ticket and support email. Other than that, the landing page template design is somehow not fully customizable and some of the widget is not easily editable.
Industry: Information Services
Company size: 11-50 Employees
Used

Daily

for

6-12 months

Review Source
---
Review of Sendinblue
Pros
We are a conference and training company that specializes in business-to-business and business-to-consumer programs. A significant proportion of our programs are open-workshop, which means that people sign up to participate on their own. As a result, we must maintain constant contact with them. Sendinblue was our primary email campaign tool.Your attention will likely be drawn to its pricing right away. With plans starting at $25 for 20,000 emails and unlimited contacts, Sendinblue has some of the most affordable prices available.WordPress users have over 80,000 active installations, The interface is identical to that of the web application, resulting in a seamless user experience.
Cons
Users have almost no access to customer service, and the old landing page feature has the potential to be quite effective.
Industry: Telecommunications
Company size: 201-500 Employees
Used

Daily

for

6-12 months

Review Source
---
Worst company to deal with - Stay away!
Sendinblue is probably the worst company I have ever dealt with. Not only their support is close to inexistent for users with premium account, but they treat you like a criminal. I've been using them for almost a year, when suddenly they deactivated the account, saying there was a complaint. That's it: someone makes a complaint, you have no chance to defend yourself, and they DEACTIVATE the account???
What happens with all the customer information I had stored there? What happens with the SMS credits I purchased? What happened with the monthly subscription?
Went on their Facebook page and guess what, I found at least 2 other customers having the EXACT same issue. Which FB page is also a joke, there's no engagement with THEIR customers.
Now I understand why they are such a cheap alternative.... because their service is the same: cheap
Pros
There are no pro's, you have to figure it our yourself, and even the information posted on their website contradicts with real life usage
Cons
No customer support, even if you have the Premium account, they have no respect for that. Their Social Media is also irrelevant, even their CEO's Linkedin account is irrelevant. His contact info on the Linkedin page is incorrect. My advice? Stay AWAY!
Reasons for Choosing Sendinblue
Fooled by their pricing
Reasons for Switching to Sendinblue
Because I looked at saving 2 extra dollars, why wasting hundreds with Sendinblue
Industry: Health, Wellness & Fitness
Company size: 2-10 Employees
Used

Daily

for

6-12 months

Review Source
---
Sendinblue - The Best Features Pros and Cons
When it comes to pricing, Sendinblue has four plans available with a free plan that allows 300 emails a day. It is cost effective for small businesses as it comes in handy to users who're at the beginning of their email marketing journey who do not have a budget. Sendinblue has a very good CRM filtering and segmentation of contacts feature. It also provides social media marketing, SMS Marketing, landing pages creation, online surveys and many more tools for digital marketers. More advanced features are available in the premium and enterprise plans.
Pros
What I liked most about Sendinblue is its easy of use with a variety of customizable templates. I liked the fact that it is a cloud-based email marketing tool that offers a range of features and functionalities for both beginner and advanced users. It is also a marketing automation platform that provides the right marketing and sales tools you need to build strong relationships with your customers all in one place.
Cons
I found the onboarding process on this app to be difficult especially when it comes to data transfer. Steep learning curve on some of the features like configuring a dedicated IP or sending targeted emails. Also, if you want more features, they're are only available in the premium and enterprise plans where you have to pay for them.