About QuickBooks Live
QuickBooks Live is a tech-enabled solution that helps businesses of all sizes with their bookkeeping needs. This solution allows businesses to partner with a virtual bookkeeper to manage and maintain their books. Via a web-based platform, users can upload their documents to be reviewed by QuickBooks-certified bookkeepers. Businesses can then collaborate virtually with their bookkeepers by tracking real-time progress, scheduling video calls, and more.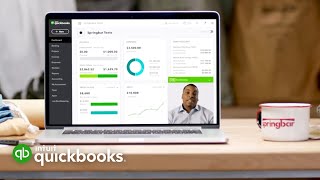 QuickBooks Live does not have a free version and does not offer a free trial.
Alternatives to QuickBooks Live
Industry: Consumer Services
Company size: 2–10 Employees
Used

Daily

for

6-12 months

Review Source
---
Great Overall Product
Great experience. You do get tossed around some with the customer service as everyone is trained in specific areas. Easy to use though and setup.
Pros
Once everything is set up everything is automatic, especially that payroll portion. You don't have to back it up, it is automatically saved. You can access from anywhere.
Cons
You do get tossed around some with the customer service as everyone is trained in specific areas. It did take some learning to understand and setup everything properly.
Reasons for Choosing QuickBooks Live
QB Desktop Pro is way to out dated nothing is automatic. You really have to know what you are doing with Pro.
Reasons for Switching to QuickBooks Live
I like the automation and how you can access everything anywhere and anytime. You also don't have to back up your stuff all the time.
Industry: Veterinary
Company size: 11–50 Employees
Used

Daily

for

2+ years

Review Source
---
QuickBooks Live is really a no brainer for managing my company's finances.
Prior to starting on QuickBooks Live my business finances were a mess. I was on QuickBooks but it was up to me to put all of the invoices and expenses where they go and I was not good at this. When I upgraded and also got a live bookkeeper it was a game changer for me. She helped me fix the errors in my past and get me on track. I feel so much more confident now and really enjoy learning this side of my business.
Pros
Cloud-based so able to access from numerous computers.
Cons
Inability to change all of the items / charts on the home page.
Industry: Health, Wellness & Fitness
Company size: 2–10 Employees
Used

Daily

for

1-5 months

Review Source
---
Beyond disappointed and frustrated
Disappointment.
Pros
The potential is great if they did what the sales guy said they would do.
Cons
The salesperson told me the live bookkeeper would work WITH me as I want to fully understand my books and I want to learn my bookkeeping front to back.
The reality was, I was completely shut out of the process, messages would not be responded to for days or not at all.
Making an appt to speak to someone would take a week or more. The first bookkeeper did nothing at all, the second one completed the cleanup but did not communicate with me during the process regarding my business, my processes or procedures, what they were doing or why.
My request is to do my own bookkeeping with their assistance guidance and oversight, they will not do this.
After the cleanup was complete, I found a massive error, I had attempted to communicate to them regarding my processes but apparently what I said was completely disregarded. It took my sister and I several hours to figure out what was wrong.
The problem was, I was taking owner distributions in cash without having logged the cash as having entered the company to start with. Yes, a stupid error on my part, this is why I wanted someone to communicate with and to assist me. How will I learn if I am shut out?
Obviously, the bookkeeper wasn't paying enough attention to catch the error, but had I been allowed to be part of the process, then together I am sure we would have found it.
So now my books have the "QuickBooks Livebooking Guarantee" for accuracy, which clearly means nothing now that I have found this massive error.
Industry: Construction
Company size: 11–50 Employees
Used

Daily

for

1+ year

Review Source
---
Stone Creek Surfaces
Live Bookeeping has been one of the best features we have used. The consultants are patient and very willing to help. If they don't know the answer, they get it.
Pros
Being web based, it is so much easier to stay updated on my business from anywhere. We were able to tie it in with our industry specific quoting and scheduling system which cut down on wasted time in the office.
Cons
It took a little longer to learn the software than I anticipated. I thought it would be easier since I had used the Desktop verson for years.
Industry: Construction
Company size: 2–10 Employees
Used

Daily

for

2+ years

Review Source
---
The Best of the Best
We are a small pressure washing business. We have been in business for approx. 7 years and have used Quickbooks since the inception of our business. Originally, we used the desktop version but quickly moved to the online version. I am not an accountant, nor do I understand accounting concepts. I had difficulties balancing anything in Quickbooks. I decided to move to the Quickbooks Live Bookkeeping and I'm so glad I did. They have the patients and the ability to explain processes where I can understand it. Obviously, they use my real data, therefore, it is easy to learn how to update and maintain my books. We meet whenever I want or I can send questions to my Accountant anytime. It is very user-friendly and very convenient. [SENSITIVE CONTENT] is so very helpful I'm just not sure what I would do without her. I know it would cost so much more to hire a bookkeeper and I wouldn't be learning anything. I think every notice bookkeeper should try Quickbooks Live Bookkeeping
Pros
User friendly and the ease of talking to a real person.
Cons
You do have to know some accounting concepts which I do not.