About Workday HCM
Workday HCM assists global businesses of all sizes in a variety of industry verticals with workforce planning, analysis, and execution. Workday delivers user and administrative tools across financials, HR, planning, talent, payroll, analytics, student and more from a single system. Workday human capital management includes human resource management, workforce planning, recruiting, talent management, compensation, and benefits, payroll, time and attendance, learning, and more. Workday also offers a module for educational institutions that includes recruiting and admissions, curriculum management, records, advising, and financial aid tracking.
What is Workday HCM?
Workday HCM is a cloud-based, enterprise-level human capital management solution that centralizes all operations across HR management, recruiting, talent management, compensation/benefits, payroll, and learning management into a single platform.
How do you use Workday HCM?
With Workday, HR Teams and managers can build new teams by finding skilled workers through integrated talent searching and job profiles. The built-in HR component allows users to manage time-off and absences through a self-service employee interface that includes time-off requests and reporting, time-tracking, and policy automation. Users can also visualize org structures, manage both full-time employees and temporary employees, as well as configure workflows and define end-to-end businesses processes.
How much does Workday HCM cost?
Workday does not share pricing details publicly. Please contact Workday for information on starting price and available plans or tiers.
Who uses Workday HCM?
Workday HCM is mainly used by CHROs within mid-size to large enteprises across the telecommunication, education, finanical services, healthcare, manufacturing, nonprofit, retail and technology industry verticals.
Does Workday HCM have an app?
Workday HCM is available as an app on both iOS and Android devices.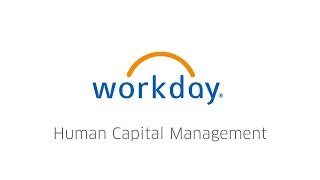 Workday HCM does not have a free version.
Starting Price:
Not provided by vendor
Pricing Details:
Please contact Workday directly for pricing information.
Alternatives to Workday HCM
Used

Weekly

for

2+ years

Review Source
---
Very good timesheet system
Having so many people in the company, it is very time consuming to manage HR related things for everyone on top of having new recruits. It is easily accessible for the current employees (can't say much for the new employees). I can access and make changes at home or at the office.
Pros
I like the ease of entering time worked and the time off request policies. That system works very well for my colleagues and I am able to revise entries and easily submit it to my supervisor. Sending reminders to everyone about updating info in workday is another good feature that we utilize often. It is also nice to have the quicklinks feature as it makes things easier to find in a time crunch. The payroll feature has been useful to me as well, I like being able to go back and see past checks.
Cons
The process can be tedious. Whenever I make a change, it goes through upper management. The goals and self appraisal process were also very confusing. There were multiple steps and I didn't see why it needed to be that way. They should've just made everything available online instead of us having to upload a word document of our goals and appraisals.
Patrick j M.
Patrick j M.
Industry: Information Technology & Services
Company size: Self Employed
Used

Daily

for

2+ years

Review Source
---
Experienced Architect Required for Success
I have configured Workday daily, for the past 7 years. I have configured every module from payroll to benefits to recruiting and you'll be hard-pressed to find another Workday expert with as much experience as me.
Pros
Workday is the best HCM software in THE world. Nothing and I mean nothing is superior. We can argue about the competency of individual modules, especially payroll, but as a core HCM platform, no other software can compete. Anybody that says otherwise does not know what they're talking about. Anybody that complains about usability is probably not working with a quality Solutions Architect. To successfully implement and maintain this application, it is absolutely required that you employ at least one experienced, rockstar Solutions Architect. The application is expensive and is crucial that you fully leverage all of the technology that the app offers. Use its sophisticated features to optimize your HR department.
Cons
Workday knows that they have a real gem here. As a result, their attention to customer support has consistently declined as the popularity of the application has increased. Unless you're a major client oh, you're not going to get good customer support. What do I mean by a major client? I'm talking about the Google's the Facebook's the Adobe's, and even then, the support can leave something to be desired. And I'm speaking as someone who has worked at one of the aforementioned. An HR executive once told me that starting with work day was like being given the keys to a fancy new Ferrari but not even being shown how to start the car. Also, just because they work for workday doesn't mean they know what the hell they're talking about. The popularity has grown so has their staff. Obviously, some of these staff members are incompetent. I have experienced this firsthand and I assure you that it is frustrating when the so-called Workday SME is significantly less experienced than yourself. And this was at a time when I was fairly green. I have had to clean up confusingly complex convoluted implementations, after the fact. While I appreciate the job security, this is not a great way for any company to begin a relationship with their customer. We all know that a popular software can quickly be overtaken by a newer, better product. Workday is vulnerable here and somebody could exploit it.
Reasons for Switching to Workday HCM
We had the budget and the buy-in to procure the absolute best HCM product available in the market, and Workday is that product.
Industry: Financial Services
Company size: 10,000+ Employees
Used

Daily

for

2+ years

Review Source
---
Workday
Pros
Generally quite intutitve and the dashboard allows you to find what you need. I.e. the recruiting dashboard tile brings you to all of your open & assigned requisition. Depending on how your organisation has set up your options, you can easily navigate around to find your personal details, performance review, time off and create new requisitions.
Cons
There are far too many clicks and the reporting is very limited & overly complicated. The Workflow is far too complicated and there are too many steps, which can make the system extremely complicated and hard for the average user to understand how to complete simple tasks e.g. creating a new requisition, transferring a colleague into another manager etc.
Industry: Hospital & Health Care
Company size: 501-1,000 Employees
Used

Daily

for

2+ years

Review Source
---
Half-Baked Cake
I've used the Recruiting module for three years now, I can't help but wonder if the development team has involved an experienced recruiter when developing the module. I honestly don't think that Workday is ready to roll out to the market. If you are the decision maker consider buying this application, you really should include your recruiters' opinions.
Pros
The look and layout of the worklets are the only things I can praise about.
Cons
The business processes are too disconnected to count. The security level is so high up that a small change requires the product admin. (or whoever has the security level) to configure it at the backend. Pre-screening questionnaires must be pre-defined and pre-populated in the system - you can't adjust the questions according to the requirements of each job at the time of Job Requisition creation. Trying to find a Job Requisition associated with a Position requires the skills of Sherlock Holmes. Recruiter receives many useless notifications and hiring managers receive many emails to a point of hysteria. Workday refreshes itself so frequently that recruiter can never leave their My Recruiting Jobs report on the screen longer than half-an-hour. Moreover, as soon as you click on any link on the My Recruiting Jobs report, any sorting/filtering will be lost. Customizing the columns of the Candidate Grid does not mean you can export it to Excel the same way you've arranged the columns. You can't write comments as you read the resumes in the Candidate Grid - you have to go to individual application and write in the Activity Stream. Hiring managers can't select and move multiple candidates at the Candidate Grid - can only move 1. You can't use simple AND/OR with the filter feature at the Candidate Grid – can only search 1 word. When you search a specific name (i.e., Patel) in the Search Box, it spit out a list of names with no particular order; importantly, no filtering tools.
Industry: Retail
Company size: 10,000+ Employees
Used

Daily

for

2+ years

Review Source
---
Workday HCM Review
I support a team that focuses primarily on data driven tasks, and within that world its' really import to step away from the numbers and the data and focus on what my employees are excelling at individually and see what challenges they are facing. I love that the employee is the one to input their goals and results, as that holds them accountable for any challenges they are facing. The email reminders are very helpful for both me and the team I support. It's a great tool that helps us connect and drive forward!
Pros
Workday HCM has been a big part of my employee success tracking since my organization made the switch. However, with my entire division switching to a remote / work from home model, it's been imperative to keeping my employees on track with their career development. Workday makes it simple and streamlined to create monthly, quarterly & annual goals for my team, and my favourite thing about the software is when an entry is needed or overdue from them, they receive a message to their inbox (so I don't have to send a ton of reminders - nobody likes doing that). On my end, I get updates regarding completion status of performance tracking, and I really like the transparency in terms of my employees receivng a notification when I have completed their forms on my end as well.
Cons
I find it a bit difficult to access previous performance reviews, and I somehow never get there on my first try when I try to access the previous quarters or months. If there was a much more obvious option on the dashboard that would make the Workday experience even better.