About Workday HCM
Workday HCM assists global businesses of all sizes in a variety of industry verticals with workforce planning, analysis, and execution. Workday delivers user and administrative tools such as financial management, HR planning, talent sourcing, payroll processing, reporting and more from a unified portal. Workday Human Capital Management (HCM) includes human resource management, workforce planning, recruiting, compensation, benefits, time and attendance, learning and more. Workday also offers a module for educational institutions that includes recruiting and admissions, curriculum management, records, advising and financial aid tracking. With Workday HCM, recruiters and managers can build new teams by finding skilled workers through integrated talent searching and job profiles. The built-in HR component allows users to manage time-off and absences through a self-service employee interface that includes time-off requests and reporting, time-tracking, and policy automation. Users can also visualize organizational structures, manage both full-time employees and temporary employees, as well as configure workflows and define end-to-end business processes. Who uses Workday HCM? Workday HCM is mainly used by CHROs within mid-size to large enterprises across the telecommunication, education, financial services, healthcare, manufacturing, non-profit, retail and technology industry verticals. Additionally, Workday HCM provides mobile applications for both iOS and Android devices.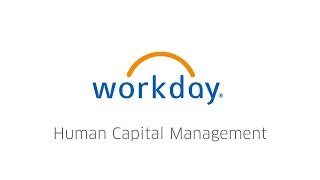 Workday HCM does not have a free version and does not offer a free trial.
Alternatives to Workday HCM
Industry: Information Technology & Services
Company size: 10,000+ Employees
Used

Daily

for

2+ years

Review Source
---
Review for Workday
I am using Workday regularly for applying leaves, tracking them, viewing my salary slip, tracking change in compensation, providing IT declaration, updating shift and stand by hours. Also, I have used Workday for requesting various letters from my organization automatically like experience letter, compensation letter, etc. The mail notification feature of workday enables me to receive notification whenever there is an update to my compensation or change in my role or on promotion.
Pros
Workday is a centralized workforce management tool that is used in my organization. In Workday, all the important day to activities of an employee can be performed like applying for leaves, getting them approved by manager, viewing and downloading salary slips, providing IT declaration, providing beneficiary info, address info, education info and many more. Various important letters like Offer letter, experience letter, etc can also be directly requested using Workday. It is a cloud based tool and can be accessed from anywhere.
Cons
It is an expensive tool that can only be used by big enterprises. Also, the workday UI can be confusing for new users who will find it difficult to navigate and find the required sections in workday.
Industry: Hospitality
Company size: 5,001-10,000 Employees
Used

Daily

for

1+ year

Review Source
---
The best software for marking attendance, leaves and benefits
On workday I apply leaves which is very easy as it gives detailed segregation of them. The notification comes when the leave is approved. I also update my yearly goals on it and file yearly work report for appraisal on it. Setting goals and comparing them on year end it so simple. It comes with pre filled details as per organisation requirement which makes filling details even more easier. Different benefits provided the employer is displayed nicely and adding members or new details are straight forward.
Pros
Workday is very easy to understand. Marking leaves is very easy. Enrolling for the benefits given by organisations is also very simple. Adding family members to the benefits and checking the changes was never so seamless.
Cons
I wish my organisation leave other tools for IJP, onboarding and payroll and use workday because its just the best. No flaws whatsoever.
Industry: Information Technology & Services
Company size: 5,001-10,000 Employees
Used

Weekly

for

2+ years

Review Source
---
All in one tool
Overall, it's a great tool for companies, especially large companies. I'm not sure how many similar products are out there but this one just works fine. As I mentioned above, UI must be improved on top of these cool features.
Pros
You get a bunch of features that are super useful for the companies, and having them all in a single place is pretty useful. so overall, a number of features.
Cons
This is the part where it gets interesting. Yes, it's a great tool, and yes we get all these cool features but how about UI? It's not really up-to-date. Sometimes it can be really hard to find how to do things, e.g how to cancel a request off-day? Another example can be given about expense reporting. Some cool things like copying from a past expense is pretty useful but UI really needs some attention, UX must be improved.
Industry: Information Technology & Services
Company size: 201-500 Employees
Used

Daily

for

1+ year

Review Source
---
The worst portal for employees I've ever experienced as an employee or as a teamlead
Pros
Has a LOT of features, tons of integrationsYou can basically do whatever you need HR connected within this one tool
Cons
It's the worst UX you can possibly meet out there among HR tools.Because there is a ton of features it takes literally minutes to find your thing.There is no search for the functions existing so if you need to change the title of your employee good luck finding that page!Time tracking like vacations requesting is a hell.Mobile support is another hell.
Industry: Internet
Company size: 2-10 Employees
Used

Daily

for

1+ year

Review Source
---
Great tool for data management
very good experience since I use workday I highly recommend
Pros
I like workday because it is very accessible, with very good features. it is easy to integrate with other applications and can also manage payments. a real time saver.
Cons
no complications with workday it works well for me