About JobNimbus
JobNimbus is a CRM and project management software wrapped up in one application. The platform is an end-to-end solution designed to help contractors (roofing and construction professionals) streamline their communication and better manage their teams. From customer contacts to scheduling, boards to lead acquisition, jobs to payments, JobNimbus is the place to accurately update and track all company information. Give your team better visibility with the Boards feature that provides instant access to job status and the ability to move jobs through your process with a quick drag and drop. The simplicity of tracking Boards enables you to spot bottlenecks easily. Our automations tool lets you set up processes, like sending customer emails or changing job status, to trigger automatically once a task is complete. Keep your business running without having to do any work! With the JobNimbus platform, you can fully customize your workflow on both the web and mobile app, helping to hone in on all your business processes. Using the mobile app, contractors can update the status of projects on-the-go from their iOS or Android-powered smartphones. With more choices and customization than anyone else, users can quickly access all their company needs. Offering the largest selection of integrated partners, such as QuickBooks, EagleView, Beacon, and Sunlight Financial, JobNimbus connects you with top companies in the industry to make your business run more efficiently. JobNimbus's mission is to make contractors heroes by making them more organized, efficient, professional, and profitable. Ready to level up your business? 🚀 Free Consultation. Free Trial! 🌶 https://www.jobnimbus.com/pricingcall2/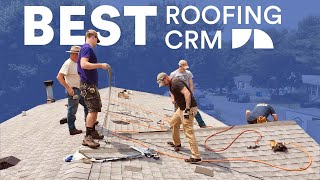 JobNimbus does not have a free version but does offer a free trial. JobNimbus paid version starts at US$200.00/month.
Starting Price:
US$200.00/month
Alternatives to JobNimbus
Industry: Construction
Used

Daily

for

2+ years

Review Source
---
I have been using JobNimbus for a few years and am very happy with the service, price, and...
Pros
Support, and that they are striving to make the product better. The automation feauture is great, saves a lot of time.
Cons
If you lower your users you have to change the subcription separately. Some learning curve on the system.
Response from

JobNimbus

Jason, thank you for taking a few minutes to share your experience. We love that some of our favorite features have been useful, and thank you for noticing our keen interest in improving the experience each day. That is our goal, and in that spirit, if you've run into any roadblocks as far as users or subscription settings, we're standing by to help at [email protected] or (855) 964-6287. We'd also love to help troubleshoot custom solutions or training options if that would be useful. Please don't hesitate to reach out to our Training Manager Ronnie Smith at [email protected] Thanks for being part of the family!

Replied 26/03/2018
Industry: Construction
Company size: 2–10 Employees
Used

Daily

for

1-5 months

Review Source
---
Excellent CRM Company and More!!!
Jobnimbus has saved me a lot of time with homeowners when I am needing to sign a homeowner up.
Pros
Jobnimbus makes it extremely easy to add contacts, write estimates and convert them to invoices or work orders and then to email them to you customers.
Cons
I am unable to remove the price totals from the current system which makes the customer see a really large number when you are giving a good, better or best type estimate.
Reasons for Choosing JobNimbus
Started my own company.
Reasons for Switching to JobNimbus
Other roofers told me this one was better even with the flaws it does have.
Response from

JobNimbus

Thanks, John! We're glad JobNimbus is help you out!

We have a "Good, Better, Best" system on our radar and want to build it as soon as we can. If you haven't already done so, please vote on this idea at jobnimbus.uservoice.com to help move it forward in our development queue. Thank you!

Replied 01/10/2019
Industry: Construction
Company size: 11–50 Employees
Used

Daily

for

1+ year

Review Source
---
Two way sync highly unreliable and many glitches in product they cannot fix
Many glitches but we've contacted them repeatedly and they have never fixed one or been able to give us an explanation. We've had product over 17 months. Their two way sync does not work in many areas and they repeatedly have asked us for print screens of the glitches which we provide but always say "they cannot replicate so they can't help". If there is a problem the will use these technique over and over for the same glitch until you just are worn out and stop asking.
If we make a change to an existing estimate in QB it does not change the estimate in JN so the estimates in JN are never correct and useless for us. Recently, we realized we had sent 3 emails to a customer over the course of a month through JN that they never received and in JN they were marked as "sending" but never go anywhere. We have brought it to their attention and they admitted "there was a problem" that they would look into but we don't expect any results.
We made a suggestion online for a simple update to their customer record format (well over a year ago) as we were told by them that our feedback was important. Then I looked at the topic in the community area and over 300 customers had made the same suggestion over years and years and they have yet to do anything to help with the suggestion so obviously they are not responsive to customer input.
Last, it is obvious from conversations with tech support over the years that they are low ll in the 17 months we have had their product.
Pros
The boards are visually effective and easy to use
Cons
Two way sync is a nightmare. Many glitches the company cannot/won't fix.
Response from

JobNimbus

Thank you for your honest review, Deborah. We're so sorry you've experienced these issues and I hope my response will help clarify the communication you've had with our team.

Feedback is #1 in importance for us. JobNimbus itself was built on feedback, it's our life blood. Unfortunately, we can't fix everything in a day, things take time. We are addressing the feedback we get as it comes and in the best order we know how. For example, we just released Time-Based Automations, which was our #1 requested feature, seeing a 98% satisfaction on the feature. Performance improvements is #2 and we're actively updating for that.

QuickBooks issues are fixed as soon as we can figure out what is going on, part of that is being able to reproduce the issue, but our support team can't fix them by themselves & our devs are working tirelessly.

We appreciate your business and hope you'll continue to put your faith in us to do right by you. Give us a chance and we will make it right.

Replied 25/04/2019
Industry: Construction
Company size: 2–10 Employees
Used

Daily

for

1+ year

Review Source
---
Great tool
It has been great the team is great and working with [SENSITIVE CONTENT HIDDEN]
has been a blessing.
Pros
The ability to track everything and pull reports on everything. Tracking clients, AR, job source and where we are at with the job we are currently working on.
Cons
It was a little confusing to get set up but other than that I like the functionality of it. App needs a little work but that is expected with updates etc and nothing is perfect.
Reasons for Switching to JobNimbus
Because of the customizability and price and their team was more than willing to help.
Response from

JobNimbus

Thanks, Paul!

Replied 02/12/2019
Industry: Construction
Company size: 2–10 Employees
Used

Daily

for

1+ year

Review Source
---
Job Nimbus brings staff together
Solving the issue of who is doing which tasks and when they are completed. Also having the client information readily accessible is great. Love the note section so everyone knows what is going on with a client or a job
Pros
Everyone knows their tasks when they need to. The software is very easy to use. Everything we need is in one place
Cons
I havn't really found anything yet. Some staff say it would be nice to have an estimating part and/or an invoicing part
Reasons for Switching to JobNimbus
Buildertrend cost more and was a bit confusing
Response from

JobNimbus

Hi Melinda, we are so glad you are finding JobNimbus so helpful. Thank you for your review!

Replied 22/01/2020