About JobNimbus
JobNimbus is a CRM and project management software wrapped up in one application. The platform is an end-to-end solution designed to help contractors (roofing and construction professionals) streamline their communication and better manage their teams. From customer contacts to scheduling, boards to lead acquisition, jobs to payments, JobNimbus is the place to accurately update and track all company information. Give your team better visibility with the Boards feature that provides instant access to job status and the ability to move jobs through your process with a quick drag and drop. The simplicity of tracking Boards enables you to spot bottlenecks easily. Our automations tool lets you set up processes, like sending customer emails or changing job status, to trigger automatically once a task is complete. Keep your business running without having to do any work! With the JobNimbus platform, you can fully customize your workflow on both the web and mobile app, helping to hone in on all your business processes. Using the mobile app, contractors can update the status of projects on-the-go from their iOS or Android-powered smartphones. With more choices and customization than anyone else, users can quickly access all their company needs. Offering the largest selection of integrated partners, such as QuickBooks, EagleView, Beacon, and Sunlight Financial, JobNimbus connects you with top companies in the industry to make your business run more efficiently. JobNimbus's mission is to make contractors heroes by making them more organized, efficient, professional, and profitable. Ready to level up your business? 🚀 Free Consultation. Free Trial! 🌶 https://www.jobnimbus.com/pricingcall2/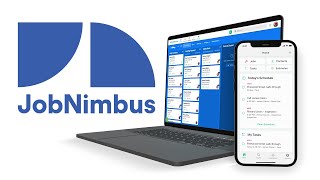 JobNimbus does not have a free version but does offer a free trial. JobNimbus paid version starts at US$99.00/month.
Starting Price:
US$99.00/month
Alternatives to JobNimbus
Industry: Construction
Company size: 2-10 Employees
Used

Daily

for

6-12 months

Review Source
---
JOB TASK SCHEDULING,CLIENTS MANAGEMENT AND JOB TRACKING MADE EASY
life has being easy, the tension we get from tenant/client, that we should to their respond to their services failures has reduced, and get response from our team quickly.
Pros
My firm have being got a job to manage residential facilities and building services maintenance for clients and developers, we had a lot of job and calls from clients for over a year, with out a software, finally when we got a recommendation, we started with a trial version, the application was easy to learn through the help of videos, and the customer care response,tracking our jobs, technicians and client information and emergency needs on a mobile application software was a break through for my firm.
Cons
Learning how to use the software with just videos was difficult, it would have being easier, if the customers care line can be available to respond at every instant,training the technicians and advising our client to subscribe to this application was not easy, but they now enjoyed its, they get their problems solve on just with the application on their mobile devices.
Response from

JobNimbus

Thanks, Stephen!

We're working on improving our app education and onboarding, so new features should be easier for you to learn and get going.

We appreciate your feedback!

Replied 25/07/2019
Industry: Construction
Company size: 2-10 Employees
Used

Daily

for

1+ year

Review Source
---
Sharp Construction Thinks JobNimbus is Amazing
We have been bringing on additional salesman and being able to track the leads that we distribute has allowed us to see who is weak and where. We have also used JobNimbus to increase the amount of reviews that are coming in (93 5 Stars and counting). It has allowed us to measure lead success or failure, which has whet the taste buds to have more understanding and to discover deeper ways to measure our success in other ways. It makes you realize what could be if..... When you have questions that a product like JobNimbus answers, it makes you realize that with a little extra effort, you can explode your business. We are thrilled to have found JobNimbus.
Pros
We did not come from another CRM to this platform. This was our first experience and the choice to team up with JobNimbus has been exactly what we were hoping and looking for to help manage and grow our business. The automation features are, by far, what we have enjoyed the most. Adding automation has helped us seal up the cracks that occur when taking a customer thru the construction process. Nimbosa, as we affectionately call it for no apparent reason, has been a major factor in leveling up our company with regards to communication and customer management.
Cons
This requires thought, which, I think, means that we would have to search to find a problem. We are anxiously anticipating the roll out of the tracking and measurement graphs that were dropped at the Orlando convention. So I guess, the fact that those are not fully rolled out yet would be one of the things that could be a negative.
Reasons for Switching to JobNimbus
the product was geared for the type of construction we perform. We are predominately a roofing company and this bad boy, JobNimbus, was a perfect fit.
Response from

JobNimbus

Thank you so much, Ryan! We're so glad we found you guys, too, and are excited to build more powerful features into your workflow.

You guys rock!

Affectionately yours,
Nimbosa

Replied 02/12/2019
Industry: Construction
Company size: 11-50 Employees
Used

Daily

for

6-12 months

Review Source
---
Great concept for construction companies - Massive room for improvement
JobNimbus was built specifically for construction companies and offers an end-to-end solution, from Lead Acquisition to Invoicing. It's extremely difficult to tweak and configure more "generalist" CRM's and Project Management apps to fit the construction industry workflows and specific steps, so there definitely is value in this software. Although it is far from perfect, it offers an almost ready-made solution for construction and roofing companies, allowing for a fairly quick onboarding.
The starting idea is great, but it is definitely perfectible. The biggest flaw with JoNimbus is the fact that it has different workflows for Contacts (homeowners and people in general), and for Jobs (actual work being performed). While it sounds great, once you dig a little deeper, you realize that the pre-defined statuses for Contacts and Jobs are the same! This, instead of creating clarity and differentiating both aspects of a job, leads to massive confusions with low-tech employees: if a Sales Rep saves a contract under a Contact instead of a job, the person looking for that contract under Job will not find it unless they look under Contact. It might be hard to understand if you have never used JobNimbus, but the bottom line is it creates (many) mix-ups.
Additionally, the mobile apps are so bad our people have stopped using them and are opening the desktop version on their mobile devices. All in all, we are better off with JN than without, but needs a lot of improvement.
Pros
- Designed specifically for Construction and Roofing companies
- End-to-end solution, from Lead Acquisition to Invoicing (not advanced financials though, it won't replace your accounting software)
- Highly customizable (although not as much as we'd like or need)
- reasonably priced when compared to alternatives, no setup fees
- Great customer support
Cons
- Confusing workflows (more on that below)
- Not the easiest program for people who are not tech-savvy, steep learning curve
- TERRIBLE mobile apps (IOS & Android). It's so bad our field guys have resorted to opening the desktop version on their browsers
- Custom template building somehow limited: no math formulas allowed, inserting tables and making them fit the page is a pain
- The main dashboard and the constant notifications and task reminders are overwhelming instead of being useful
Industry: Construction
Company size: 201-500 Employees
Used

Daily

for

2+ years

Review Source
---
it is equipped with everything I'll need to manage Our works
When it comes to monitoring the development of our clients' projects, we rely on JobNimbus. With Jobnimbus, we've had better and more productive communication among our team members. In order to keep our company afloat in any situation, it has given us the ability to operate remotely.
Pros
Using JobNimbus is a snap, and you'll be up and running in no time thanks to its flexibility and ease of customization. What I particularly like about JobNimbus is how simple it is to add tasks and contacts and how flexible the calendar is. You can see exactly what's going on with customers, and the timetable makes it easy to keep appointments and responsibilities on time.
Cons
My main concerns are that I would want to see greater customization options in some areas, as well as upgrades to the mobile app so that we can do more processes with it.
Industry: Construction
Company size: 11-50 Employees
Used

Daily

for

1+ year

Review Source
---
Very Fungible.
Very good..big learning curve for some people, but worth it in the end.
Pros
This software is great for day to day operations, quoting, and tracking of construction jobs. The software is very fungible meaning that you can make it into whatever you need it to be. Took a long time to implement and getting it to fit what we do perfectly but it is possible and it's possible for you too.
Cons
Not a whole lot of cons here. However there were some issues with syncing with QuickBooks that we had to work through. Also there is a huge limitation in the products and services catalog if you want to build one. We run into issues with character limits when syncing with QuickBooks online. QuickBooks online allows a 100 character limit and jobnimbus only does 31. there's a very long work around to this to maximize the character limit in QuickBooks online, however it means in putting the same product or service 3 times into the system. This would be eliminated and or fixed if jobnimbus would remove there 31 character limit in their product and service name.
Reasons for Choosing JobNimbus
Needed a much more robust program that handle all the day-to-day tasks that we have in doing construction jobs.
Reasons for Switching to JobNimbus
At first it seems to check more boxes than others. But after diving it you realize how you can make it into what you need it to be.