About JobNimbus
Ready to level up your business ? 💪 JobNimbus is a CRM and contractor management solution suitable for home service companies. Manage your contacts, tasks, and projects from start to finish along with detailed reporting capabilities. With JobNimbus, businesses can manage all their contacts in one central place. Contacts can be imported from multiple sales channels including emails and phone calls. The solution allows project managers to assign tasks to their teams, monitor progress, and send notifications to clients and stakeholders. The document management functionality allows users to store and organize project-related documents and photos. Users can also email documents to their customers and partners and get then approved digitally using e-signature. JobNimbus allows businesses to customize workflow and define the sequence of work. With pre-built custom forms, users can create and share invoices. JobNimbus can be accessed by users from anywhere at any time. Users can subscribe to JobNimbus on a monthly fee based on the number of users.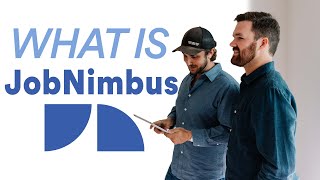 JobNimbus has a free version and offers a free trial.
Pricing Details:
For plan details, visit https://www.jobnimbus.com/pricing *Free 14 day trial, no credit card required
Alternatives to JobNimbus
Industry: Construction
Company size: 2-10 Employees
Used

Daily

for

6-12 months

Review Source
---
JOB TASK SCHEDULING,CLIENTS MANAGEMENT AND JOB TRACKING MADE EASY
life has being easy, the tension we get from tenant/client, that we should to their respond to their services failures has reduced, and get response from our team quickly.
Pros
My firm have being got a job to manage residential facilities and building services maintenance for clients and developers, we had a lot of job and calls from clients for over a year, with out a software, finally when we got a recommendation, we started with a trial version, the application was easy to learn through the help of videos, and the customer care response,tracking our jobs, technicians and client information and emergency needs on a mobile application software was a break through for my firm.
Cons
Learning how to use the software with just videos was difficult, it would have being easier, if the customers care line can be available to respond at every instant,training the technicians and advising our client to subscribe to this application was not easy, but they now enjoyed its, they get their problems solve on just with the application on their mobile devices.
Response from

JobNimbus

Thanks, Stephen!

We're working on improving our app education and onboarding, so new features should be easier for you to learn and get going.

We appreciate your feedback!

Replied 25/07/2019
Industry: Construction
Company size: 2-10 Employees
Used

Daily

for

1+ year

Review Source
---
Sharp Construction Thinks JobNimbus is Amazing
We have been bringing on additional salesman and being able to track the leads that we distribute has allowed us to see who is weak and where. We have also used JobNimbus to increase the amount of reviews that are coming in (93 5 Stars and counting). It has allowed us to measure lead success or failure, which has whet the taste buds to have more understanding and to discover deeper ways to measure our success in other ways. It makes you realize what could be if..... When you have questions that a product like JobNimbus answers, it makes you realize that with a little extra effort, you can explode your business. We are thrilled to have found JobNimbus.
Pros
We did not come from another CRM to this platform. This was our first experience and the choice to team up with JobNimbus has been exactly what we were hoping and looking for to help manage and grow our business. The automation features are, by far, what we have enjoyed the most. Adding automation has helped us seal up the cracks that occur when taking a customer thru the construction process. Nimbosa, as we affectionately call it for no apparent reason, has been a major factor in leveling up our company with regards to communication and customer management.
Cons
This requires thought, which, I think, means that we would have to search to find a problem. We are anxiously anticipating the roll out of the tracking and measurement graphs that were dropped at the Orlando convention. So I guess, the fact that those are not fully rolled out yet would be one of the things that could be a negative.
Reasons for Switching to JobNimbus
the product was geared for the type of construction we perform. We are predominately a roofing company and this bad boy, JobNimbus, was a perfect fit.
Response from

JobNimbus

Thank you so much, Ryan! We're so glad we found you guys, too, and are excited to build more powerful features into your workflow.

You guys rock!

Affectionately yours,
Nimbosa

Replied 02/12/2019
Industry: Construction
Company size: 11-50 Employees
Used

Daily

for

1+ year

Review Source
---
Two way sync highly unreliable and many glitches in product they cannot fix
Many glitches but we've contacted them repeatedly and they have never fixed one or been able to give us an explanation. We've had product over 17 months. Their two way sync does not work in many areas and they repeatedly have asked us for print screens of the glitches which we provide but always say "they cannot replicate so they can't help". If there is a problem the will use these technique over and over for the same glitch until you just are worn out and stop asking.
If we make a change to an existing estimate in QB it does not change the estimate in JN so the estimates in JN are never correct and useless for us. Recently, we realized we had sent 3 emails to a customer over the course of a month through JN that they never received and in JN they were marked as "sending" but never go anywhere. We have brought it to their attention and they admitted "there was a problem" that they would look into but we don't expect any results.
We made a suggestion online for a simple update to their customer record format (well over a year ago) as we were told by them that our feedback was important. Then I looked at the topic in the community area and over 300 customers had made the same suggestion over years and years and they have yet to do anything to help with the suggestion so obviously they are not responsive to customer input.
Last, it is obvious from conversations with tech support over the years that they are low ll in the 17 months we have had their product.
Pros
The boards are visually effective and easy to use
Cons
Two way sync is a nightmare. Many glitches the company cannot/won't fix.
Response from

JobNimbus

Thank you for your honest review, Deborah. We're so sorry you've experienced these issues and I hope my response will help clarify the communication you've had with our team.

Feedback is #1 in importance for us. JobNimbus itself was built on feedback, it's our life blood. Unfortunately, we can't fix everything in a day, things take time. We are addressing the feedback we get as it comes and in the best order we know how. For example, we just released Time-Based Automations, which was our #1 requested feature, seeing a 98% satisfaction on the feature. Performance improvements is #2 and we're actively updating for that.

QuickBooks issues are fixed as soon as we can figure out what is going on, part of that is being able to reproduce the issue, but our support team can't fix them by themselves & our devs are working tirelessly.

We appreciate your business and hope you'll continue to put your faith in us to do right by you. Give us a chance and we will make it right.

Replied 25/04/2019
Industry: Construction
Company size: 11-50 Employees
Used

Daily

for

2+ years

Review Source
---
Best Roofing CRM!
Pros
JobNimbus has been a tremendous boost to our company. We signed up early in the life of JN, back when I had no idea what a CRM was. I was pretty sure we didn't need to spend money on any extra software, either. Man, was I wrong. The mobile app alone revolutionized our business. Sales people had all of the information at their fingertips, they were able to upload pictures of the jobs while they were onsite and the calls to the office were immediately cut in half. JobNimbus has enabled us to double our volume several times because we are able to handle more work with fewer mistakes and fewer people.
The recent integration with Beacon has been incredible! We now build Material Orders in JobNimbus which pull from Beacon's online ordering portal. This eliminates both the time necessary for the supplier to enter our order into their system, and the opportunity to make mistakes during this re-entry. We instantly know if we are wanting materials that our supplier doesn't stock.
Maybe the best thing about JobNimbus is that we no longer have to keep paper files! We still have the boxes from 2013 and 2014, but no more! And it is SO much easier to find documents in JN than it was to dig through the boxes. We are huge, raving fans of JobNimbus! Sign up today.
Cons
The system isn't as "pretty" as other systems
Reasons for Switching to JobNimbus
RazorSync is what we use for our air conditioning company, Koala Cooling. Acculynx didn't allow us to customize our workflow.
Response from

JobNimbus

Thank you so much, Scott! We're so happy to be a part of your amazing success and hope to continue assisting you guys with completing your business goals with each new year!

As far as the "pretty" goes, it's definitely something we're going to be addressing, so stay tuned! :)

Replied 05/08/2019
Industry: Construction
Company size: 51-200 Employees
Used

Daily

for

1+ year

Review Source
---
JobNimbus, simple but powerful CRM
A great experience overall, I've been able to synchronize other software that the company works with seamlessly and without issues.
Pros
JobNimbus is easy to implement and it has integrations with much other software out there, I have been able to integrate with Leap, CompanyCam, Quickbooks, etc.
Cons
The pipeline management is not that fluid, it's still a work in progress. Another thing is that the Support is not that good sometimes.
Reasons for Choosing JobNimbus
Mostly because Acculynx was not robust enough or fully compatible with all the software we were trying to integrate to.
Reasons for Switching to JobNimbus
It was the most "economic" one and compatible with all the software that we were currently using.
Response from

JobNimbus

Hi Alex,

Thank you so much for taking the time to review us.

Replied 18/05/2021