About Samepage
Samepage is a cloud-based collaboration software solution that helps teams eliminate project bottlenecks and communicate seamlessly with team members. Samepage provides a suite of project management tools, communication features and built-in integration with commonly used apps such as Facebook, YouTube, Microsoft Excel, Google Maps, OneDrive and many others. These third-party integrations can help users work on projects without having to switch between various applications. Samepage helps build teams, create shared calendars, manage documents and record project milestones on a customizable page. The solution also helps track projects, identify pending tasks and delegate work accordingly. The product has a chat functionality to help teams communicate and engage effectively and allows users to comment on pages and keep an audit trail of project activity. Samepage provides native mobile apps for Android and iOS devices and can be used on any device.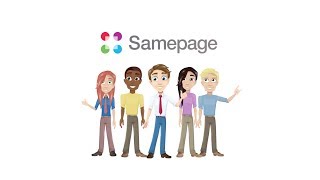 Samepage has a free version and offers a free trial. Samepage paid version starts at US$7.50/month.
Starting Price:
US$7.50/month
Pricing Details:
Free: Free for unlimited users. Starter: $7.50/user/month Pro: $9/user/month
Industry: Marketing & Advertising
Company size: 2-10 Employees
Used

Daily

for

6-12 months

Review Source
---
All-in-one project management solution
Very positive and their customer support team goes above and beyond my expectations.
Pros
I love the ease of use and being able to manage all of my team's communication all in one place. We create project plans, chat, share files, set up private communications with clients, and so much more.
Cons
It is hard to find something that I like least about Samepage. Since I've been using project management software for many years so the transition into using Samepage was easy for me. For newbies, there may be a steep learning curve at first to learn how Samepage manages content in teams instead of projects. Otherwise, I would say it was easy for me to get started with.
Industry: Marketing & Advertising
Company size: Self Employed
Used

Weekly

for

1+ year

Review Source
---
Effective for small teams
Overall, this has been a great tool for a couple of small organizations I work with using Samepage. It has the core features small teams need to get organized and is very cost effective (with their generous free plan).
Pros
Some of the best features in Samepage are task management (ability to assign tasks, including participants), chatting and commenting directly with team members directly on the task/event/document in reference (rather than using email and having to explain what task/project/event/etc.), being able to collaborate on documents at the same time, and real-time audio/video conferencing (great for remote teams).
Cons
The way it is laid out, it is easy to duplicate tasks and events. It seems they are actively implementing improvements for this though.
The desktop app isn't responsive to older/irregular screen sizes (have to side scroll), but the browser/web version works great.
Reasons for Choosing Samepage
Samepage is easier to use (for non-techies) and is more cost effective for small teams.
Reasons for Switching to Samepage
Samepage had the core features we needed for a small organization (project management, internal communications, and file sharing) and was more cost-effective.
Industry: Architecture & Planning
Company size: 2-10 Employees
Used

Daily

for

1+ year

Review Source
---
Same Page
Excelent experience, we use it every day, all the team and outside users.
Pros
By far this is the best project management out there. The usability its just fantastic, perfect.
Cons
It is a shame that the new owners of Same Page are discontinuing this app in Europe... I hope they reconsidere.
Industry: Nonprofit Organization Management
Company size: 2-10 Employees
Used

Daily

for

6-12 months

Review Source
---
so simple to use
Team members found this product particularly quick and easy to learn how to use.
Pros
- the free option meets most of our needs adequately
- love that the chat & audio/video calling is integrated
Cons
- no date stamp on when tasks are completed is the single biggest negative for us
- no ability to have parent/child tasks or sub-tasks and individualise deadlines on those sub-tasks or have a timeline, the alternatives are to either create multiple tasks for something that is actually just one task with multiple stages involving multiple people, or to juggle names on the personal assigned responsibility field... so choose between clutter or messiness :(
- no ability to quickly and easily export content to have a backup (with the free version, users can easily accidentally or intentionally cause huge damage)
Reasons for Choosing Samepage
we had chosen Insightly for two features - task management and to generate progress reports, neither of which it did well for us... it wasn't worth it to retain paid subscriptions for the task management when Samepage does as well and we are now exploring options with another product for the reporting.
Industry: Logistics & Supply Chain
Company size: 5,001-10,000 Employees
Used

Daily

for

2+ years

Review Source
---
Online project management
Pros
There no end of features that are available here in Samepage. I mostly use it to collaborate on online project with my team, and we also can communicate on the application and the communication platform is very good as we can have a private message and a public chat room which we can connect with other colleague.
Cons
The notification can be a giant mess especially when you activated the notification for a chat or messenger. They will keep sent email notification for every single message that you receive and your email will be full of the same notification emails.