About Zoho Campaigns
Zoho Campaigns is a cloud-based email marketing and SMS marketing software from Zoho's suite of applications. This product enables businesses to reach out and engage with their customers by automating the marketing process, from the creation of custom email-based and SMS campaigns to maintaining and segregating lists for sending, automating, and analyzing emails and SMS. Zoho Campaigns lets users create email campaigns using either pre-defined or customized templates. The system features mass mailing to lists, including the tracking and reporting of emails and SMS campaigns to improve audience engagement. Zoho Campaigns provides integration with third-party applications like Sugar CRM, SurveyMonkey, GoToWebinar, etc. It also provides integration with in-house applications like Zoho CRM, Zoho Meeting, Zoho Survey, Bigin by Zoho CRM, etc. Users can share their campaigns on social media platforms. Zoho offers a forever free plan where 6000 emails can be sent to 2000 contacts. Other plans are Professional, Standard, and Pay-as-you-go pricing plans. Moreover, support is offered via phone, email, and live chat. Now mix your marketing efforts with SMS and email marketing since Zoho Campaigns provides its own gateway for sending out SMS. Broaden your reach by sending short messages to your contacts. Zoho Campaigns' own gateway helps you send messages without even having any third-party integrations.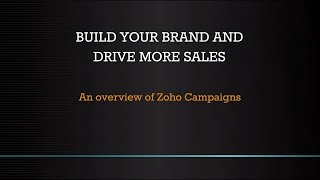 Zoho Campaigns has a free version and offers a free trial. Zoho Campaigns paid version starts at €4.00/month.
Starting Price:
€4.00/month
Alternatives to Zoho Campaigns
Industry: Biotechnology
Company size: 5,001-10,000 Employees
Used

Weekly

for

1+ year

Review Source
---
Best option email marketing for small business
Wide verity of options available in the tool and their constant improvement of the product. I can campare the tool which I was using in 2009 and the difference now. There are more in terms of features introduced and look and feel of the platform has been changed a lot. This is one of the best Indian based platform for small and medium business
Pros
Continues improvement of the product and more number of features available to manage your email marketing campaigns. the ability to test the dynamic content is one of the good feature they added to the list. Predefined automation flow which sync with CRM toll is one of the great feature.
Cons
Sometime, the platform runs slow. It's really pain to manage when it perform very slow. Some of the templates looks good on the platform where as the same have issues. Specifically the compatibility across multiple email platforms need to be improved.
Reasons for Choosing Zoho Campaigns
We used to face the campaign get block and reason they state as spam. It get hold for some time and we used to connect with support team multiple time.
Reasons for Switching to Zoho Campaigns
We started used way back in 2007. That time we used to have all the features for free and Zoho is the first option use to chose and also we were using Zoho CRM before we start using the campaigns.
Industry: Information Technology & Services
Company size: 2-10 Employees
Used

Daily

for

2+ years

Review Source
---
You can't go wrong with Zoho.
We really like the seamlessness and ease of the Zoho programs, especially the Campaigns program. We use it to send out emails every week or so, and we have yet to encounter an issue that the tech support couldn't fix. As our experience with Invoice and Campaigns were positive, we are more inclined to use other Zoho programs, especially if their pricing is as reasonable as with Invoice and Campaigns.
Pros
As we currently use Zoho Invoice to manage our invoices and estimates, we decided to try out Zoho Campaigns for our campaign management. It is very easy to use and very easy to teach to clients to which we refer Zoho Campaigns. The price of Campaigns is very reasonable, especially compared to a lot of other campaign programs. I also like the social campaigns, as sometimes it's more useful to use social media rather than email. It is also handy to allow multiple users post social media campaigns.
Cons
I just wish that there were more customization options available for the email campaigns. There are a few options available, but the ability to design the perfect email from scratch would be handy. There are quite a few good options to get you started, but for those who wish to make the campaign their own, there are not as many features. Even though the program is very affordable for smaller businesses, it scales up rather quickly, especially the jump between 2,500 and 2,501 recipients. However, it is still the best price for the options.
Industry: Chemicals
Company size: 51-200 Employees
Used

Weekly

for

1+ year

Review Source
---
Advantages of using Zoho to create and document a successful digital marketing campaign.
It is an excellent tool, the campaign management is very complete, as well as the role administration for the assignment of tasks within Zoho. It guarantees the number of email outputs for each period of time that we want to establish, design default templates, have generalized views of our campaign, and much more. It also allows us to inform senior management of the results achieved and how leads become customers.
Pros
Zoho Campaigns makes it possible for us to launch entire marketing campaigns with a couple of clicks and without having to hire an advertising agency, which has really allowed us to reduce costs and increase leads in the organization. It is one of the most powerful and easy-to-use tools currently on the market, and it guarantees us to manage the monitoring of our campaigns to get our products and services to the correct audience.
Cons
Every good campaign requires good research, which is why we must fully consider, carry out a preliminary investigation of other digital marketing campaigns that have been carried out related to our product, plan in advance the objectives to be achieved in the short, medium and In the long term, research our competition well, find out what they are doing now, and after that, through Zoho campaigns, design in the tool the way we can communicate our added value.
Industry: Computer Software
Company size: 11-50 Employees
Used

Daily

for

6-12 months

Review Source
---
Best Email Marketing Software if you're using Zoho CRM
We used it mainly because we were using Zoho CRM, and how tightly it integrates with CRM.
Pros
It's tightly integrated with Zoho CRM, which is why opted for this tool. The data from this tool gets directly fetched by Zoho CRM and is shown on the contacts, account, and deal section. So a pretty good tool wrt integration.
Cons
When importing contacts from Zoho, I've faced a lot of bugs. Contact import in zoho campaigns is a mess.
Reasons for Choosing Zoho Campaigns
We were facing issues with the non-integration of netcore with Zoho. And had to use an alternate tool for fetching data back to Zoho.
Industry: Information Technology & Services
Company size: 2-10 Employees
Used

Weekly

for

1+ year

Review Source
---
Powerful email marketing campaign management
Zoho Campaigns is a powerful email marketing manager that tends not to get the same kind of exposure as the better-known autoresponders and martech products, but it should definitely be on the radar of any SME planning to run their own email marketing in-house.
Zoho Campaigns will need a lot of configuration initially (as would any similar product) to get your branding, workflows and compliance details set up, but once configured it would be possible to delegate a lot of the day to day running to non-technical staff.
Zoho has done a lot of work on GDPR compliance, can handle consent campaigns and self-serve subscription preferences well.
Zoho Campaigns can be used as a stand-alone product, but is also included in their Zoho One suite offering which is fantastic value for micro businesses if you want to take a different route from the Microsoft Office 365/G Suite mainstream. The integration with
If you are just sending out the odd newsletter to a small list, you probably don't want something that has the sophisticated options that Zoho Campaigns offers.
However, if you are a business looking to manage, test and optimise your email marketing or if you are planning to take your email marketing in-house from an agency - and you have the knowledge and experience to be able to configure it - Zoho Campaigns could be a good solution.
Pros
- integration with G Suite and Zoho CRM
- nice analytics dashboard
- A/B Testing
- Personalised content
- Includes features normally only found in much more expensive martech products
- Good solution for handling GDPR compliance
- Easy to configure sign-up forms on web pages, e.g. in Wordpress
Cons
- Lots of options to configure; expect to spend quite a bit of time getting this setup initially
- Some newsletter templates not brilliant, so expect to spend some time getting the look and feel you want
- Interface not always as intuitive as it could be