About Mad Mobile Restaurant POS
Mad Mobile provides an easy-to-use POS that owners will learn like a pro in a short amount of time. The restaurant management system takes care of everything in one place with integrated online ordering, curbside pickup, reservations, and menu organization. With the POS, restaurant staff can easily place and modify orders. Mad Mobile's payment cube can accept all forms of payment, including through a customer's phone with Apple Pay or Google Pay. With online ordering and curbside pickup, you can eliminate digital walkaways, send order updates to customers, and save pricey commission fees from other providers. You can expand your system by adding tablets for tableside ordering. You can increase your speed of service, improve order accuracy, and elevate your average order value by 33%. With QR code payments, the process speeds up time for the customer and lowers wait times. The Restaurant POS benefits independent restaurant owners who want to replace their current POS or don't have a cloud-based system. Mad Mobile also benefits small to mid-size chains looking to extend the service of the existing POS system. Restaurant owners can feel comfortable because Mad Mobile has free 24/7 customer support where staff can reach the customer service team via call, email, text, or chat.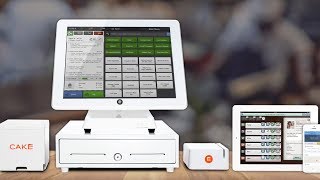 Mad Mobile Restaurant POS pricing
Mad Mobile Restaurant POS does not have a free version. Mad Mobile Restaurant POS paid version starts at US$69.00/month.
Starting Price:
US$69.00/month
Alternatives to Mad Mobile Restaurant POS
Mad Mobile Restaurant POS Reviews
Used

Daily

for

2+ years

Review Source
---
Affordable, Effective, and easy to use POS System
I got an affordable, and effective solution for my POS system needs. We all have found the menus and programming to be easy
Pros
The price is the most attractive feature, as well as the ease of use. The flexible and affordable monthly payments are nice too.
Cons
Can't use terminal when someone is using the manager functions on other terminal. There are some short delays in running reports at times.
Response from

CAKE from Sysco

Thanks for your review, Ed! We are happy to hear that you are finding a lot of value and ease of use with your CAKE Point of Sale. We appreciate your feedback, I will pass this on to our Product Team. I know we are working on making a few improvements to reporting that will be coming out soon.

Replied 02/07/2018
Industry: Restaurants
Company size: 11-50 Employees
Used

Daily

for

1+ year

Review Source
---
Who Doesn't LOVE CAKE?
The data that CAKE provides me is incredibly valuable to our business. We love it!
Pros
We don't spend any time on training new team members to use our POS System (CAKE). Seriously, it's so easy we show them a few features and they are running it like a pro on day one. That in it's self has saved us a ton of payroll we use to spend on training.
From a ownership perspective, we have four locations and I'm able to track them from my central office, Wonderful!
Cons
Negatives only fall on one piece of the equipment. The cash drawer and the insert in it are not built for the type of abuse they can take in some operations. I wish there was an option to purchase extra drawer inserts.
There are no other negatives about CAKE.
Reasons for Choosing Mad Mobile Restaurant POS
To provide my customers a better more efficient experience and to allow our team members an easy to use system that we as owners could easily track.
Reasons for Switching to Mad Mobile Restaurant POS
Cake seemed to have a more durable product. The biggest reason was....When I spoke with all the sales staff from the different companies the CAKE representatives were the only ones that never talked negatively about their competitors. That let me know they didn't need to degrade the other guys, they had faith in the system they were selling. I now have the same faith in CAKE.
Industry: Food & Beverages
Company size: 11-50 Employees
Used

Daily

for

2+ years

Review Source
---
If you don't want features that will help your restaurant grow this is it.
Benefits - very few, its a processing and pos basic.
Issues - many, but do get resolved.
Features - literally almost nothing. you get basic reporting.
We switched to Toast.
Pros
Its useful that this POS offers 3 party features to install, to bad you gotta pay of them.
Reports are easy to understand, what comes in and what your taxes are.
Easy point of sale to use for your staff.
Cons
Alright after 2+ years of using Cake here it is for you guys.
1. On the phone with customer service probably 4 - 6 times a month. This is from reporting / dashboard issues, POS issues.
Reporting issues: about 2 times a month we have to call about some kind of labor reporting issue and takes the engineers around 1 to 4 days to fix. Note - same issue occurs, another day or so for engineers to fix.
Dozens of times we will be on the phone with a customer service rep, and both them and I will be having issues loading the reports to examine them. One time we were literally both waiting over 25 minutes for it to load.
As a restaurant one of the best reports you could have is when the system literally tells you the cost of EVERYTHING.
Ya, you won't be getting this with cake. Sure, you can add the cost of a single item to you (why even have this feature if it doesn't deduct it for you) but it wont deduct it for you at the end of the day. You'll have to do this on your own to figure out what it actually cost you.
Cake takes into account on recommendation that their customers give them, I think and thats at least what they say except their features are almost non-existent. No marketing, No rewards, very basic reporting.
Their hardware is super expensive, our kitchen printer stopped working and they quoted us like $450, I found it on amazon for $115.
Just remember the 2.50% + $.10 a swipe, will actually really be costing you 3.50%. I could go on but I'm limited on characte
Industry: Restaurants
Company size: 11-50 Employees
Used

Daily

for

1+ year

Review Source
---
Must have "POS"
Overall Cake is head and shoulders above the rest! If you are thinking of going with Harb.rt.uch think again!!! Cake will put all other systems to bed!!
Pros
The system is extremely easy to operate and customize
Cons
Everything seems to be exactly how it should be
Reasons for Choosing Mad Mobile Restaurant POS
Processing fees, per swipe fees, monthly fees, cost of product free.... not free.... etc! Cake has saved me $875+ Month after month
Reasons for Switching to Mad Mobile Restaurant POS
The cost plus simplicity of the product along with the diversity made the decision extremely easy!!! Oh now I get to work with [SENSITIVE CONTENT HIDDEN]!!!! If you and your team can't figure something out she will!!!
Industry: Restaurants
Company size: 11-50 Employees
Used

Daily

for

2+ years

Review Source
---
CAKE is simply the BEST
A++++++++++++++++++ System and customer service!!!
Pros
The accessibility, functionality, storage and speed of the system in general. THE SEARCH BAR OMG!!!!
Cons
The chip readers inconsistency. The inability to be able split items more than 1 in a time.
Reasons for Choosing Mad Mobile Restaurant POS
Honestly... The tipping point was the card fee. But since then it has been awesome. Why we are staying put!!!
Reasons for Switching to Mad Mobile Restaurant POS
Everything said in the comments before