About CAKE POS
CAKE by Mad Mobile provides an easy-to-use All-In-One POS that owners will learn like a pro in a short amount of time. The restaurant management system takes care of everything in one place with integrated online ordering, curbside pickup, reservations, and menu organization. With the All-In-One POS, restaurant staff can easily place and modify orders. CAKE by Mad Mobile's payment cube can accept all forms of payment, including through a customer's phone with Apple Pay or Google Pay. With online ordering and curbside pickup, you can eliminate digital walkaways, send order updates to customers, and save pricey commission fees from other providers. You can expand your system by adding tablets for tableside ordering. You can increase your speed of service, improve order accuracy, and elevate your average order value by 33%. With QR code payments, the process speeds up time for the customer and lowers wait times. The All-In-One POS benefits independent restaurant owners who want to replace their current POS or don't have a cloud-based system. Mad Mobile also benefits small to mid-size chains looking to extend the service of the existing POS system. Restaurant owners can feel comfortable because CAKE by Mad Mobile has free 24/7 customer support where staff can reach the customer service team via call, email, text, or chat.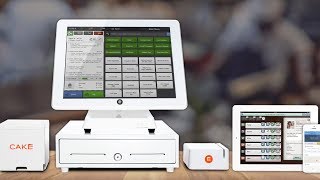 CAKE POS does not have a free version. CAKE POS paid version starts at US$69.00/month.
Starting Price:
US$69.00/month
Industry: Restaurants
Company size: 11-50 Employees
Used

Daily

for

1+ year

Review Source
---
Review of CAKE
I enjoy that there is 24/7 customer support with any issues. (love the new text feature)
Pros
I like that I can access it anywhere remotely to make changes, add menu items, and view sales.
Cons
I don't like the new update. I feel the original version is easier to use.
Industry: Restaurants
Company size: 11-50 Employees
Used

Daily

for

2+ years

Review Source
---
Value, Function, and Top Notch Customer Service
We were so thankful at how easy it was to activate online ordering. Our customers feel confident providing their credit card information through a secure system, and we love that we can remove items from the online system from our POS when we run out of a certain special. We appreciate the way the user dashboard online is simple to navigate and provides a clean pie-chart or graph style analysis of our sales, popular items, labor vs. income, etc. Those graphic visuals are invaluable when we are quickly checking in during a busy shift to see where our numbers are. We have a wide range of literacy comfort levels at our restaurant and we feel like our employees are all able to navigate the system easily and effectively. We think that is important from an accessibility standpoint.
Pros
We switched to CAKE from another POS system in 2016, after being in operation for 1.5 years. We have been impressed with the way CAKE constantly tries to provide new features. As a farm-to-table quick-service restaurant, our menu changes weekly and we find it simple and straightforward to make updates each week. Due to COVID-19, we recently activated the online ordering and we believe it has saved our business. We were able to activate and integrate it quickly and we love the reporting capabilities the system gives us. Our customer service has been top notch--from our sysco rep to our CAKE customer support manager, we have received a quick response to any question we've had. We feel very comfortable requesting new features and integrations based on our needs and we feel like they really listen to us and try to incorporate our ideas quickly and simply. We did not have this level of customer support with our previous POS system and we really value being able to get a live person on the phone quickly and easily when we have an issue. We love the intuitive, easy-to-read sales analysis reports and use them each week with our management team to evaluate our menu items and determine our next round of specials. We really like that we can make menu edits both on the POS and with the online platform---hoping for a mobile app next for very quick and simple edits!
Cons
We first purchased in Spring 2016. The software felt a little sluggish and honestly, we were not sure if it would easily keep up with our pace. But we have been very impressed with CAKE's constant evaluation and roll-out of new features and integrations--they haven't missed a beat! We don't use all the features yet, but because of the recent success with our online activation, we are now considering two more apps. I would prefer a tiered/capped monthly pricing system depending on how many apps/additional software platforms we integrate (like accounting, customer management, 3rd party delivery apps, etc)--rather than installing each a-la carte, but hopefully that will be an option in the future. The additional monthly fee per app has made us hesitant to try new ones. We would also like to have more control over the look and feel of the online ordering page--functionally it meets our needs, but would love to integrate it into our own website and select the background color, text color, etc, to make it feel like a seamless integration rather than making our customers feel like they are "leaving" our site to go to another. There are some features/edits that are only available from the POS system (not menu items, but system preferences/settings categories) In the future, I hope they make those features editable from the online access platform as well, because sometimes I want the flexibility of making certain adjustments from home on my computer during off-hours.
Reasons for Choosing CAKE POS
Our Sysco rep at the time was very knowledgeable about different POS systems based on her career in several restaurants prior to Sysco---she was straightforward with us about her experience with multiple systems, their price points, and value. She suggested we consider CAKE and we followed her recommendation. We are so glad we did. We prefer it over our previous system, but as a small rural restaurant, we were not able to afford the much more expensive systems.
Reasons for Switching to CAKE POS
CAKE had the right combination of value, ease of use, and features. We have recommended CAKE to several of our restaurant owner friends in the region. It has a simple interface, the customer service is stellar, and the constant addition of new apps and integration makes us feel like we are getting the best value in a price range we can afford.
Response from

CAKE from Sysco

Thank you Kristin for the detailed review about your experience with CAKE Point of Sale and being a customer since 2016! We're excited to hear that you've had such a great experience so far and we'll definitely forward your suggestions to our product team.

Replied 29/04/2020
Industry: Restaurants
Company size: 11-50 Employees
Used

Daily

for

1+ year

Review Source
---
do not waste your time
aggravating that i got lied to, pay every day for services I do not get. 24/7 no support
Pros
very cute name, other than that, if THEY can't make your install work, due to their own negligence, you walk still pay the monthly fee
Cons
horrible reports. useless, not customizable,
Industry: Food & Beverages
Company size: 2-10 Employees
Used

Daily

for

6-12 months

Review Source
---
Great Restaurant POS
It has been a great experience!
Pros
Easy to learn and use; great reports; easily integrates with our Quickbooks software; great price point
Cons
in the beginning I was intimidated that we had to figure everything out on our own. But it was really not hard once I got in to it.!
Reasons for Switching to CAKE POS
The Sales person was especially great. The product seemed to have all of the necessary functions for my business and the price point was great!
Industry: Food & Beverages
Company size: 2-10 Employees
Used

Daily

for

1+ year

Review Source
---
Very user-friendly on the front end, somewhat clunky on the back end
Overall, our experience has been great. Before switching to CAKE we were using Square, which worked well when we were just a small cafe, but now that we've gown into a full service restaurant it's made a huge difference having a system built specifically for the industry.
Pros
The POS is very intuitive - very little training is needed before staff have it figured out. It's also very customizable so we've been able to get tickets and receipts to print exactly how we want them to.
Cons
Editing the menu is pretty arduous. There are a lot of steps involved in changing just one item and there still seem to be a few bugs to sort out. The reports are also more limited than we would like and present the data as lists of numbers rather than charts, which would be easier to digest.
Response from

CAKE from Sysco

Hi Anna, thank you for taking the time to write a review.

We are glad to hear that you were able to grow to a full-service restaurant and decided to partner with us.

We pride ourselves on being simple and intuitive and we are happy to hear that little training was required for your staff.

Thank you for your candor, we are always looking to make improvements to our Point of Sale.

Replied 10/01/2020