About CAKE POS
CAKE is a cloud-based point of sale (POS) solution for restaurants. Primary features include payment acceptance, guest and waitlist manager, online ordering, gift cards and table-side ordering. It allows users to track real-time sales at different locations, wages, hours and overtime. The reporting module allows owners and managers to drill down into sales reports to find sales by week, day or hour. Payroll reporting helps users calculate wages and overtime and sales can even be compared to labor costs each hour. Peak hours tracking and customer tracking are also available on-demand in real time. It offers an offline mode that allows users to manage restaurants and accept payments when internet connection is down. It offers integration with PayPal, Xero, Orca, 7Shifts, Quickbooks and Avero. It supports Windows, Mac and Linux operating systems. It can also be accessed by smartphones and tables. Support is offered via email and over the phone.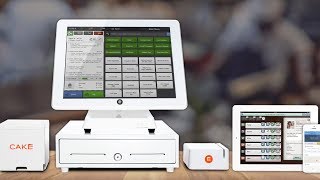 CAKE POS does not have a free version. CAKE POS paid version starts at US$69.00/month.
Starting Price:
US$69.00/month
Pricing Details:
CAKE Point of Sale: as low as $69 per month CAKE Guest Manager: $199 Activation fee, $79 per month CAKE Online Ordering: $49 per month, 5% processing fee per order
Industry: Restaurants
Company size: 11-50 Employees
Used

Daily

for

1+ year

Review Source
---
Review of CAKE
I enjoy that there is 24/7 customer support with any issues. (love the new text feature)
Pros
I like that I can access it anywhere remotely to make changes, add menu items, and view sales.
Cons
I don't like the new update. I feel the original version is easier to use.
Industry: Restaurants
Company size: 11-50 Employees
Used

Daily

for

1+ year

Review Source
---
Who Doesn't LOVE CAKE?
The data that CAKE provides me is incredibly valuable to our business. We love it!
Pros
We don't spend any time on training new team members to use our POS System (CAKE). Seriously, it's so easy we show them a few features and they are running it like a pro on day one. That in it's self has saved us a ton of payroll we use to spend on training.
From a ownership perspective, we have four locations and I'm able to track them from my central office, Wonderful!
Cons
Negatives only fall on one piece of the equipment. The cash drawer and the insert in it are not built for the type of abuse they can take in some operations. I wish there was an option to purchase extra drawer inserts.
There are no other negatives about CAKE.
Reasons for Choosing CAKE POS
To provide my customers a better more efficient experience and to allow our team members an easy to use system that we as owners could easily track.
Reasons for Switching to CAKE POS
Cake seemed to have a more durable product. The biggest reason was....When I spoke with all the sales staff from the different companies the CAKE representatives were the only ones that never talked negatively about their competitors. That let me know they didn't need to degrade the other guys, they had faith in the system they were selling. I now have the same faith in CAKE.
Industry: Restaurants
Company size: 11-50 Employees
Used

Daily

for

2+ years

Review Source
---
CAKE is simply the BEST
A++++++++++++++++++ System and customer service!!!
Pros
The accessibility, functionality, storage and speed of the system in general. THE SEARCH BAR OMG!!!!
Cons
The chip readers inconsistency. The inability to be able split items more than 1 in a time.
Reasons for Choosing CAKE POS
Honestly... The tipping point was the card fee. But since then it has been awesome. Why we are staying put!!!
Reasons for Switching to CAKE POS
Everything said in the comments before
Industry: Food & Beverages
Company size: 11-50 Employees
Used

Daily

for

2+ years

Review Source
---
If you don't want features that will help your restaurant grow this is it.
Benefits - very few, its a processing and pos basic.
Issues - many, but do get resolved.
Features - literally almost nothing. you get basic reporting.
We switched to Toast.
Pros
Its useful that this POS offers 3 party features to install, to bad you gotta pay of them.
Reports are easy to understand, what comes in and what your taxes are.
Easy point of sale to use for your staff.
Cons
Alright after 2+ years of using Cake here it is for you guys.
1. On the phone with customer service probably 4 - 6 times a month. This is from reporting / dashboard issues, POS issues.
Reporting issues: about 2 times a month we have to call about some kind of labor reporting issue and takes the engineers around 1 to 4 days to fix. Note - same issue occurs, another day or so for engineers to fix.
Dozens of times we will be on the phone with a customer service rep, and both them and I will be having issues loading the reports to examine them. One time we were literally both waiting over 25 minutes for it to load.
As a restaurant one of the best reports you could have is when the system literally tells you the cost of EVERYTHING.
Ya, you won't be getting this with cake. Sure, you can add the cost of a single item to you (why even have this feature if it doesn't deduct it for you) but it wont deduct it for you at the end of the day. You'll have to do this on your own to figure out what it actually cost you.
Cake takes into account on recommendation that their customers give them, I think and thats at least what they say except their features are almost non-existent. No marketing, No rewards, very basic reporting.
Their hardware is super expensive, our kitchen printer stopped working and they quoted us like $450, I found it on amazon for $115.
Just remember the 2.50% + $.10 a swipe, will actually really be costing you 3.50%. I could go on but I'm limited on characte
Industry: Restaurants
Company size: 11-50 Employees
Used

Daily

for

2+ years

Review Source
---
Cake POS
Very user friendly
Pros
I love the fact that I have a POS system and I do not have to have a separate CC processing
Cons
Really haven't had any bad problems. We normally call support and it is handled quickly
Reasons for Choosing CAKE POS
Changed locations and my Sysco rep told me about it
Reasons for Switching to CAKE POS
Wanted something different