About Yodeck
Yodeck is an award-winning cloud-based digital signage solution that helps organizations of all sizes create amazing digital signs in minutes. Voted #1 easiest to use, it's a breeze to upload and schedule all types of media, manage your screens, edit and display content across one or thousands of screens, right from your computer, no matter where you are. All you do is log in to our online platform. And with feature-rich plans that start at only $7.99/month per screen, Yodeck fits the budget of all businesses. Plus, you get Yodeck's proven and powerful media player with each Annual plan for FREE. All you do is plug it in and it works. Connect with the people that matter most to your business, just schedule and display ads, promos and helpful info that instantly engage. Use videos, images, PDF flyers, presentations, web pages, social media walls, data dashboards, calendars, weather and news updates to make your digital signage screens unforgettable. Get started right away using thousands of free images and videos from our free stock media gallery. Plus, choose from hundreds of free, fully-customizable and professionally-designed screen layout templates that fit the needs of all businesses, from restaurants to retail, offices to hospitality. In addition, our enterprise-grade hardware and software security features align perfectly with your corporate security protocols. Want to use our software with a player other than our Raspberry Pi 4 hardware? We support all BrightSign players, so make the switch seamlessly. Also, our team of tech and customer success experts are there to guide you. See the benefits for yourself. Run one screen, perma-free, and access all our features before investing in a full deployment. With Yodeck, you can level up your connection to customers, teams, visitors and students, using a digital signage solution that industry leaders around the world trust and rely on.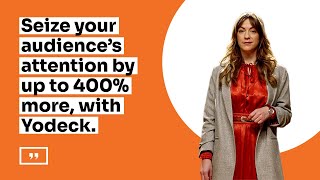 Yodeck has a free version and offers a free trial. Yodeck paid version starts at US$7.99/month.
Starting Price:
US$7.99/month
Industry: Recreational Facilities & Services
Company size: 11–50 Employees
Used

Daily

for

1+ year

Review Source
---
Yodeck Digital Signage: The Game-Changer at Andrew Johnson Golf Club's Front Door
Walking into Andrew Johnson Golf Club, you're immediately greeted by more than just the friendly staff — an innovative and dynamic Yodeck digital signage platform welcomes you, seamlessly blending technology with the timeless charm of the game.
As a centerpiece in our foyer, the digital signage does more than just catch the eye. It serves as a pivotal source of information, from displaying the club's calendar to detailing the hours of operation. But it doesn't stop there. For our members and guests looking to join in on the competitive fun, the latest tournament updates and scramble information are presented in clear, vibrant visuals, ensuring everyone is in the loop and ready to tee off.
A key feature we particularly appreciate is the real-time course conditions and weather updates. This allows our golfers to prepare for their round with just a glance, setting the tone for an exceptional day on the greens. The user-friendly interface of the Yodeck platform means that our staff can update and manage content with ease, ensuring that information is not just timely but also accurate and well-presented.
Invaluable is not a term we use lightly, but for the Yodeck digital signage at Andrew Johnson Golf Club, it fits perfectly. The versatility and efficiency of the platform have elevated our communication, creating an interactive and engaging experience for everyone who walks through our doors. It's not just a tool; it's an integral part of our club's commitment to excellence and member satisfaction.
We wholeheartedly recommend Yodeck to any establishment looking to enhance their guests' experience with professional, reliable, and state-of-the-art digital signage. For us, it's a clear hole-in-one!
Cons
In the spirit of a fair review, it's worth considering any drawbacks of the Yodeck digital signage platform. However, in the two years since its installation at Andrew Johnson Golf Club, the system has operated flawlessly, with no notable issues to report. The one instance where we required assistance, the hiccup was swiftly and efficiently resolved by their responsive support staff. While some may yearn for a con to weigh against the many pros, our experience has been so positive that finding fault seems more like searching for a needle in a well-kept fairway. Yodeck has proven to be a reliable and robust solution for our digital communication needs.
Industry: Hospital & Health Care
Company size: 201–500 Employees
Used

Monthly

for

6-12 months

Review Source
---
Yodeck is easy to use and has all the features we need
Pros
Yodeck is a great, easy to use system. The interface is clean and intuitive to use. There are lots of built-in templates to get you started, but it can also accept content imported from other methods like pictures, Powerpoints, PDFs and Canva. It is quick to refresh and push out new content to screens. The customer support have been quick to respond to queries. I also recommend reading the Yodeck Documentation page as it is really helpful.
Cons
The 1GB Pi sometimes struggles/lags when there are multiple apps in your playlist, so I would recommend the 2GB or higher version if you want more complex graphics.
Reasons for Choosing Yodeck
Wanted to move away from an open source product to a more established product. Also wanting to refresh our out-of-date Firestick players which we used with Xibo.
Reasons for Switching to Yodeck
The cost versus the amount of features Yodeck has was a benefit to us.
Industry: Restaurants
Company size: 2–10 Employees
Used

Monthly

for

6-12 months

Review Source
---
Buggy unusable software
Pros
Nothing. $79 For their in-house hardware. Tech support that doesn't give a sh%t. Buggy Unusable software. Waste of time and money.
Industry: Education Management
Company size: 1,001–5,000 Employees
Used

Daily

for

1-5 months

Review Source
---
Yodeck IS the answer for K12 schools looking to use digital signage
Excellent product, excellent customer service and value for the powerful solution that Yodeck provides.
Pros
Yodeck is simple to setup, inexpensive and easy to manage. There isn't much of a learning curve with the Yodeck user interface and purchasing the players (we upgraded from the free players to the 4gb version for a nominal charge) from Yodeck is a plus and a must if you don't want to fool with setup. When I got my players, all I had to do was plug them into the screens, power them on and register them. Yodeck added our wifi settings and named the devices so that was great and meant a few less steps for me. Getting the content setup and figuring out scheduling, layouts, etc. was a breeze using the Yodeck tutorial videos. And when I did run into an issue, their online chat support was there to walk me through the solution quickly. There's really no negatives with Yodeck!
Cons
It took me a few trys to get the scheduling to work the way I needed it to. I just didn't understand exactly how it worked. But after a few tries and watching the tutorial, I got it to work and now it's working seamlessly for us.
Reasons for Choosing Yodeck
Google Chromebits are difficult to find AND Google Digital signage is very limited and not very user-friendly when you start adding lots of screens to your deployment.
Reasons for Switching to Yodeck
Pricing and ease of use. I set up a free screen using the Yodeck platform and discovered how easy it was and that sold me.
Industry: Automotive
Company size: Self Employed
Used

Daily

for

2+ years

Review Source
---
There is nothing better...
Pros
I've used Chrome Sign Builder, Kitcast, etc... the value of Yodeck as a small business is unparalleled. They really understand small business.
Cons
Nothing. I can forgive any general software glitches as they seem rare and often repaired quickly.