About HubSpot Sales Hub
Supercharge your sales process with Sales Hub, a powerful and easy to use sales CRM that includes sales engagement tools, configure-price-quote (CPQ) functionality, and robust sales analytics and reporting for growing teams. Optimize your sales process with HubSpot CRM. Achieve total visibility with sales analytics and reporting. Streamline your outreach with sales engagement tools. Close more deals faster with configure-price-quote (CPQ) functionality. Sales Hub is built on the HubSpot Growth Platform, where you can bring your customer data, tools, and teams together in one central system of record. You can connect the tools you use with Sales Hub with over 500 apps in the HubSpot App Marketplace, APIs, and solutions partners. Sales Hub is made for growing teams and offers four editions to help those looking to get started or who are growing rapidly. Get started with Sales Hub Free, Sales Hub Starter, Sales Hub Professional, or Sales Hub Enterprise. You shouldn't have to outgrow your CRM -- HubSpot has got you covered at every step of the way.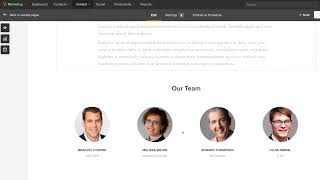 HubSpot Sales Hub pricing
HubSpot Sales Hub has a free version and offers a free trial. HubSpot Sales Hub paid version starts at US$50.00/month.
Starting Price:
US$50.00/month
Pricing Details:
HubSpot Sales: FREE - $0/month - for the individual sales rep. HubSpot Sales Starter: $50/user/month - for sales teams. HubSpot Sales Professional: $400/month - for advanced sales teams. 5 users included, additional users $80/user/month.
Alternatives to HubSpot Sales Hub
HubSpot Sales Hub Reviews
Industry: Marketing & Advertising
Company size: 51-200 Employees
Used

Daily

for

2+ years

Review Source
---
The go-to-CRM for startups growing from small to medium fast
Hubspot is a robust CRM that can take SMB sales operations a long way.
Keeps things simple and easy to use. For advance sales analytics and marketing automation you may have to look for additional tools.
Pros
Intuitive, easy to use, and it is effortless to customize. Hubspot sales and marketing modules complement effectively with each other. Workflows features allow to automate marketing efforts, allowing to scale operations smoothly.
It integrates smoothly with Gmail suite products, and mainstream business tools.
Cons
It does not count with advance lead scoring tools. Lead interaction tracking is limited. Workflow automation faces the same problem. As you start sophisticating your sales and marketing operations Hubspots tools may start falling short.
Reasons for Choosing HubSpot Sales Hub
Nimble was not easy to use and suffer from limited functionalities. Hubspot was a mainstream, well-known reliable and proven CRM.
Reasons for Switching to HubSpot Sales Hub
Hubspot was well known and cheaper
Industry: Mechanical or Industrial Engineering
Company size: 51-200 Employees
Used

Daily

for

6-12 months

Review Source
---
Quickly Scale Up Your Sales Team
We are able to track what our sales team is doing and report on it in a way that is easy for leadership and the team to understand
We are able to track goals, hit rate, forecast, and more
Pros
HubSpot has increased our close rate, sales volume, and contact database. It has been a huge value add to our organization and we have much more accurate and usable data.
Cons
It does require a dedicated person to implement but their support team is incredible
Reasons for Choosing HubSpot Sales Hub
Act was not able to handle our business needs and is not user-friendly or geared towards modern operations
Reasons for Switching to HubSpot Sales Hub
Price and overall offering. Best capabilities for our neds.
Industry: Insurance
Company size: 2-10 Employees
Used

Daily

for

1+ year

Review Source
---
HubSpot Review
Great for tracking and organizing important customer information
Pros
Functionality. Ease of use and integration with my caller ID for managing customer interaction.
Cons
I would love to be able to see text correspondence with customers
Industry: Legal Services
Company size: 11-50 Employees
Used

Daily

for

2+ years

Review Source
---
Awesome product, absolutely terrible onboarding experience
HubSpot Sales Hub is a great platform, but their onboarding process is probably the worst I've experienced from a SaaS provider. So I'd advise you against using the software if you want their help in getting the software up and running quickly.
Pros
Ease of use and automation capabilities.
Cons
The onboarding experience. They insist on charging for onboarding support, but don't really give you the support you need and completely lack ownership over the process.
Reasons for Switching to HubSpot Sales Hub
Ease of use and level of automation by design in the system.
Industry: Staffing & Recruiting
Company size: 201-500 Employees
Used

Daily

for

1+ year

Review Source
---
Hubspot Sales Hub is great marketing CRM but lacks in comprehensive sales engagement.
It's better for marketing. The tracking of prospects and stages of their progress in a pipeline is negligible. They have what's called the "Deals" section, but when dealing with a true Enterprise client, there is a significant amount of detail that needs to be tracked and Hubspot is not capable of handling this type of sales process. Another issue is keeping track of work that needs to be done. For example, we were taught by HubSpot to use the "Tasks" center for keeping track of activities or future actions. Well, if you schedule a follow-up, and the day comes that the follow-up needs to be completed, you are instructed to just change the date doesn't he follow up to keep that activity at the top of that prospects feed. Otherwise, it gets lost in the activity feed for that client. There is no pipeline that you can create for accounts you are working on. Their workaround is using the deals section, but the deals are then used by management to track forecasting and other numbers. Personally, I feel there should be a completely separate module that houses the different stages as opposed to this. Customer service is great and that's about it.
Pros
I like Hubspot for the simple fact that it's aesthetically pleasing. Its basic functionality is easy to learn and customize the platform was very simple. I like the marketing capabilities and ability to generate email templates.
Cons
There is a lot that I don't like about Hubspot. For starters, adding people to an email campaign is by far the most painstaking, time-consuming, and illogical process ever created. To be clear, part of the reason is that Hubspot charges you extra to add people faster to a campaign. They know this, and it's their way of forcing you to purchase a more expensive version of their software. For example, when you have finished creating a campaign and you now want to add people to that campaign, instead of going directly to your list of candidates and clicking on "add to campaign" you have to go to the campaigns that you've created, click on add person, and then search by that person's name or email, so not only do you have to have another screen open to know that person's information, but you can only add one person at a time! It takes upwards of 8 hours to add 50 people to one campaign. Secondly, is the ability to customize the "log not, log a call, log email" section. Instead of the system tracking when a call has been completed, or an email sent, in order to get "credit" for that email or phone call made, you need to perform an additional task by click on the "log call" feature for the system to actually capture a logged call. This is incredibly annoying as your doubling the tasks. This section also isn't customizable. Therefore if for example, you want to message someone on Linkedin you cant go back to HubSpot and log that message. There's no way to track that message.