About HubSpot Sales Hub
Supercharge your sales process with Sales Hub, a powerful and easy-to-use sales CRM that includes sales engagement tools, configure-price-quote (CPQ) functionality, and robust sales analytics and reporting for growing teams. Optimize your sales process with HubSpot CRM. Achieve total visibility with sales analytics and reporting. Streamline your outreach with sales engagement tools. Close more deals faster with configure-price-quote (CPQ) functionality. Sales Hub is built on the HubSpot Growth Platform, where you can bring your customer data, tools, and teams together in one central system of record. You can connect the tools you use with Sales Hub with over 500 apps in the HubSpot App Marketplace, APIs, and solutions partners. Sales Hub is made for growing teams and offers four editions to help those looking to get started or who are growing rapidly. Get started with Sales Hub Free, Sales Hub Starter, Sales Hub Professional, or Sales Hub Enterprise. You shouldn't have to outgrow your CRM -- HubSpot has got you covered every step of the way.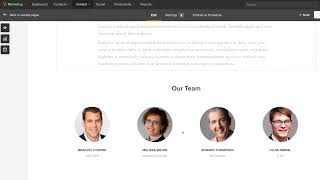 HubSpot Sales Hub pricing
HubSpot Sales Hub has a free version and offers a free trial. HubSpot Sales Hub paid version starts at US$50.00/month.
Starting Price:
US$50.00/month
Alternatives to HubSpot Sales Hub
HubSpot Sales Hub Reviews
Industry: Information Technology & Services
Company size: 2-10 Employees
Used

Daily

for

6-12 months

Review Source
---
HubSpot
I use this daily with two of my clients for Account-Based Marketing Campaigns.
Great for Lead-to-Account tracking as well as ongoing account management.
Ties into HubSpot's CRM solutions well, so it's very convenient for the whole client management lifecycle.
Also love that it's free to start out with, so I can test it with a client so they can see if they like it or not before committing to the paid version (which also isn't really necessary until it has demonstrated value in the free model. This platform can act as the central operations center of any sales and marketing strategy.
Pros
HubSpot is a great solution for managing most sales and marketing campaigns, and the Sales Hub is no exception. The ease of setting up pipelines, tracking contacts, logging notes, and especially scheduling follow-ups for each contact makes this an ideal platform for lead generation and account closing processes.
One killer feature is that when you're setting up a Company in the system, you simply enter their website and it auto-populates all the essential contact data - making it so easy to quickly get your cold-calling lists setup so you can get to work reaching out to individuals within the Companies.
Cons
I feel there are some redundancies in the way 'Deals' and 'Lead Status' pipelines are managed, but easy enough to work around them and set them up as you see fit.
Reasons for Switching to HubSpot Sales Hub
I prefer HubSpot because it integrates so easily with other 3rd party systems (specifically Mailchimp and LinkedIn)
Industry: Computer Software
Company size: 51-200 Employees
Used

Daily

for

2+ years

Review Source
---
Sales Hub helped us grow our sales team while keeping track of details
We needed to onboard a large amount of salespeople and integrate it with Linkedin Sales Pro. It works well with our marketing hub as well as our CRM (Which are all HubSpot.)
There is a rich amount of integration that makes it easy to use across multiple platforms.
Pros
Easy to use and set up. Easy for new salespeople to use and learn how to use it. It has the ability to customize by adding specific attributes. It also allows you to create custom stages and workflows on each stage.
Cons
It is a little expensive and not good for a small sales team.
Reasons for Choosing HubSpot Sales Hub
Salesforce was REALLY complicated and really expensive. They sub-par support.
Reasons for Switching to HubSpot Sales Hub
Price, features and scalablility
Industry: Computer Software
Company size: 201-500 Employees
Used

Daily

for

2+ years

Review Source
---
My Favorite CRM
I first used the Hubspot free version until my company decided to switch from Netsuite to Hubspot for our CRM. I didn't realize how much more Hubspot could do until I had the paid version. I have used 5+ CRMs and Hubspot is by far my favorite.
Pros
Easy to use. Very intuitive even for the non-technical savvy user.
Ability to create custom scheduling links to send to prospects.
Ability to integrate with numerous other programs to really streamline your workflow and save you time!
Ability to create beautiful email templates.
Ability to create links to documents, videos, images, and more to embed into emails.
Get open rates, click rates, time viewed, etc.
App for smartphones for easy on-the-go access. App also helps you log incoming and outgoing calls when related to a contact.
Easily track sales pipeline on an interactive dashboard.
Automatically logs events and emails through linked calendars and email inboxes.
Can launch calls from site and app, log type of call, and record the call!
Cons
I don't really have any complaints or cons with HubSpot itself. I would love the app to be able to do a little more, like create/edit/add a quote.
Reasons for Choosing HubSpot Sales Hub
My company was not fully utilizing Netsuite and it didn't have as many features as we liked with Hubspot. I think it was also cheaper but I didn't authorize the switch nor make the purchase.
Reasons for Switching to HubSpot Sales Hub
My company was not fully utilizing Netsuite and it didn't have as many features as we liked with Hubspot. I think it was also cheaper but I didn't authorize the switch nor make the purchase.
Industry: Marketing & Advertising
Company size: 51-200 Employees
Used

Daily

for

2+ years

Review Source
---
The best applications for organizing business, managing offers and sales teams
When it comes to preparing lists of new customers and sending compensation, the HubSpot Sales Hub has helped us to be more organized in all stages of our work. Keeping all those records in the cloud and organizing them in a unique way allows you to retrieve and import the data that you need at any time. Because of the information we've gotten from it, we've been able to come up with some of our best ideas yet for our company's future.
Pros
The HubSpot Sales Hub provides my team with a great deal of structure, as it can be used to distribute and track projects with the support of other team members, all of which can be done from a computer or via the mobile app. Classifying emails in this way allows you to see the status of emails sent to customers and those that have been received, as well as the settings for ready responses that are sent to customers, which is something I really appreciate.
For example, you may simply plan all of your appointments and receive reports summarizing all of the events that have occurred over any period of time, which is both motivational and inspiring to keep all of your duties in progress. Due to its seamless connection with the rest of our workflow, it eliminates the need for us to manually enter the same information twice.
Cons
Despite the fact that the HubSpot Sales Hub is really well-organized and provides you and your team members with all the tools you need for a very reasonable membership price, it's difficult to think of anything negative to say about it. The user simply requires a few minutes of training before he can get the most out of it.
Industry: Staffing & Recruiting
Company size: 201-500 Employees
Used

Daily

for

1+ year

Review Source
---
Hubspot Sales Hub is great marketing CRM but lacks in comprehensive sales engagement.
It's better for marketing. The tracking of prospects and stages of their progress in a pipeline is negligible. They have what's called the "Deals" section, but when dealing with a true Enterprise client, there is a significant amount of detail that needs to be tracked and Hubspot is not capable of handling this type of sales process. Another issue is keeping track of work that needs to be done. For example, we were taught by HubSpot to use the "Tasks" center for keeping track of activities or future actions. Well, if you schedule a follow-up, and the day comes that the follow-up needs to be completed, you are instructed to just change the date doesn't he follow up to keep that activity at the top of that prospects feed. Otherwise, it gets lost in the activity feed for that client. There is no pipeline that you can create for accounts you are working on. Their workaround is using the deals section, but the deals are then used by management to track forecasting and other numbers. Personally, I feel there should be a completely separate module that houses the different stages as opposed to this. Customer service is great and that's about it.
Pros
I like Hubspot for the simple fact that it's aesthetically pleasing. Its basic functionality is easy to learn and customize the platform was very simple. I like the marketing capabilities and ability to generate email templates.
Cons
There is a lot that I don't like about Hubspot. For starters, adding people to an email campaign is by far the most painstaking, time-consuming, and illogical process ever created. To be clear, part of the reason is that Hubspot charges you extra to add people faster to a campaign. They know this, and it's their way of forcing you to purchase a more expensive version of their software. For example, when you have finished creating a campaign and you now want to add people to that campaign, instead of going directly to your list of candidates and clicking on "add to campaign" you have to go to the campaigns that you've created, click on add person, and then search by that person's name or email, so not only do you have to have another screen open to know that person's information, but you can only add one person at a time! It takes upwards of 8 hours to add 50 people to one campaign. Secondly, is the ability to customize the "log not, log a call, log email" section. Instead of the system tracking when a call has been completed, or an email sent, in order to get "credit" for that email or phone call made, you need to perform an additional task by click on the "log call" feature for the system to actually capture a logged call. This is incredibly annoying as your doubling the tasks. This section also isn't customizable. Therefore if for example, you want to message someone on Linkedin you cant go back to HubSpot and log that message. There's no way to track that message.