About Zoho Mail
Zoho Mail, a secure, business-oriented email service, is made to cater to all your emailing needs. With top-notch collaboration and communication features, Zoho Mail offers much more than your usual inbox. Unique and custom email address Increase your brand visibility and credibility with a custom email address using your domain name. With Zoho Mail, you can add multiple domains, users, and alias addresses for a single user, all under the same organization. Make sure your emails always look their professional best. An inbox with a suite of apps Zoho Mail provides you with an integrated calendar to manage all your events, contacts to manage your personal and official acquaintances, tasks to manage your workload, notes to jot down everything on your mind, and bookmarks to keep a track of necessary webpages, all directly from your inbox. Be more productive with everything you need in one window. Extensive Integration In addition to integrations within Zoho applications, Zoho Mail also supports third-party integrations with all your favorite applications. Have an integration idea that would benefit everyone in your organization? You can easily create your own with Zoho Mail's code-free Developer Space. Modern collaboration tools for a modern inbox Make your conversations more productive with Zoho Mail's collaboration features. With Zoho Mail Streams, a social media-style integration platform, you can collaborate with your colleagues by simply @ tagging them in your emails, folders, and drafts and avoid the hassle of email forwarding. Admin Console for centralized management Make sure your users conform to your company's policies by centrally managing all emails. Give access to only a select set of users to manage your organization's password policies, user management, email delivery, and retention, among other things. Zoho Mail also offers extensive audit logs and other reports to help track administrator operations. Switch with our secure migration tools Our migration tools are designed to help you bring all data from your previous email service in the easiest and fastest way possible. Are you using Google Workspace or Office 365? Migrate with just one-click and sit back. If you want to check the status of your migration, Zoho Mail allows you to track the progress of your switch in real-time. Enterprise features While Zoho Mail offers everything your normal email service does, like out of office settings and custom email signatures, we go one step further and give you enterprise-ready email that is scalable and customizable. With S/MIME, Huge Attachments capabilities, White Labeling, Spam Processing, and many others features, we make sure you have everything you need to effectively run your business. Carry your email with you wherever you go with our offline mode and mobile apps in addition to our desktop app. Enjoy Zoho Mail Lite—the Zoho Mail Desktop App, available for your Mac, Windows, and Linux operating systems. Take your emailing experience to the next level with Zoho Mail.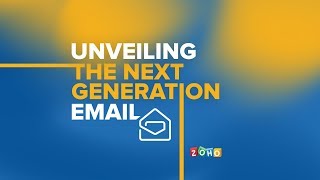 Zoho Mail has a free version and offers a free trial. Zoho Mail paid version starts at US$1.00/month.
Starting Price:
US$1.00/month
Alternatives to Zoho Mail
Industry: Internet
Company size: Self Employed
Used

Daily

for

2+ years

Review Source
---
An email application for business
I find Zoho Email to be an excellent platform for creating professional emails. It also provides a mobile application that allows me to check my emails, when I am on the go. This is a great solution for me because it allows me to stay on top of my work even when I'm not at my desk.
Pros
I use Zoho mail for my professional email hosting needs. It is secure and encrypted, which guarantees the confidentiality of my exchanges with my collaborators. I adopted it because I really liked the idea of creating email addresses that use my company's domain, which allows my contacts to identify me. This facilitates our exchanges and makes us more productive.
Cons
I have not encountered any particular problem with Zoho Mail, I feel it does the job it is asked to do.
Industry: Information Technology & Services
Company size: 2-10 Employees
Used

Daily

for

2+ years

Review Source
---
Great email service that links easily to the rest of the Zoho suite.
It is an excellent email service for business or home users who don't need a full Exchange server, Office365 system etc. It has plenty of storage space so that you dont have to keep deleting emails or having the risk of not being able to send or receive a critical set of mails because you have ran out of space. There are plenty of upgrade paths at a reasonable figure per month so that it can grow if you need to expand without having to switch to another company.
Pros
The email service has a very generous mailbox size and a lot of features even in the free version. The webmail works very well and the apps you can download for your mobile devices seem to perform with no glitches so far. It has all of the features you expect from an email service including standard email, calendar, tasks, contacts etc and the webmail even has a handy Remote Work feature that allows you to clock in and out and log the time you are spending on a task. It has the usual software programs for Mac, Windows and Linux so you dont need to purchase a dedicated email program to send and receive your email.
Cons
The calendar feature does not work in the webmail section when on an iPad outside of the normal app.
Reasons for Switching to Zoho Mail
We use a lot of their services and they work so well together that it was an obvious choice to use their email as well.
Industry: Accounting
Company size: Self Employed
Used

Daily

for

1+ year

Review Source
---
Zoho mail is a great tool
Overall a good tool that had space for some improvement to make it even better, but I love it so far and would really recommend more people to it, if the minor issues were fixed.
Pros
Zoho mail is a great tool with many other add ons if you are also a Zoho one user. It's customizable and easy to use. Looks professional as well.
Cons
It is very difficult to find emails with keywords and sometimes it just doesn't work. The emails also take a longer time to arrive then with other providers.
Industry: Music
Company size: 2-10 Employees
Used

Daily

for

2+ years

Review Source
---
Zoho Mail has everything you need in a e-mail server/host.
I have had two other e-mail hosts and Zoho has been the best so far. Their prices are very good, their support is amazing. I have not had any issues since changing over.
Pros
The desktop App and Web app are feature packed and work very well. Zoho has the ability to create application specific password/access for Outlook. Their App actually is better than Outlook on both function and stability.
Cons
Contacts allow you to import from Outlook.com, but no from the Outlook Program. It does allow for importing contact from a CSV file, but I lose some fields.
Alternatives Considered
Gmail
Reasons for Choosing Zoho Mail
Stability issues with Outlook. I had to delete the account and start over several times to restore send/receive. Error report was unhelpful for trouble shootong. MS was worthless. I have not had any issues with the Zoho desktop or web based App. It works with Outlook.
Reasons for Switching to Zoho Mail
The Gmail App interface is no where near as refined.
Industry: Publishing
Company size: 51-200 Employees
Used

Daily

for

6-12 months

Review Source
---
Zoho Mail's Email Splitting a LIFE SAVER!
We lost a specific feature that some of our email users required. Zoho allowed us to keep this feature using email splitting where those accounts are on Zoho Mail's servers as our secondary email server.This was a major solution which solved those specific users not being able to work for few hours on that day since we were able to impliment Zoho Mail and splitting within hours it was the fastest way we could implement the solution which was greatly appreciated.
Pros
We primarily use Zoho Mail as our secondary email server for some email accounts that require a specific feature that is no longer present on our primary email server so this was a life saver.Zoho Mail makes it easy to migrate and while we did not need to migrate all of our email accounts we are glad to know we can easily move from our primary server if necessary so we are not locked into any email solution.
Cons
The initial setup was a bit challenging as Zoho system assumes you want to set its server as the primary email server so you will have to ignore the constant prompt to add Zoho Mail as your MX record. I think Zoho could add an option to disable that prompt for persons who are just using Zoho Mail as a secondary email server.
Reasons for Switching to Zoho Mail
Zoho Mail had the most userfriendly email migration solution that allowed us to migrate some of our email accounts from our primary email server and setting them as the secondary email server for those accounts.We had to implement this solution with hours when a particular feature was no longer available for some accounts who required the feature and Zoho Mail was the easiest to impliment literally within hours the same day we lost the feature.