About Zoho Mail
Zoho Mail, a secure, business-oriented email service, is made to cater to all your emailing needs. With top-notch collaboration and communication features, Zoho Mail offers much more than your usual inbox. Unique and custom email address Increase your brand visibility and credibility with a custom email address using your domain name. With Zoho Mail, you can add multiple domains, users, and alias addresses for a single user, all under the same organization. Make sure your emails always look their professional best. An inbox with a suite of apps Zoho Mail provides you with an integrated calendar to manage all your events, contacts to manage your personal and official acquaintances, tasks to manage your workload, notes to jot down everything on your mind, and bookmarks to keep a track of necessary webpages, all directly from your inbox. Be more productive with everything you need in one window. Extensive Integration In addition to integrations within Zoho applications, Zoho Mail also supports third-party integrations with all your favorite applications. Have an integration idea that would benefit everyone in your organization? You can easily create your own with Zoho Mail's code-free Developer Space. Modern collaboration tools for a modern inbox Make your conversations more productive with Zoho Mail's collaboration features. With Zoho Mail Streams, a social media-style integration platform, you can collaborate with your colleagues by simply @ tagging them in your emails, folders, and drafts and avoid the hassle of email forwarding. Admin Console for centralized management Make sure your users conform to your company's policies by centrally managing all emails. Give access to only a select set of users to manage your organization's password policies, user management, email delivery, and retention, among other things. Zoho Mail also offers extensive audit logs and other reports to help track administrator operations. Switch with our secure migration tools Our migration tools are designed to help you bring all data from your previous email service in the easiest and fastest way possible. Are you using Google Workspace or Office 365? Migrate with just one-click and sit back. If you want to check the status of your migration, Zoho Mail allows you to track the progress of your switch in real-time. Enterprise features While Zoho Mail offers everything your normal email service does, like out of office settings and custom email signatures, we go one step further and give you enterprise-ready email that is scalable and customizable. With S/MIME, Huge Attachments capabilities, White Labeling, Spam Processing, and many others features, we make sure you have everything you need to effectively run your business. Carry your email with you wherever you go with our offline mode and mobile apps in addition to our desktop app. Enjoy Zoho Mail Lite—the Zoho Mail Desktop App, available for your Mac, Windows, and Linux operating systems. Take your emailing experience to the next level with Zoho Mail.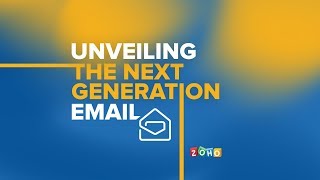 Zoho Mail has a free version and offers a free trial. Zoho Mail paid version starts at US$1.00/month.
Starting Price:
US$1.00/month
Pricing Details:
Mail Lite: $1/user/month (5GB per User) Mail Premium: $4/user/month (50GB per User)
Alternatives to Zoho Mail
Industry: Mining & Metals
Company size: 2-10 Employees
Used

Daily

for

2+ years

Review Source
---
Great functionality with available set-up resources
I recommend Zoho mail 110%, I have been using it for years now with minimum to no issues.
Pros
I have used Zoho for about four years now, and I was attracted to it by Zoho mail. Zoho mail allows you to have five email addresses with individual mailboxes under one custom domain for free. This is great especially for entrepreneurs and startups, even though you have to purchase the custom domain.
The level of functionality is great, it ranks well even when compared to paid services. Another important aspect is that it's not "spammy" and it does not have compromised security.
Zoho mail works well, I would recommend it to other business owners and entrepreneurs. It is also continually improving and adding more useful tools such as the MX record checker.
Cons
I like Zoho mail's performance and reliability that is enabled by aspects such as adding SPF and DKIM entries in the domain DNS and adjusting MX records.
But depending on skill level, these settings could be seen as challenging and could deter some. I found the manual webpage that's available for setting up for a range of domain providers to be quite helpful. There are other sites that cover how to set up Zoho mail, which I also found to be helpful.
I realized that it can take long for Zoho mail to pick up added entries to a domain DNS. This is probably split between Zoho mail and a specific domain provider but perhaps some improvements can be done.
Industry: Investment Management
Company size: 10,000+ Employees
Used

Daily

for

2+ years

Review Source
---
My Zoho Mail review
Zoho mail is a valuable tool for startups and mid-sized businesses and has worked very well beyond expectations. Similarly, this application's user-friendliness is a strong point. Finally, this is the perfect mail service for those looking for decent mail satisfaction manager software without jeopardizing their company's budget and also meeting everyday expectations.
Pros
The most important characteristic of this postal service is its high value for money, as it is not costly when providing all of the functionality that a business requires. Another plus is that it comes with unbeatable features such as shortcut keys that allow you to quickly access preferred options such as calendar, mission, notes, attachments, and so on. User-friendliness comes last but not least. I never even had to make assumptions when roaming around the app to find the appropriate functionality because the interface is simple to use.
Cons
One field that the company can develop is to provide live support for mailbox installation rather than just video tutorials. Implementing email was a little challenging because the program had to be set up with the help of experts. Aside from that, this program is simple to use. The program has been running smoothly so far after the configuration is complete.
Industry: Internet
Company size: 2-10 Employees
Used

Daily

for

2+ years

Review Source
---
Zoho Mail es grandioso
Excelente experiencia en general
Pros
Lo que mas me ha gustado de Zoho Mail es la entregabilidad, el soporte técnico y la gran calidad de servicio.
Cons
Lo que menos me ha gustado de Zoho Mail es que actualmente no ofrezcan SMTP en los planes gratuitos
Alternatives Considered
Gmail
Reasons for Choosing Zoho Mail
Por su mejor atención
Reasons for Switching to Zoho Mail
Por la versatilidad y menos monopolio
Industry: Marketing & Advertising
Company size: 2-10 Employees
Used

Daily

for

1-5 months

Review Source
---
A good option if you use other Zoho apps, but it's not without annoyances.
Features-wise, Zoho Mail does not fall short at all. It has everything you need for an email app. It just doesn't feel as refined as Gmail. Bug fixes and a refreshed, more modern UI will make the product near-perfect.
Pros
What I love about all Zoho products is how seamless the complete experience is. The way all the apps communicate with each other is super convenient. This integration is particularly evident between Zoho Mail and Zoho CRM. It's in the simple things, like how the email contact list is integrated with contacts/leads/deals added in CRM. I also love how when you receive an email, you can see, from the Mail app itself, whether this address is a lead, deal or just contact. It's a nice touch. The UI is also extremely easy to navigate. All buttons are where they're supposed to be, and I appreciate the night mode. It's a boon while working in low light conditions.
Cons
Despite its amazing features, my experience of using Zoho Mail on desktop was extremely sub-par. Everything is just slow; there's no other way to put it. The app itself takes a few seconds extra to load occasionally, but that's just the beginning. Formatting emails is infuriating, to say the least. Uploading images in between text can take minutes (these are compressed photos of less than 1MB) even on solid wifi. I often use GIFs, and these take even longer to upload if they don't fail altogether. Resizing images within the emails is glitchy. The font picker does not switch to the right font sometimes. Also, before I send out emails with images/videos/gifs, I usually send out a test to my Zoho and Gmail accounts to see if it looks alright. More often than not, the images and videos will not load on Zoho Mail at all, while Gmail would load them in a split second.
As someone who writes a lot of emails, these are not things I can put up with. Also, the UI, while dead easy to navigate, is extremely dull and boring. Gmail is leagues ahead in this regard.
I hope this is a one-off incident since I don't see many other reviewers complaining about these on Capterra. It's a shame though, because the overall proposition is so solid and appealing.
Industry: Computer Software
Company size: Self Employed
Used

Daily

for

2+ years

Review Source
---
Cost/benefit is insane, you will always get more for low price
I'm able to handle all my official business communications though Zoho email, even the smtp part to send emails from my site.
Pros
I loved the capability of have a free tier with enterprise ready functions, how I started as a freelance and be able to setup a "virtual" team right away it was insane, be able to use different personas in one Emil in incredible.
The search functionality is amazing too, how you can filter by persons, attachment, content etc, the tus just great.
I love the spam protection, it is so good, even categorize common emails that you receive frequent, just be aware need to add those to white list. But is better that way instead of lead a spam email to reach out to you.
Cons
As a newby when I started, it took me some time (not much) to set up, specially the look and feel with my logo.