About ActiveCampaign
ActiveCampaign's category-defining customer experience automation platform (CXA) helps over 130,000 businesses in 170 countries meaningfully engage with their customers. The platform gives businesses of all sizes access to 500+ pre-built automations that combine email marketing, marketing automation and CRM for powerful segmentation and personalization across social, email, messaging, chat and text. Over 75% of ActiveCampaign's customers use its 850+ integrations including Microsoft, Shopify, Square, Facebook, and Salesforce. Pricing starts at just $9/month. - Automate personalized experiences across all your customer touchpoints - Track buyer preferences, behavior, and many custom attributes across the entire customer lifecycle for deeper segmentation and more effective outreach - Customize sends based on almost any parameter, so your messages are always targeted for the right audience - Use data from the entire customer lifecycle to choose the best content, send time, and delivery channel for each customer - Create entirely customized campaigns with minimal effort, then improve your send strategy in real time based on customer behaviors - Replicate the 1-1 personal experience for every customer, no matter how big your business gets ActiveCampaign offers free customer service, including live chat and phone support, a self-help knowledge base and complementary data migration from other programs. It also offers one-on-one consulting, expedited support and free custom design services for enterprise customers.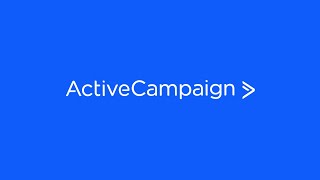 ActiveCampaign does not have a free version but does offer a free trial. ActiveCampaign paid version starts at US$9.00/month.
Starting Price:
US$9.00/month
Alternatives to ActiveCampaign
Industry: Marketing & Advertising
Company size: 11-50 Employees
Used

Daily

for

6-12 months

Review Source
---
Affordable and powerful email marketing & automation
Overall quite pleasant. If performance and speed of the dashboard improve, ActiveCampaign would have way more raving fans.
Pros
Affordability and range of features are probably ActiveCampaign's biggest strength when compared with other enterprise-level email marketing & automation solutions. Customer service is pretty good as well, usually expecting a response in less than 24 hours.
Cons
Overall performance and speed of the dashboard. Navigating to pages and making changes to data are not snappy enough, which sometimes can result in misconfigurations.
Reasons for Choosing ActiveCampaign
Mostly price and several unused features by Hubspot
Reasons for Switching to ActiveCampaign
Affordability
Industry: Online Media
Company size: Self Employed
Used

Weekly

for

2+ years

Review Source
---
Affordable Marketing Automation
As an online business owner, my email list is really the lifeblood of my business and one of my biggest monthly expenses. ActiveCampaign has been a great investment and a service I'm happy to recommend.
Pros
I've been an ActiveCampaign customer since 2017 and have recommended it to dozens of friends over that time. It's super powerful marketing automation and email marketing software, for a great price. (I believe I'm on their lowest pricing tier.)
I like that I can easily integrate forms with other email collection tools to drive sign-ups (LeadPages, Group Leads, etc.) and create personalized welcome sequences and automations for different segments of my audience. Deliverability and open rates are strong.
Cons
I have 3 main gripes.
First, the reporting is weak. It would be cool to slice the new subscriber data by form to see what forms were driving the most sign-ups for a given time period. The only available option is the lifetime of that form. Since I have 100s of forms at this point, it's sometimes hard to tell where a spike in new subscribers is coming from.
Second, the customer support is frustrating. There's very little proactive effort made to troubleshoot any issue and they make you jump through a bunch of hoops.
Third, I wish they'd bring back area code geo-targeting. A few years ago, ActiveCampaign would assign subscribers an area code based on their IP address. This was super helpful for hosting local meetups whenever I'd travel. Now it seems they only assign a city, which is better than nothing, but not ideal.
Reasons for Choosing ActiveCampaign
I was looking for more flexibility in segmenting my audience. And it was a bonus that ActiveCampaign was more affordable as well.
Reasons for Switching to ActiveCampaign
Of all the email marketing services I shopped, ActiveCampaign had the best combination of the feature set I was looking for, ease of use, and price.
Industry: Health, Wellness & Fitness
Company size: 11-50 Employees
Used

Daily

for

2+ years

Review Source
---
Customer Service & User Experience led me to leave after 7 Years
I switched to Convert Kit.
100X better interface, they do email automation and I can use it as a CRM even though it does not advertise itself as a CRM. Also, it is just a much more user friendly space, they have excellent customer service, chat works, emails get answered and I feel taken care of.
Pros
I used Active Campaign for 7 years mainly because I had not found another software that integrated email marketing & a CRM. Also, I gained alot of subscribers during this time and developed alot of automations, but I really feel like I could have done this with any other software, I attribute it more to my actions and not the software. The software itself was painful to use the entire time due to regular glitches in the email editor which is from the internet stone age.
Cons
Recently, the experience with customer service has gone downhill and my user experience has been less than acceptable for a company I pay over $100 a month to. The chat does not work, when I report problems, my emails are not answered.
The emails are clunky to create and I just find myself avoiding writing emails (which is not like me) just because the interface and software itself does not provide a smooth or enjoyable experience. Their email editor is OLD, and even though they just did an upgrade, it still is just not anywhere close to Convert Kit, which is what I decided to switch to.
I am loyal and I will stick with something, especially software for as long as possible, because migrating data takes so much time and energy. But I became physically unable to give one more ounce of my time or energy to this software.
I recently had multiple poor customer service interactions. I found myself being led down multiple unnecessary paths to fix issues unrelated to my problem. I had a sense that they have new people who don't really know what they are doing.
Industry: Arts & Crafts
Company size: Self Employed
Used

Monthly

for

6-12 months

Review Source
---
Active Campaign
I had tried using several other free email services in the past. Getting people to actually sign up was nearly impossible, even offering discounts and more, hardly anyone ever clicked "subscribe"- Active campaign allowed me to create a pop up window integrated with my website design, that will only pop up once on the main page for first time viewers (or until the cache is cleared). I also created a secondary sign up page where people can go to sign up if they missed the pop-up. This has taken me to large numbers of sign-ups, plus allowed me a way to integrate a 10% off coupon for subscribers after their email was confirmed. This has lead to numerous coupon uses of that 10% off in my store, proving the use of the pop up and offer. I send out monthly emails, keeping my subscribers informed and up to date on what is going on, increasing regular visits to my site and bumping regular sales. The email system is very easy to use.
Pros
The sole reason I decided to start a free trial with this software was because of the complete customization allowed for your email sign-ups and pop-up windows. No one likes to click though email sign-ups that look out of place or run by a 3rd party. With this I could create a system that blended seamlessly with my current website, allowing everything to look 100% integrated into the site itself.
Cons
So far the system has more functionalities than I will likely ever use. However, this is not a 'dislike'. While there are many functions I don't currently need (or understand) there may be a day that I use them, and there are several tutorials and documents available to help me understand these other features. Nothing about the system so far could qualify as something I dislike.
Reasons for Choosing ActiveCampaign
I do not have the coding ability to create pop-ups or many other interactive options. I built and maintain my own website, but my knowledge is limited. I needed a way to get people to actually SEE that I had a mailing list, and optional links and banners were not doing the trick. I also wanted everything to be integrated on my website, to match colors and themes and look like it belongs there.
Reasons for Switching to ActiveCampaign
I accidentally clicked the wrong link. I was initially looking for a free service, but after customizing the pop-up and integrating it into my website, I was glad I did and decided the quality of this product was worth the price.
Industry: E-Learning
Company size: 2-10 Employees
Used

Daily

for

2+ years

Review Source
---
Our company depend on this software
I have been using ActiveCampaign daily for several years now and it is one of the most important software we use in our company. I am very satisfied and I plan on using it for as long I stay in business.
Pros
Very easy and user-friendly. It doesn't require a huge and steep learning curve
Cons
Customer support used to be better before they grew up as big as they are now. They had a live chat on every page and we could ask for help easily. Now, the customer support page is buried and hidden and not as easy to find.