About ActiveCampaign
ActiveCampaign's category-defining customer experience automation platform (CXA) helps over 130,000 businesses in 170 countries meaningfully engage with their customers. The platform gives businesses of all sizes access to 500+ pre-built automations that combine email marketing, marketing automation and CRM for powerful segmentation and personalization across social, email, messaging, chat and text. Over 75% of ActiveCampaign's customers use its 850+ integrations including Microsoft, Shopify, Square, Facebook, and Salesforce. Pricing starts at just $9/month. - Automate personalized experiences across all your customer touchpoints - Track buyer preferences, behavior, and many custom attributes across the entire customer lifecycle for deeper segmentation and more effective outreach - Customize sends based on almost any parameter, so your messages are always targeted for the right audience - Use data from the entire customer lifecycle to choose the best content, send time, and delivery channel for each customer - Create entirely customized campaigns with minimal effort, then improve your send strategy in real time based on customer behaviors - Replicate the 1-1 personal experience for every customer, no matter how big your business gets ActiveCampaign offers free customer service, including live chat and phone support, a self-help knowledge base and complementary data migration from other programs. It also offers one-on-one consulting, expedited support and free custom design services for enterprise customers.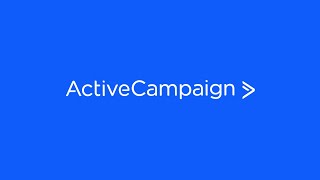 ActiveCampaign does not have a free version but does offer a free trial. ActiveCampaign paid version starts at US$15.00/month.
Starting Price:
US$15.00/month
Alternatives to ActiveCampaign
Industry: Events Services
Company size: 2-10 Employees
Used

Daily

for

2+ years

Review Source
---
Best Value For Your Email Marketing Channel
In the 8 years that I've been setting clients up it's been worked great. The first client that I setup, still uses it! The features and options are what make AC our go to platform. Moving to AC often reduces our clients tech stack overhead.
Pros
The combination of the UI and all the features makes this a no-brainer for us. We can easily manage email marketing or set our clients up to do it. In no instance has this been a bad choice. Typically, what makes the difference from the existing platform is the automation features. Our clients get to benefit from automated workflows gaining more engagement without additional costs.
Cons
I only would like for the dashboard to be more customizable and lead data driven. I think the reporting can be presented better.
Reasons for Choosing ActiveCampaign
Mailchimp - ease of use, Pardot - ease of use and costs.
Reasons for Switching to ActiveCampaign
Features and costs.
Industry: Computer Software
Company size: 11-50 Employees
Used

Daily

for

1+ year

Review Source
---
ActiveCampaign is the most (arguably) the most popular for a reason
Any obstacle we have faced since migrating to this email software has been removed by their stellar customer service reps, who record screengrabs during your chat with them to answer questions. The software itself is the best we've experienced for email autoresponders.
Pros
Switching to ActiveCampaign has been a great business decision. Creating automations and flows triggered by customer activity has been a breeze and I commend their customer service for being readily available to answer any questions.
Cons
There is a large learning curve for this software. Many of their written tutorials on their website don't fully answer the questions I needed answered.
Reasons for Choosing ActiveCampaign
Our email deliverability was not as optimal as we wanted, which prompted us to do research into autoresponders that had better deliverability rates.
Reasons for Switching to ActiveCampaign
ActiveCampaign was more advanced and had better customization.
Industry: Marketing & Advertising
Company size: 2-10 Employees
Used

Weekly

for

6-12 months

Review Source
---
Don't use with Wordpress-Gravity forms, meager CRM
Had a lot of trouble getting support. Their chat responded quickly, but gave pretty abbreviated answers. Some of the questions took over a month to resolve. Kind of impersonal experience overall but I guess that's the deal with a large number of users and you aren't on some type of enterprise level pricing.
Pros
Many features and functions, good integrations and straightforward user interface
Cons
Does not work with Gravity Forms WordPress plugin as you can't really track interactions on your website unless you tag everything. Not sure if this is true for other external form programs, but make sure you check it out. Also, you can't receive individual emails at the contact level. Any contact you wish to interact with has to be made into a "deal" before you can receive an email and truthfully this requires quite a bit of setup. AC gets a bit pricey when you start adding a decent amount of contacts, but it's cheaper at the beginning than Hubspot, Pardot-Salesforce, etc. It also doesn't track anonymous users to the site, a small issue but nice to have that history when someone actually converts.
Industry: Marketing & Advertising
Company size: 11-50 Employees
Used

Daily

for

1+ year

Review Source
---
ActiveCampaign
Overall, I like this product and it has a lot of helpful features/ tools within the software itself. So if you plan on using ActiveCampaign for more than just one element then it's definitely worth the time and money to use.
Pros
I love that this software is just so easy to use on any level. Whether you are experienced with email marketing and automation or if you are new to the team and have never used it before. It's a simple click and drag or click to update etc. It makes it easy to get plenty of support from people on your team who just need to help to complete some simple tasks.
Cons
The thing I disliked about this software is it a little cluttered. There are so many features and it can be overwhelming if you are only using it for one specific purpose.
Reasons for Choosing ActiveCampaign
ActiveCampaign was more affordable for what we needed.
Reasons for Switching to ActiveCampaign
ActiveCampaign was more affordable for the tools we needed.
Industry: Health, Wellness & Fitness
Company size: Self Employed
Used

Daily

for

2+ years

Review Source
---
My favourite email list building tool
It's solid software with a lot of features and it's easy to use. The drag-and-drop approach when building "Automations" was key for me to go with AC.
Pros
I like how easy it is to automate the process of building an email list. I use a couple of "Automations" from adding tags to split test different email headlines. Most of the emails I send to my subscribers appear in the inbox/promotion folder and not in the Spam folder, which is critical to me. I already recommended AC to some friends, and they all enjoy it.
Cons
Maybe the fact that there is no free plan to start with and the support could be quicker sometimes.