About Apptivo
Apptivo is a cloud-based suite of applications designed to help small businesses manage a range of functions including financials, human resources and supply chain management. Apptivo's customer relationship management (CRM) applications provide modules for contact management, lead management, opportunity management and customer service ticket management. Marketing applications include campaign management, lead segmentation and loyalty management. Businesses can select necessary applications and omit applications they do not need. Other applications include expense reports, license and insurance tracking, sales planning and territory management, cash management and budgeting. Users can access Google app integrations for Drive, Calendar and Tasks, and mobile apps are also available. Pricing is per user per month, billed annually.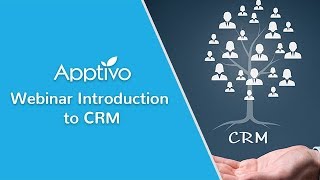 Apptivo has a free version and offers a free trial. Apptivo paid version starts at US$10.00/month.
Starting Price:
US$10.00/month
Used

Daily

for

2+ years

Review Source
---
Best Bang for the buck on the market! Adaptability and ease of use with scalability!
Functionality and accurate data collection that was flexible to meet my needs! Hands down the best solution on the market for the price point!
Pros
Ease of USE and layout modifications! The layout is so easy and adaptable to collect the information simply from other users. Databases are only as good as the information you put into them. Apptivo makes it so SIMPLE getting the info in and thus making it powerful!
Cons
Very few, because it is cloud-based they are constantly adding customization features and options and sometimes the functional icons show up in the Customization Settings of the Administrator and there is no documentation for the new functionality as of yet. I would much rather have this problem than them not update the customization functionality though. This database is unbelievably scalable and constantly improving!
Response from

Apptivo

Thank you very much for your kind words! We are working tirelessly to create the best experience for our users, and it's great to see that reflected in your review. We exist because of great customers like yourself! I am sorry to hear about the problems you faced and we are looking into that now. Please feel free to reach out to us ([email protected]) with any thoughts/criticisms/feedback, we would love to hear from you.
Regards,
Team Apptivo

Replied 12/12/2018
Industry: Construction
Company size: 11–50 Employees
Used

Daily

for

6-12 months

Review Source
---
Apptivo Training and Configuration Support
In general, a very positive experience. I have found the online "chat" support to be hit and miss, with a lot of the agents not having much knowledge in helping solve the problem at hand. Conversely, the "paid" configuration support has been generally excellent. My configuration support rep ("[sensitive content hidden]") has been a tremendous help in custom configuration assistance.
Pros
The "all-in-one" aspect of various business modules makes this more than just a CRM tool.
Cons
Some of the relationships between fields in the various modules do not work as advertised and/or need work-arounds in the configuration
Reasons for Choosing Apptivo
Prophet user interface (through Outlook) was lacking, plus it didn't have all the other customer interface modules (order management, work order management, etc.) that Apptivo has. In general, the user interface of Apptivo is far superior to Prophet as well as response times for entering / retrieving information.
Reasons for Switching to Apptivo
Far superior in terms of customer support, usability, and overall price.
Industry: Internet
Company size: 2–10 Employees
Used

Daily

for

6-12 months

Review Source
---
a powerful marketing tool
almost 2 years of use, I am more than conquered
Pros
it's easy to use and customizable, suitable for any type of business
Cons
I sometimes have small billing errors, but if not, everything's fine.
Industry: Health, Wellness & Fitness
Company size: 51–200 Employees
Used

Weekly

for

1-5 months

Review Source
---
Apptivo Review
Pros
It's a versatile product once you get over the hurdle of understanding the basics.
Cons
More connectivity with other applications is needed. A lot of extra development work is needed for many of the most used applications to be connected.
Used

Daily

for

1+ year

Review Source
---
Good but so much opportunity to be so much better
Pros
I can adapt it to my needs.
I feel that when I make a suggestion for improvement it will genuinely be listened to.
Cons
There are a lot of bugs - this is why I have marked the overall quality down. We are always creating something and then it crashes, or it wont save and we have to start again. Or emails never arrive which causes big problems. Whenever there are updates, something unintentional seems to get affected. Perhaps more testing before going live. It feels a bit unprofessional sometimes.
We can't test our own changes, so when I am updating things and people are using it, it can be disruptive. I really need to make changes and test before going live.
The support is not always perfect. Some times its great, but sometimes I am not understood. The right intentions are always there though.
Response from

Apptivo

Hi Mike,

The only way to achieve this would be to have another account that you can use as a test account. It wont have all your production data, but you can certainly use that to test out config changes.

For enterprise accounts (larger than 250 users) we do provide multiple dedicated environments as its pretty normal to have dev, QA and production accounts in that setting.

We are constantly working to improve the quality, while keeping the pace on new features. I totally understand when some of these new releases cause disruption to existing processes, but we are working to make these changes as seamless as possible.

Thank you for your feedback though. We'll continue to refine our execution.

Replied 11/10/2018