About DigitalChalk
DigitalChalk is a cloud-based learning management solution for small and midsize businesses. Primary features include e-learning, customizable course content, content library, track progress, reward and real-time analytics. Other features include mobile learning, SCORM compliance, shopping cart, video playback, import details and multiple language support. Using DigitalChalk users can track student progress and incorporate online tests and assignments. It provides a quick registration process and on-the-go training. The online courses are interactive with HD streaming videos and provide the ability to attach documents and files. The built-in HTML editor allows users to create online slides. Users can add audio and synchronize PowerPoint slides. It is offered in a subscription pricing option. Support is offered via email and over the phone. Other help options include user guides, knowledge base, blogs, FAQs, video tutorials and developer documentation.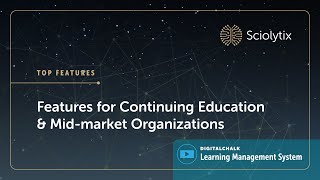 DigitalChalk does not have a free version and does not offer a free trial.
Alternatives to DigitalChalk
Industry: Management Consulting
Used

Weekly

for

2+ years

Review Source
---
Very powerful system. Lots of great stuff "under the hood" for admin staff.
Pros
Clearly created by people who understand and are interested in *real* online learning. Everything in one place - including a home for you video-conferences and off-net meetings - demonstrating that they think of the student and not just their own software/system. Not just a "collection of videos shoved into an online folder". A proper system. Exceptional support - lovely people with whom to conduct business.
Cons
The student interface looks dated (Dec 2017). To be fair to Digital Chalk they know this. I understand they have a major refresh planned, so by the time you read this that may have already happened.
Industry: Health, Wellness & Fitness
Company size: 51-200 Employees
Used

Daily

for

2+ years

Review Source
---
A+ Online Education Software
Our online diabetes education course is offered in the English language in the country of India, and in Spanish in the Central American Region. Our previous platform was astronomically expensive to host. After the one time small vendor fee, the platform costs the course fee that is paid by the students as they purchase the course. It couldn't be easier, or more cost effective. Revenue is processed monthly by DigitalChalk and wired directly to our bank account. Simple reports on the courses purchased are easy to generate for our accounting team to appropriately credit the revenue to the right program.
Pros
I love that it is so easy to build my own courses, receive feedback, grade assignments, and conduct needed reports on finances and student progress. I also love that when I write to the support team, they always respond within an hour or less. They are so helpful with links and screen shots of exactly what to do to fix a problem, and at times they've made corrections on my behalf.
Cons
There really isn't anything I do not like about the software.
Reasons for Choosing DigitalChalk
The other company's software was very difficult to manage. We had to hire a consultant to run reports and manage the courses because it was so complicated. In addition it was very expensive. DigitalChalk is simple to manage, operate, and administer as well as extremely cost effective.
Reasons for Switching to DigitalChalk
Features available, low cost, user friendly nature of the software
Response from

Infinity Learning Solutions

Hi Barbara,
Thank you so much for your great, thoughtful review! It's awesome to see that you love so much about DigitalChalk. We want to continue delivering that kind of experience to everyone who uses our learning platform, so if you have any suggestions on how we can make course delivery and reporting better for everyone, please let us know at [email protected] Thanks again!

Replied 14/01/2020
Industry: Health, Wellness & Fitness
Company size: 51-200 Employees
Used

Daily

for

2+ years

Review Source
---
Difficult to Navigate
Frustrating and not well organized, the search functionality is really poor. When we told our franchisees we were switching to another learning platform they literally cheered.
Pros
The terminology (courses, completion, etc) is fairly easy to learn, and the menu is pretty clear overall. The customer service people are lovely.
Cons
The search function isn't functional. I spend a lot of my time fielding questions from our owners and teachers about how to find the things they need, and on the flip side of that I often run into errors loading materials that mean I need customer support.
Used

Weekly

for

2+ years

Review Source
---
Easy to use, logical and foolproof
Pros
As the course designer and business consultant, I was keen to find a software that I could understand and not be reliant on others if something went awry.
I chose Digital Chalk and, despite my fears, found it intriguingly easy to set up and use.
Three years later, I chose it for a national peak body's accreditation system after looking through the range of new products. Given that I would have to hand it over once developed, I needed a foolproof system that could grow with the education program. I had a two page 'criteria/description of how I wanted it to work' and only Digital Chalk answered it (the next day). It links with Shopify which is also easy to use (especially the seamless link to cloud-based accounting packages that generate a range of management finance and sales reports).

I've needed a couple of features, like product bundling, that Digital Chalk developed.
I'm now developing courses for an organisation with a legacy system. The patched LMS is a nightmare. We have to wait for 'attention' from IT; we're not 'a priority'; the navigation is annoying; we keep being told that 'IT knows best' and I ask: 'Why do people put up with this?' I'm also tutoring at university and find it interesting to monitor the range of 'bells and whistles' that few use. With Digital Chalk you can spend your valuable time on design and content - what matters most.
Cons
I've found a couple of glitches - like a large clock counting down in the exam - which were caused by my settings or by using the default settings - so check that what the students see is what you want.
Best product, in this category, on the market
DC is by far the best in its class. It is designed (in my opinion) for fully automated online courses. If this is what you want to do...I cannot think of anything better.
I am an odd user of the program and have high demands (teach software with large file sizes). DC is great for distributing (and protecting) my lectures, but for my particular requirements, I needed to pair DC with Moodle.
Digital Chalk has been one of the best companies I have ever worked with. They even quoted to create custom applications to work with our in-house systems. They have been completely fair with me and have greatly increased the quality and enjoyment of my job.
I have been using the program for 2 years and am running on their newest platform. The update was dramatic. I expect great things to come with future updates and am positive that this company will adapt to their users.
Excellent work.
Pros
Instant setup, begin uploading your course in seconds. Very fast and rarely down (I have been using the site daily for almost 2 years). EXCELLENT customer support - never seen anything like it. Questions are answered immediately, bugs are fixed, and sometimes they just do it for you.
I use 400-500MB files - videos upload quickly and logs notifications.
I cannot say enough great things about the customer support. Very nice, very helpful - motivated and energetic people.
When I have students drop, they take care of the refunds and fix problems very quickly
I give DC 3 stars for meeting my needs, but 5 stars for protecting my work as a non-regular faculty member at a university. I feel motivated to better my lectures knowing they are protected and are controlled by me
Cons
no option for just publishing as an eBook (for an addition to an actual class)...but I use DC for an actual university class, not a purely online course.
Does not have BlackBoard/Moodle integrated features (video chat, blogs, forums, etc.). No ability to edit documents online...but again, this is not what DC was designed for. Does not have the diversity of testing questions as Blackboard does.
500MB video limits...I teach software and need high resolution. Students do occasionally complain that it is difficult to see some of the details. For my courses that are power-point/video driven...no complaints whatsoever.