About Notion
Notion is a digital workspace that lets small to large businesses streamline and manage notes, tasks, projects, records, calendar and more. Key features include portfolio tracker, designer templates, database management, documentation and data export. Deployed on a web-interface or on-premise platform, Notion provides businesses with a product roadmap, task lists and repository patterns, streamlining project workflows, from initiation to completion. It provides mobile applications for iOS and Android devices, which let users view and manage completed, in progress and not started tasks, even from remote locations. Additionally, it allows businesses to collaborate and perform team tasks, share meeting notes, update project expense report and maintain benefits/vacation policies. Notion comes with an application programming interface (API), which lets businesses integrate the system with several third-party integrations such as Google Sheets, Twitter, Figma and more. Pricing is available on a monthly subscription and support is extended via email, phone and documentation.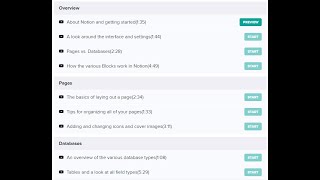 Notion has a free version and offers a free trial. Notion paid version starts at US$10.00/month.
Starting Price:
US$10.00/month
Industry: Marketing & Advertising
Company size: 2–10 Employees
Used

Daily

for

1+ year

Review Source
---
The best and worst of Notion
Overall it's a great app, I just wish it would be faster and also easier to navigate.
Pros
Notion is an extremely flexible software. Thanks to their databases and multiple views like calendar, Kanban, tables and lists. I found it to be extremely intuitive and fun to use. I can definitely see how it could replace a google docs and be a central place for your team.
Cons
So the big elephant in the room... Notion can be slow at times, especially when using it on my phone. I would spend a lot of effort just trying to switch between pages. When I would type in it I felt that my text was not in real time. Also on Mobile sometimes I couldn't highlight text due to a bug on their side. This goes against the productivity it is trying to create.
Also the way it works with folders, it very quickly becomes far too many different places and I would need to think about where I need to put the specific note I'm working on, vs actually just writing the note. I think that it would be far better if notion stopped relying so much on folders and rather just made their search and internal linking more streamlined.
Industry: Health, Wellness & Fitness
Company size: Self Employed
Used

Daily

for

2+ years

Review Source
---
Notion just keeps getting better
Microsoft is trying to copy Notion via Loop, but I am a fierce loyalist and will not give up Notion for any competitor.
Pros
Notion product development is top notch. New highly usable features keep getting rolled out.
Cons
Although there's a Notero work-around, I'd still like a Zotero seamless integration, please. Also, although embedded PDFs are very satisfactory, it will be amazing if users can annotate PDFs within Notion.
Industry: Publishing
Company size: 11–50 Employees
Used

Daily

for

6-12 months

Review Source
---
A more doesn't mean always a better
Like many others: I am a migrant-from-evernote-to-notion user.
So I really feel a difference. Evernote become with time a boring routine. You ended up konwing all what the software capacities without a horizon you can looking for. Evernote blog is a good resource but it is not enough for me.
The comparison with Evernote is critical for me. So I can tell you that Notion provide you all what Evernote offer plus a not-so-boring journey during using the product.
Pros
Without doubt its ubiquity (they claim you can organise anything within it) is incredible.
Cons
User experience is not that good. It is not comfort for the eyes.
Too many options.
Too many features.
Need time to learn and use and you ended up reexplain that too many time to your team OR you must buy Khe course about that product. And it's something you should really consider into your calculation of what that software cost.
Reasons for Choosing Notion
Coping the new trend Notion Trying something new
Reasons for Switching to Notion
Notion is the newer product in this niche so its team study well their competitors and make something avoid the weaknesses of the old products.
Industry: Information Technology & Services
Company size: 2–10 Employees
Used

Daily

for

1+ year

Review Source
---
Daily Use - Extremely Great For Documentation/Knowledge Base
It is a great product. We use it daily and it's our go-to tool for everyday use of reference or information storage.
Pros
Being able to centrally store, categorize, navigate, search and share knowledge base. It is extremely important to store documentation for both internal use and the client in my current working model.
Cons
The app is getting heavier and slower. What I like least about the product is that it is slows down considerably as more and more data or information are stored within. This is the main reason why I only store/share files with embedded links to my other cloud storage. This because even with just text, the user experience due to slowness is sometimes quite frustrating.
Reasons for Choosing Notion
Lost of data on Evernote and was not able to bring them back. This was a long time ago, and I never turn back. As for MS OneNote, I still like it but Notion simply has a lot more user friendly functionality. But if Notion continue to be slow, I might just switch back to MS Note.
Reasons for Switching to Notion
The many functionalities available on Notion compared to OneNote.
Industry: Sports
Company size: 2–10 Employees
Used

Daily

for

2+ years

Review Source
---
powerful for large projects, visual organization and very fast
I started a few years ago in notion and every day it has more options and the information is better related, so it is becoming a very complete tool to manage projects from the beginning to the end.
Pros
The thing I like most about notions is that in a few hours you can organize a lot of material and the other workers can access and understand all the information and the most important think is thatc olleagues can use it without prior knowledge in notion
Cons
The thing I like least about notions is that sometimes it is difficult to find the tool you need since there are many options, but I prefer that than not having options
Alternatives Considered
Trello
Reasons for Switching to Notion
It has more functions and the information is organized more easily, being able to visualize all the topics that we need