About Eduflow
Eduflow is a learning management and training platform that helps corporate training providers and higher educational institutes streamline processes related to assignment reviewing, course creation, progress tracking, and more on a centralized platform. It enables staff members to set up course and activity prerequisites and deadlines to optimize student performance. Eduflow enables educators to utilize a drag-and-drop interface to build interactive courses with custom text, images, files, and videos. It provides a built-in discussion forum, which allows learners to add comments and collaborate on activities, assignments, and ideas. Additionally, administrators can set up customizable branding, configure permission rights, and create authentication protocols, whilst maintaining compliance with CSPC, FERPA, and GDPR guidelines. Eduflow enables organizations to use Zapier and an application programming interface (API) to integrate the platform with several third-party solutions, such as Microsoft Teams, Mailchimp, Slack, and more. It is available on monthly and annual subscriptions and support is extended via live chat, documentation, email, and other online measures.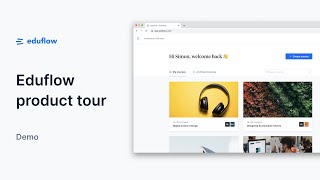 Eduflow has a free version and offers a free trial. Eduflow paid version starts at US$100.00/month.
Pricing Details:
Eduflow comes with 4 different plan types: Free, Lite, Pro and Premium. The free plan is perfect for small teams, and larger teams testing out Eduflow. The Lite and Pro plans ($100 / month or $400 / month) can be purchased without talking to a sales-rep and will allow you to run learning experiences with 100 or 250 participants per month. In addition, the Pro plan allows you to use our API, customize the look and feel and much more. Eduflow Premium is the perfect plan for larger institutions who want all the features, custom functionality and support, or who have more than 250 monthly active learners. Reach out to get a quote for Eduflow Premium.
View Pricing Plans
Industry: E-Learning
Company size: 10,000+ Employees
Used

Daily

for

6-12 months

Review Source
---
Creating a culture of feedback and authentic practice
Pros
Eduflow is extremely user-friendly, both from a content authoring and learner experience perspective. We have been able to integrate Eduflow with our LMS, which allows for seamless enrollment and completion tracking. Additionally, we have been able to scale our virtual training program thanks to Eduflow by using the peer and instructor review activities paired with group discussions and practice opportunities. Some of our programs view Eduflow as the one-stop-shop for learners, creating multi-week experiences in the platform. Eduflow now functions as our peer-to-peer social learning platform where we create personalized learning experiences for our learners that foster authentic skills application and practice opportunities.
Cons
While there have been things that have come up as bugs or potential feature improvements, the Eduflow support team is always extremely accessible and responsive, and provide ample channels to provide feedback to improve the product. The experience with Eduflow has been fantastic!
Response from

Peergrade

Thank you for the review Laura! It has been a pleasure collaborating with you and the broader teams at Google to deliver exceptional, high quality learning experiences. We are looking forward to rolling out more programs in 2021!

Replied 28/12/2020
Industry: E-Learning
Company size: 11-50 Employees
Used

Daily

for

6-12 months

Review Source
---
Eduflow has allowed me to free my time while increasing the quality of learning
10/10. It is a phenomenal product.
Pros
How intuitive the platform is. Before eduflow we were using a variety of tools such as drive, slack and github to teach our courses and frankly, it was caotic. This has enabled us to centralize it all in one place.
Beyond that, I really appreciate the automated reports to figure out which students are lagging behind as well as the peer-learning features, that have allowed me to empower the students to teach each other instead of always relying on us for corrections. Due to the nature of what we teach, there is never a clear black / white answer and having peer feedback is fundamental to the way we now operate.
Cons
There are some great features that are not easy to find at the first glance but you end up figuring them out by a) constant use or b) the great customer support by the eduflow team. Perhaps having webinars from other educators to showcase how each is using the platform could be a relevant addition.
Reasons for Choosing Eduflow
Our course is cohort-based and each day is built on the last. However, in terms of learning and content, it is better centralized in one place (eduflow) in which it can be accessed in a direct manner. Slack + Github was just too chaotic for our students.
Reasons for Switching to Eduflow
Eduflow has a fixed pricing and doesn't take a cut on the revenue. Besides, their platform has much more to offer than the other competitors.
Response from

Peergrade

Thank you so much for the review Jan!

Replied 12/01/2021
Industry: Education Management
Company size: 501-1,000 Employees
Used

Monthly

for

2+ years

Review Source
---
Time Saver and Great Learning Opportunity
This has both saved me loads of time and increased the quality student work significantly. No only do obvious mistakes get fixed before I see them, but students are more conscientious about their work knowing their peers will see it.
Pros
Being able to get all my students looking at each other's work and having accountability for what they are doing has helped their thinking skills and social interactions.
Cons
It took some trial and error for me to figure out some of the best features so I needed to do small-scale roll outs at first so that I didn't make more work for myself later.
Industry: Computer Software
Company size: Self Employed
Used

Monthly

for

1-5 months

Review Source
---
Best tool for online courses
It makes it easy for me to teach my students
Pros
The most recent update to the content creation process resulted in a significantly improved experience while trying to create the course.
Cons
Despite our repeated emphasis on the importance of peer review, the peer - reviewed activity is frequently ignored.
APIs are still very basic, and it is not possible to link via Zapier (but it is possible, that also makes very little sense to our group).
Because filtering actions by type is not allowed in the report page, we had to develop an external dashboard.
Industry: E-Learning
Company size: Self Employed
Used

Weekly

for

1+ year

Review Source
---
A great LMS for teachers and trainers
I really like the organization and management system of this software. I think it is also one of the most aesthetic ones. It's easy to use and it has many great features as peer-grading and content-only activities.
Pros
It's really intuitive, you can learn how to use the main features in a little time and it has a great support service.
Cons
If you are a course creator and you want your own online academy, I think you may have better options. With no possibility to create a well-done landing page for your site nor courses, it would be difficult to manage the platform for this purpose. Learning-management only.
Reasons for Switching to Eduflow
It has the most aesthetic and adaptable model I've used. I love how you can combine and organize activities.
Response from

Peergrade

Thanks a lot for your kind review Wender! Great to hear also that you are a fan of Eduflow's aesthetics, our design team works hard everyday to put this into practice. They definitely appreciate hearing your feedback!

Happy to be able to support you and your learners with Eduflow. If you have any additional feedback to share, you know where to find us!

Replied 19/08/2021