About GoFrugal
GoFrugal POS is a hybrid point of sale (POS) solution that helps retailers across various industries, to manage their distribution and billing routines and automate financial transactions. The solution can be deployed either on-premise or hosted in the cloud. GoFrugal's inventory management module allows users to generate inventory reports, fill orders for customers and set up automated ordering. Users also have access to a central customer database, which helps them track purchases, payment histories and personal details about customers such as birthdays and anniversaries. The point of sale (POS) module allows users to award sales commissions, apply discounts to items and set security levels for different employees. GoFrugal also has a retail accounting module with a general ledger, accounts payable and accounts receivable features. Users can also process payroll in this module. GoFrugal is licensed either on an annual or semi-annual basis. Mobile apps are available for Android and iOS devices. Support is offered via phone, email and an online knowledge base.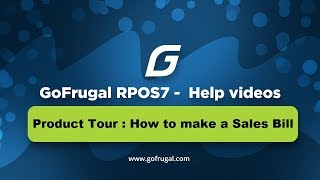 GoFrugal has a free version and offers a free trial.
Industry: Retail
Company size: 11-50 Employees
Used

Daily

for

2+ years

Review Source
---
Good Software with decent customer support for Retail Book Trade having a Mid Tier Pricing...
My overall experience with GoFrugal has been good over the years.
but "Thank God", they stopped partnering with other local companies to sell their product in the market. At the time of installation 5 years back, it was a nightmare, their local vendor only knew how to install the product but not how to train us in moving our age old business procedures and techniques to the GoFrugal Platform. I was seriously considering of cutting my losses and moving to Tally. But I am now realizing that I am much better off with GoFrugal as my partner;
No doubt there were initial hiccups but even though they started their business from Pharmacy Vertical, they have currently tailored their product for Book Trade pretty decently.
GoFrugal has saved us a lot of time, effort and money over the years and helped us grow.
Pros
1. Ease of Use - The Menus and Navigation for billing are quite simple making it easy for even our support staff to jump in and help during peak hours.
2. Robust - We have been using RPOS 7 since the last 5 years and there has never been an SOS situation
3. Customer Support - During there initial years they were struggling in this aspect but since the last couple of years they have become better but there is room for improvement.
Cons
1. YouTube Videos are helpful to some extent but they don't update their help documents repository.
2. Most of the times when I contacted customer support there first suggestion will be please update to the latest build and hope this has been fixed, even after I have told them, I recently updated.
3. There are only a few knowledgeable customer support executives who immediately can figure out your issue and have the solution ready for you. For others they need to train more thoroughly. "I do not want to know the cause of my issue but the solution"
Reasons for Switching to GoFrugal
Features and Pricing
Response from

GOFRUGAL Technologies

Thank you for your review. We will get in touch with you to understand more in detail on how to improve our ratings

Replied 28/04/2021
Industry: Retail
Company size: 51-200 Employees
Used

Daily

for

2+ years

Review Source
---
A few suggestions that can benefit all your clients
Overall, I'd rate the experience a little above fair. I have shared a lot of suggestions and the discussions are not being taken very seriously. Some essential features are still needed in the software which can definitely make this one of the best software in the industry. Some existing features are not complete and they are blunt. They can be improved by taking direct suggestions from the customers' experience. A recent happening was regarding the ORDER EASY APP. There were a lot of glitches in the app but it was very hard to commincate with you and I had to spend a lot of time and money to develop a new app with other company. I will be happy to share more views on the Gofrugal product and improvement suggestions over a google meet if possible. You may contact me over my email if you are interested.
Pros
I like the many solutions that this software has to offer. A lot of the solutions that come along are really great and make the work easy. A lot of the common issues being faced in the FMCG retail sector are already addressed in the software. Also, I would like to appreciate the kind and respectful attitude of all the staff, especially, [SENSITIVE CONTENT HIDDEN]. However, improvements are needed in a lot of areas.
Cons
Yes. Definitely. There are a lot of features that can be updated and a lot of other modern features are to be included as well.
1. A lot many offer management scheme exists. But majority of them are useless for HQ customers having central pricing and offer management. As we have multiple outlets, we are unable to work out offers for our customers centrally. Most of the offers can be set only in the RPOS which is not the way forward. Also in today's market offers using promo codes must be made available.
2. There is no real solution to handle damaged products. Practically, the process is a lot more complex one than just transferring it to a sub location and using the wastage entry module in the software. This creating a lot of financial trouble for us.
3. No way to bulk update Markup/Markdown price setting for products in HQ.
4. No way to identify the minimum/maximum stock level of the products as a variable. The minimum stock level for 20000+ products cannot be determined easily and varies outlet to outlet, product to product. These values must be picked up from the sales data of the product. Also, there is no notification or interface to know the stocks approaching zero and order them before approaching zero.
5. No way to print shelf price cards for products directly from the software after purchase entry so as display them on rack.
6. Big lag in solving issues. When an emergency situation arrives there is no point of contact to solve it asap.
Response from

GOFRUGAL Technologies

Thank you for sparing your time and sharing the review. We definitely look into your feedback and work on it

Replied 28/04/2021
Industry: Retail
Company size: 2-10 Employees
Used

Daily

for

1+ year

Review Source
---
GoFrugal is the Best
Product is good, but as i mention RPOS ticket management needs to be less annoying for customer. Please assign a single support agent or atleast capture history of issue for the new agent to review and then connect with customer. Example softwares like sales force, Freshworks capture history of customer issue properly and be it any agent they all talk to customer from last communication thread. RPOS is used by NON IT people with basic IT knowledge, hence things should be made easier for trouble shooting issues at POS.
Pros
There are a lot of features which i like about the software. The best one which i like is Go Sure App for Stock Taking and Audit. I would also like to highlight the HQ, which is an awesome feature. The team of HQ support is amazing and well qualified to solve the issues. SPECIAL THANKS to [SENSITIVE CONTENT HIDDEN] for their best support.
Cons
I think every thing is fine. Issue Management of RPOS with RPOS Support Team could be improved. My Experience is that i have to explain the whole issue again to the support team as the support agent changes every time.
Reasons for Switching to GoFrugal
All features were available at affordable cost.
Industry: Retail
Company size: 51-200 Employees
Used

Daily

for

2+ years

Review Source
---
Easy to use feature packed software within budget
Pros
The first benefit one will notice while using this software is its ultra short learning curve with easy to use features and a host of options to choose from. This is just the beginning, pros also include good support from their assure care team and a timely resolution of of the reported issues in most of the cases. There is also an added benefit of development support for any customisation or personalisation requirements. The HQ portal consists of a host of analytics and reporting tools to ease MIS and business intelligence needs.
Cons
With all the the benefits and features currently offered I feel there is still scope of improvement by adding up to the existing ones. Many other competitors in this segment of retail ERP is strategically partnering with many a lot of third parties to offer free integration from the ERP end. A similar list of strategic partnerships with Gofrugal is hopefully under development or yet to be developed. Focusing on this area may have a positive impact on customer satisfaction as well as business development.
Response from

GOFRUGAL Technologies

Dear Soumya, Thanks so much for your feedback! We're really glad that you are enjoying our product and service. Yes, we have worked along with the third party payment, CRM integrations, you can get in touch with Ushatirtha Das and discuss on it.

Replied 20/04/2021
Industry: Retail
Company size: 51-200 Employees
Used

Daily

for

2+ years

Review Source
---
Fast updates on government mandates and custom requirements.
Safe and Good.
Pros
Easy to use and good overall features, satisfying our large format Pharmacy Chain use.
Cons
When need to fix issues or change settings ,getting the right Support agent who sepecilises in the particular issue takes time.
Need to patiently explain whole thing to newbie support agent (who will know nothing) till they connect to senior staffs who will solve in minutes. It will be better if they route to senior experts immediately by issue area.
Reasons for Switching to GoFrugal
Had more features with options for scaling and customization than alternates. TS enterprises ,the distributer explained everything very clearly to satisfaction.
Response from

GOFRUGAL Technologies

Thank you for sparing your time and sharing the review. We definitely look into your feedback and work on it

Replied 28/04/2021