About ActionR
ActionR is your secure action register software for managing complex, multi-team tasks in a single, unified database. ActionR's powerful and extremely flexible features keep businesses in control despite the challenges of managing complex teams and diverse stakeholders across multiple geographical sites. Its cloud-based technology is more secure than traditional spreadsheet-based solutions while providing multi-platform access on desktop and mobile devices from anywhere in the world. Choose ActionR to track live communications and manage your tasks and actions from anywhere, at any time.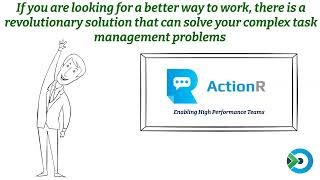 ActionR does not have a free version but does offer a free trial. ActionR paid version starts at €22.00/month.
Starting Price:
€22.00/month
Industry: Marketing & Advertising
Company size: 2-10 Employees
Used

Daily

for

1-5 months

Review Source
---
ActionR
It enabled us to completely streamline our project management processes, both internally and externally. As a manager it's been a dream for me personally, enabling me to zoom out and view ongoings at a topline level whilst also being able to zoom in and keep track of all the granular details.
Pros
Literally everything we wanted from our Project Management platform. Great user experience, functionality, ease of use.
Cons
Initially not being able to book meetings through the software and instead having to do this separately was something that wasn't completely ideal, but this functionality has since been added and in fairness it looks to me like the team here are really on the ball and are continually improving and optimising this platform. I see new integrations and added functionalities being added all of the time and anytime I've needed them they have been really quick to get back to me.
Response from

Plimso

Thanks for your review Bobby.
We have now incorporated an automatic meeting function with capability for the Project Manager to run meeting with relevant teams and the system automatically generates reports and emails to all active users of ActionR.
We are also in the process of adding more enhancements for providing graphics on the reports, and including capability to set and monitor KPI's for the team

Replied 01/10/2020
Industry: Pharmaceuticals
Company size: 2-10 Employees
Used

Daily

for

1-5 months

Review Source
---
Great Tool, easy to implement and use. Scalable.
My company was engaged by a major multinational pharmaceutical company to setup a multimillion-euro project in Europe. We had project team members located in the US and Europe and in several countries within Europe. The team where split across multiple companies, all with different IT systems and the use of a cloud-based system meant everyone could access the service without tripping individual company security and IT practices. It also meant there was no huge upfront cost or workload installing servers and software or setting access controls.
The software was easy to use, and the subscription model meant that we could add users easily as the project progressed and the team grew. User management was easy, and it was easy to assign roles to users, so the project team controlled who accessed what, without needing to raise helpdesk tickets
The software tracked actions by each user, sent email reminders, produced reports so progress could be tracked.
Generally, it is a good piece of software that does its job well and made life easier for the management team on the project.
Pros
Once set up the ActionR software can be accessed from anywhere - either by a browser or via dedicated apps on iOs and Android. The look and feel is as similar as possible across the platforms. It was extremely scalable with the "pay per user" model we just added people when we needed them.
Cons
The product is still evolving and new features where being added constantly, this meant we weren't always aware of all the capabilities or how to access them.
Response from

Plimso

Thanks Ian for your detailed feedback listing all the beneficial features in ActionR.
We are constantly striving to enhance the ActionR package and we are currently working on getting a Kanban view, adding time-tracking for each task and providing pie-charts on reports and meeting reports.
We are hearing from our clients

Replied 12/10/2020
Industry: Pharmaceuticals
Company size: 10,000+ Employees
Used

Daily

for

1-5 months

Review Source
---
P.Duffy User Review
Very good tool that I am looking to expand the use of.
Pros
Ease of use, nice summaries. It could develop into a very powerful Project Management tool.
Meeting minutes and notes functions are nice.
Cons
Visibility is hidden from many users. It is difficult to get holistic views. It is currently set up to track actions only but could easily be configured to give more beneficial project controls information.
Next phase functionality is displayed but not usable.
Response from

Plimso

Thanks Padraic.
We are constantly working to enhance additional features on ActionR. We are including features of time tracking for each task with capability to set and manage individual team members KPI.
We are also in the process of incorporating Kanban view which will provide task status more visibly on the table.

Replied 01/10/2020
Industry: Biotechnology
Company size: 10,000+ Employees
Used

Weekly

for

1+ year

Review Source
---
ActionR recommendation
My experience with ActionR has been very positive, I would like to use it for all future projects as it provides a one stop shop for essential project management communications and action/decision tracking.
Pros
ActonR is a very smart tool for handling essential project management action registers. It's a user friendly system which simplifies issuing of meeting minutes and status updates.
Cons
Having to log in to another system is the only drawback. Having access via Teams would make it even more user friendly.
Response from

Plimso

Thanks for your review Tom. We value your feedback and check how to incorporate this software in Teams. We are constantly improving and adding additional features. Thanks for your support

Replied 12/10/2020
Industry: Pharmaceuticals
Company size: 10,000+ Employees
Used

Monthly

for

6-12 months

Review Source
---
My experience on the use of ActionR.
ActionR is an excellent tool for Project Management .It has helped me in effective Project Monitoring throughout the project lifecycle.
The review mechanism during the project design phase, C&Q phase are lot more focused and fruitful.
It also helps us to prioritize our actions based on the business need.
Pros
As a project Manager ,the Action register has helped me to review and manage the issues with the external vendors and internal teams more effectively .Every action is time bound and we get an alert that the action is due and needs to be responded/addressed.
The ActionR is very easy to operate and user friendly.The good part of this software is that everything is documented and there is no need for any separate Minutes. Moreover there is harmonization/standardization interms of the reports/discussions with different teams/vendors/contractors.
Cons
I don't see any cons in this software at the moment. This is a wonderful and robust tool to focus on the issues/actions prevailing and work towards finding a solution.
Response from

Plimso

Thanks Bhushan for your feedback and glad you are enjoying working with ActionR package

Replied 01/10/2020