About InvGate Service Desk
InvGate Service Desk is an IT service management platform that offers help desk request fulfillment, customer service and support and self-service knowledge management. The system is compatible with Mac, Windows, and iPad (or other tablets), and can be purchased outright as an on-premise option, or SaaS, with an annual reoccurring fee. It is customizable depending on the needs of the company. InvGate lets users create trouble tickets, run advanced reports and view analytics and automate workflows. Its drag-and-drop and drill-down functionality allow data to be accessible to all members of the team. The solution offers features such as ticket management, knowledge base, problem management, change management, reporting and analytics. The built-in analytics tool uses OLAP approach to deliver data and information in real time. InvGate also offers web self-service capabilities, so staff can track the progress of trouble tickets, search the knowledge base, and promote self-resolution to IT service requests. Support is available via online portal and phone.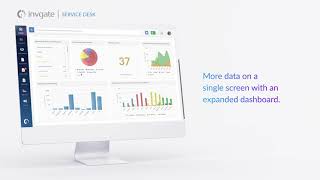 InvGate Service Desk pricing
InvGate Service Desk does not have a free version but does offer a free trial.
Starting Price:
Not provided by vendor
Pricing Details:
Receive a customized price quote based on the licensing model (On-Premise or SaaS), the number of Service Desk agents, and the number of assets to be managed.
Alternatives to InvGate Service Desk
InvGate Service Desk Reviews
Industry: Information Technology & Services
Company size: 1,001-5,000 Employees
Used

Daily

for

1+ year

Review Source
---
This the best Helpdesk cloud based software
We were a company which, being a provider of IT services, presented many problems associated with the service to our external clients, which is why after defining a strategy for the implementation of a help desk.
After evaluating several solutions from the market, we made the decision to use Invgate Servicedesk since in addition to being aligned with ITIL, it allows the implementation of a service table in a quick and friendly way, the reports are quite detailed and the best is the gamification.
Pros
Currently we are working to relaunch our help desk, because after the good reception of the clients we saw the need to adjust several additional options of the product.
Cons
No Mobile App available for the users Android and IOS
Industry: Computer Software
Company size: 2-10 Employees
Used

Daily

for

6-12 months

Review Source
---
Stunningly beautiful yet powerful!
We wanted a Service Desk solution that is easy to use and yet can accomodate complex workflow, InvGate Service Desk can answer all of these.
I have used ServiceNow & Heat, those products are very verbose in terms of wording. InvGate SD is concise less word but more to usable actions.
I would recommend this highly to other people looking for ITSM solution.
Pros
- Easy to setup and easy to understand on daily usage, the relations between grouping, help desk and catalog is superb.
- Query builder is the one I like most, consistency across the system, you learn once and you can use similar familiar query.
- Gamification is fun!
Cons
Built-in integrations to other platform or service is somewhat rather limited. But workaround for webcall and inbound API is welcome.
Reasons for Choosing InvGate Service Desk
Too complex, cluttered menu and hurt my eyes.
Reasons for Switching to InvGate Service Desk
Too complex, cluttered menu and hurt my eyes.
Industry: Information Technology & Services
Company size: 201-500 Employees
Used

Daily

for

1+ year

Review Source
---
Un antes y un después!
El uso de esta herramienta ha marcado un antes y un después al equipo de trabajo. Tener toda la información centralizada en un sólo sitio y que sea de fácil administración ha sido un éxito.
Pros
- Sencilla de implementar. Todo está parametrizado.
- Altamente usable. Tanto para amdinistradores como para los usuarios.
- Incorporar automatizaciones es muy sencillo.
- El soporte del equipo de Invgate es excelente, desde el customer sucess manager, hasta el personal de soporte.
- Están abiertos a feedbacks, ideas, lo cual fortalece la relación-proveedor.
-
Cons
Estadisticas de los artículos del KB puede mejorarse significativamente.
Industry: Primary/Secondary Education
Company size: 501-1,000 Employees
Used

Daily

for

6-12 months

Review Source
---
InvGate Service Desk Review
InvGate is a pretty good product overall. There are a lot of little annoyances, but if they were to fix these, it could be a pretty great product.
Pros
Affordable
Easy to setup
Ability to use variables when creating a ticket
Ability to add observers and collaborators to a ticket
Easy to do things like reassign and escalate
Cons
No Due Date field unless you use SLAs
No ability to delete a comment or edit a comment
If you add a comment before selecting Solve (which ultimately closes the ticket), you have to enter your solution again and select Solve for your solution to show up as the resolution
If you added a comment to a ticket when the owner has an out of office notification turned on in their email, the out of office email would create a new ticket
When printing out a lit of tickets for a user, the font is so small, it's hard to read. Took me a while to come up with a roundabout way to do it so that it was easily readable.
Each comment in a ticket doesn't have the day and time the comment was made. You get more general time stamps like "14 hours ago", "2 weeks ago", or "a month ago". Would be useful to know the date and time so that you can tell if something was done at the end of the day or the beginning.
Industry: Warehousing
Company size: 51-200 Employees
Used

Daily

for

1+ year

Review Source
---
Service Desk has made our support manageable
Despite it not being perfect, Service Desk has changed our support queue from being unmanageable to having everything tracked in one place, with time stamps and a request is never missed. Setup could be easier, but once complete, I would highly recommend this to a company looking to streamline their end-user support.
Pros
-Very good end-user experience
-Never miss a request
-Integration with JIRA
-Application integration (widgets)
Cons
-Setup is tedious
-Getting the correct permissions for all agents/users is a frustrating experience
-Somewhat confined to canned reports with little customization
Reasons for Switching to InvGate Service Desk
It integrated with our existing Atlassian Suite