About Sage 100 Contractor
Sage 100 Contractor, formerly known as Sage Master Builder, focuses on the needs of small to mid-sized construction companies, including general contractors, service or specialty contractors, and home builders. A great fit for construction companies that have outgrown generic accounting software, Sage 100 Contractor manages all phases of construction and service management in one easy-to-use, integrated solution. With easy access to critical business and project information, Sage 100 Contractor helps small to mid-sized contractors manage business operations more effectively. Features like a customizable dashboard and work center, email alerts, and instant access to project status and profitability details ensure contractors always have a clear view of the full picture. Sage's network of business partners, consultants, and support representatives, all specialize in the construction industry with decades of experience helping businesses improve construction financial management processes and results.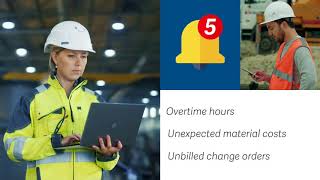 Sage 100 Contractor pricing
Sage 100 Contractor does not have a free version and does not offer a free trial.
Starting Price:
Not provided by vendor
Pricing Details:
Requires 12 month commitment.
Alternatives to Sage 100 Contractor
Sage 100 Contractor Reviews
Industry: Construction
Company size: 2-10 Employees
Used

Daily

for

2+ years

Review Source
---
Sage Helps
We started in 1987 with The Master Builder; which was purchased by Intuit; which was purchased by Sage and became Sage 100 Contractor. So we have grown up with the great grampa of Sage 100. It has run our company for decades and we are very happy with it. As we grow, the program can grow. There is still a lot of the program's capability that we do not use, yet, but hope to.
Pros
Integration of job bidding to job costing to accounting to payroll.....all modules talk to each other in real time. We could not have any software that did not do all these things
Cons
The weak point is the estimating module that comes with it. I don't think it has been upgraded for 20 years.....no...really. They want me to buy the upgraded estimator which I think I will do soon.
Response from

Sage

Thank you for your feedback! We appreciate your business and look forward to helping drive your continued success in construction and real estate.

Replied 03/05/2021
Industry: Construction
Company size: 2-10 Employees
Used

Daily

for

2+ years

Review Source
---
Sage 100 Software by General Contractor
We are a general contractor and we probably don't utilize all the bells and whistles available in the software that a subcontractor might use to their benefit. We were mislead on the reports available when we purchased the software and spent significant dollars getting a custom report to suit our needs. The software has been very reliable.
Pros
Integration of accounting information with project management information; Real time information/status of the job; Ease of using drop-down to source; Ability to export information to excel and third party reports.
Cons
When the vendor is shown on a report or screen and the vendor number isn't. The reports section is missing a comprehensive (in detail) project manager report that captures and compares budget, contracts, change orders, purchase orders and costs to date. Learning how to use change orders as they impacted reports was difficult.
Reasons for Choosing Sage 100 Contractor
Execudata was a single user software that became inadequate due to growth of the company. It was bought by another company who made it windows based software but that occurred after we purchased Masterbuilder .
Reasons for Switching to Sage 100 Contractor
We thought the integration of project management with job cost accounting was significant for us and it was from a reputable company (Intuit).
Industry: Information Technology & Services
Company size: 2-10 Employees
Used

Daily

for

2+ years

Review Source
---
Good accounting software
My overall experience with Sage 100 is satisfactory. It does what it's designed to do. But i just wish the database was better designed to avoid periodic crashes. Other than that, we're satisfied with the software.
Pros
Sage 100 Contractor is relatively easy to deploy and use. It didn't take long to train my clients. Furthermore, it does require much computer resource to run this program.
Cons
The upgrade from 2016 to 2018 resulted in a significant performance degradation. Even though we moved the Sage 100 server to a more robust environment, not much was changed. In fact periodically, Sage 100 would crash due to unknown entries on an order.
Industry: Construction
Company size: 2-10 Employees
Used

Daily

for

1+ year

Review Source
---
Thoughts in the Second Year
Training wasn't smooth. Our trainer was a good person but we were mislead in regards to the cost of getting started so that was a negative from the beginning.
Pros
That it worked well with Procore and gave us a more detailed accounting system.
Cons
The double entry with using Procore and Sage 100. I also don't like that it isn't very user friendly. Lots of clicks to accomplish a simple task. I will use looking at the checkbook register as an example. I should just be able to click and look at at it. It should take 5 or 6 clicks to get there.
Reasons for Choosing Sage 100 Contractor
Quickbooks wasn't able to handle everything with Procore
Reasons for Switching to Sage 100 Contractor
Sage's ability to work with Procore. However, as I said above, there is way to much double entry.
Response from

Sage

Thank you for submitting a product review. Your feedback is invaluable to the continued improvement of products and services from Sage

Replied 06/01/2021
Industry: Construction
Company size: 2-10 Employees
Used

Daily

for

1-5 months

Review Source
---
New User Review
Now that I have learned how to use the software, I am very happy with it. It allows for seamless integration of project management and project accounting. I would recommend this software to others, but with a serious explanation that the learning process is difficult and frustrating for those who don't come from an accounting background.
Pros
I love the interconnectivity of this software. It really does a great job of tying everything together and it makes pulling union reports, workers compensation reports, etc easier than the spreadsheets that I was having to keep previously. After the long and difficult process of learning how to use the software, I am now seeing all of its benefits.
Cons
Learning how to use this software was not a good experience. I would love to be able to pull up videos on the internet and have someone walk me through the different screens. We used a company with live help for Sage 100 Contractor and it was expensive and I felt that I was often waiting for our schedules to align to get a simple question answered. It made me hate the software in the beginning and it was very frustrating. I am just happy to be past that!
Response from

Sage

Thank you for your feedback! We appreciate your business and look forward to helping drive your continued success in construction and real estate.

Replied 01/06/2021