About Microsoft Teams
Microsoft Teams is a cloud-based group chat solution that helps teams collaborate on documents. Its key features include messaging, conferencing and file sharing. Microsoft Teams has replaced Skype for Business as Microsoft's online meeting solution. The solution helps users store files online, manage documents, create groups and receive notifications. It is customizable for each team and users can communicate through instant messaging, online meetings, calling and web conferencing. The collaboration tool can be used to work on files within Microsoft 365 apps such as Word, Excel, PowerPoint and Sharepoint. Additional features include open application processing interface, assistant bots, conversation search, contact search, and multi-factor authentication. Microsoft Teams integrates with third-party applications such as GitHub, Microsoft Office, Power BI, Delve, Planner, Trello and more. The application is available on a one-time subscription and support is available via phone and online help desk.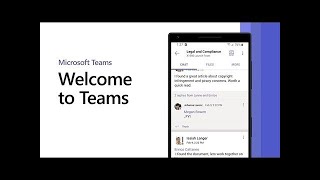 Microsoft Teams has a free version and offers a free trial. Microsoft Teams paid version starts at US$4.00/month.
Starting Price:
US$4.00/month
Alternatives to Microsoft Teams
Industry: Hospitality
Company size: 11-50 Employees
Used

Daily

for

6-12 months

Review Source
---
Team - An alternative to Zoom, Asana and Google
Overall value for money
Pros
Everything is at same place, connecting to team members, calendars and drive space linked to team makes this a useful for early stage companies.
Highly recommended for companies who are looking for single place to handle things.
Cons
Breakdown in last few months, tech glitches like status showing offline while you are offline, multiple device issues etc.
Reasons for Switching to Microsoft Teams
Cheap and all requirements are met by single software
Industry: Insurance
Company size: 51-200 Employees
Used

Daily

for

2+ years

Review Source
---
Microsoft Teams - Making Remote Work Possible
I use Microsoft Teams all day, every day to engage with my team, communicate in the remote work environment, hold video meetings to incorporate as much human interaction as possible into the virtual environment. Teams allows me to share information with my team, help them in their daily tasks, play games to lighten the workday, send praise features to celebrate their hard work, etc. Remote work would not be possible (at least on my team) without it!
Pros
I would not be able to function in my role without the consistent, daily use of Microsoft Teams. I use Teams to easily chat with my team, host online Team events, share important data, private message, host video meetings, make quick and easy phone calls, etc. I also love that there are so many add-ons that I can utilize (like the Praise feature) to engage with my team and reward productive output.
Cons
The only con that I would list would be that the emoji menu should have a recently used section. But, this is super minimal, as the selection for emojis to brighten up my team chat and engage with my team is vast!
Industry: Computer Software
Company size: 2-10 Employees
Used

Daily

for

2+ years

Review Source
---
Large organization scale app
I hate this app, we use it at my university, first use of the app is confusing, video recording doesn't last long to re watch, you can't watch videos on your preferred video player, you can't speed up video and many more bad and incomplete features on unsupported platforms
Pros
Scheduling meeting and assignments is probably the only thing taht i like about this app
Cons
Their's a lot to cover, from the video recording that last 20 days only to the horrible integrated download manager, and the notification system on android
Industry: Information Services
Company size: 1,001-5,000 Employees
Used

Daily

for

2+ years

Review Source
---
Best application for video calling and remote controlling.
Overall Microsoft teams is best application in my perspective. I loved approximately each and every feature.
Pros
The best thing about Microsoft teams as a video conferencing is the audio and video quality. This application do not consume large amount of memory and space which makes it friendly for the developers like myself.
Microsoft teams is easily understandable and easy to use software. Teams provide lots of feature which comes handy to the user such as video calling, chats, screen sharing, polls, note making etc.
The most facinating thing that I liked in teams is taking remote access to other collegues.
Cons
Microsoft teams sometimes do not update or wrongly update the status. For example, when I am in a call, sometimes it shown to other users that I am away or awailable. The file structures is very confusing and at some point there is unnecessary storage consuption.
The swtiching of the call from mobile to PC sometimes is harder.
It may happen that the message is not getting sent even if the network is strong and there is no option to try again.
Industry: Electrical/Electronic Manufacturing
Company size: 10,000+ Employees
Used

Daily

for

2+ years

Review Source
---
Very Powerful Business Tool
Overall this is a very good tool that has changed how projects are run. It is well suited to our new hybrid work situations where some are remote and others are working on-site.
Pros
I use this product daily for my day job. Each day I attend a minimum of one or two meetings on MS Teams. It is great for hosting conferences and bringing people from around the world together. It is also great for one one one or group calls. I belong to several teams that host their info on MS Teams. It is great to have such a powerful tool.
Cons
The document storage can be a little clunky but that may just be the way that we use it. Does not interface well with our conference room audio/visual equipment when trying to use it as the host for a meeting. Must host from a separate PC, unlike a close competitor's product.