About eFileCabinet
eFileCabinet is a document management solution focused on helping businesses of any size to improve their profitability and productivity by reducing paper within their operations and streamlining their work processes. eFileCabinet's premier software, Rubex, is accessible via web browser and a desktop app. Offering both cloud and on-premise platforms, eFileCabinet is document management software that provides businesses with intelligent organization and automation tools. Workflow, OCR, secure file-sharing, email importing, and eSignature requests, are all available on one platform. With document management, businesses can overhaul their traditional document processes which will help them reduce overhead, simplify compliance, and eliminate inefficient tasks involved in business operation— all with the goal of allowing those businesses to focus on the work that really matters.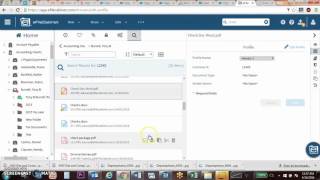 eFileCabinet does not have a free version but does offer a free trial. eFileCabinet paid version starts at US$1,200.00/year.
Starting Price:
US$1,200.00/year
Alternatives to eFileCabinet
Industry: Law Practice
Company size: 2-10 Employees
Used

Daily

for

1-5 months

Review Source
---
Better Than Others With Room for Improvement
eFileCabinet support has been quick and resolved any questions/concerns that I have. The price is higher than others but you get more features than lower-priced programs.
Pros
The ability to customize sharing so much; granting access without individual having to have separate account for program; preview pane; branding ability; multiple viewing panes at once; audit trail easily accessible; folder templates; e-signature in program
Cons
Invitation email 24 hour timeout; inability to select multiple files that aren't listed consecutively; drop down for filing is visually a little difficult to differentiate between; works better in certain internet browsers; Gmail will not allow as third-party app because level of security not high enough (for pulling in emails)
Response from

eFileCabinet

It's great to learn more about how eFileCabinet is helpful for your business, thank you so much for taking the time to leave us with this review and your feedback!

Replied 10/09/2020
Industry: Financial Services
Company size: 2-10 Employees
Used

Daily

for

2+ years

Review Source
---
eFileCabinet
Fantastic. Simple. Not afraid to use it as it is not overwhelming and almost no learning curve.
Pros
A platform that provides an intuitive, simple and common filing system that mimics what one would utilize if using paper. There is very little set-up and also provides the ability to accommodate/configure each company's needs. The accessible customer service is based in USA and everyone has been extremely helpful without hold times. They will train you more than once, if needed, as it is a very simple means of going paperless. They are not trying to reinvent the wheel in filing but are continuously upgrading and improving its capabilities.
Cons
The only thing for me, since my application is cloud based and not desktop, is integration with other vendors. On the other hand, i am not sure if I would ever need to integrate with my other vendors.
Response from

eFileCabinet

It's awesome to learn more about you use eFileCabinet and that you love the customer service and support. We're grateful for you as a customer and we really appreciate your time to leave this review!

Replied 10/09/2020
Industry: Telecommunications
Company size: 10,000+ Employees
Used

Daily

for

1+ year

Review Source
---
dFileCabinet user review
Pros
The application is quite simple to explore and operate. Our industry necessitates massive volumes of documentation, stringent compliance requirements, and excellent management skills. Having e-FileCabinet makes it easier to maintain track of documents and discard hard copies of outdated documents from previous projects. Another feature of the application is that it allows anybody to have unrestricted access to the necessary papers. Logging into our account and finding what we need is a breeze. Another feature that I like is the option to specify which drawers are included in each directory when it is built. This makes it much easier for us to arrange our operations.
Cons
What I dislike the most about the service is that a few times, the PDF file format did not upload correctly and would not download when retrieved at a later time. However, we haven't encountered any problems with the application other than this one.
Industry: Accounting
Company size: 2-10 Employees
Used

Daily

for

1+ year

Review Source
---
Please contact me to explain if your software will improve
Our investment into eFileCabinetOnline has not produced what we had expected and what we had discussed when the product was pitched to us. The functionality lags way far behind our predecessor ShareFile. The linking between EFCO and SecureDrawer is great except there are so many limitations and issues with the new version of SecureDrawer that many of our professionals and many of our clients at times dread using your product (which affects our business). The fact that versioning still gets displayed in England time in EFCO is a joke. When we called it was said this will hopefully be worked on but not likely in the old Out of Browser EFCO. I understand upgrading to the newest versions because we did that immediately with SecureDrawer due to the catastrophic issues with your products and Silverlight which cost our firm a lot of money trying to use the product and dealing with our client's issues accessing files. Anyways, we switched over to the new SecureDrawer and permissions all changed for our administrative staff, there are fewer options to be able to customize who has access to what, and we can't even use the filter search to find drawers unless we have already scrolled down to that area of the alphabet both on the left and middle panes of the product. When I called support, I was told it was "on the list" but likely wouldn't be addressed soon because of all the issues with the rollout of the new version (this was in mid-June 2016 and there's still no improved functionality....) Other items you may want to consider when I compare you to ShareFile. Your notifications no longer provide much detail that is helpful. It would be helpful to know what folder of a drawer a file was uploaded to or downloaded from. Another area ShareFile has a leg up on you is that you could send an email to a guest user along with a link to the specific folder in their drawer that you would like them to upload files to (it helps greatly with administration). Their batch uploads were much more efficient and worked more often than yours do. On the eFileCabinet side, I will investigate the newer version along with sidekick to hopefully see that resolution to issues in the old version was addressed but based on our experience with your products that's unlikely. I apologize for the tone of this experience, but I have lost numerous hours and our firm has lost money related to dealing with issues related to your software. I would greatly appreciate a call from anyone from EFCO.
Pros
You can link SecureDrawer to eFileCabinet. And you can access from virtually anywhere
Cons
Our investment into eFileCabinetOnline has not produced what we had expected and what we had discussed when the product was pitched to us. The functionality lags way far behind our predecessor ShareFile. Versioning doesn't work in eFileCabinet. Filtering doesn't work in SecureDrawer, you cannot download multiple files or sometimes upload multiple files at once without issues or errors. Permissions in SecureDrawer do not have many options. Notifications are in general not helpful. SecureDrawer itself is not as good as Citrix's ShareFile for example wherein ShareFile you can direct a guest user to a specific folder with a direct link. When they click the link they can log in and find themselves in the exact folder or subfolder in which to upload. You also could have different permissions for different subfolders instead of only being able to change permissions at the drawer level. Overall the cons definitely outweigh any pros we have experienced.
Industry: Higher Education
Company size: 11-50 Employees
Used

Monthly

for

6-12 months

Review Source
---
Alfresco Enterprise Alternative
We needed a modern, robust, cloud-based document management system for long term digital archiving. Overall eFileCabinet has served our needs very well.
Pros
The conversion team saved us from an aging system that we needed to abandon. The Cloud Server being the same cost as an on premises server was a great incentive for choosing eFileCabinet. The Cabinet -> Folder structure is easy to understand and navigate. The ability to share large files with users outside of our organization easily has also been a boon.
Cons
Search is powerful, but due to the Alfresco Enterprise system we imported from relying on metadata tags for search, very particular steps are needed to use the search in eFileCabinet's Rubex properly. It's confusing for our core users sometimes. I'm not sure if I would feel differently about Rubex's search functions had we started our digital archive in Rubex, but as it is this is a function that is mildly frustrating.