About kvCORE
Ranked #1 by over 250K Agents - kvCORE is a complete real estate platform that empowers brokerages, teams, and agents to scale and grow faster than than their competition: MORE Agents & Teams Choose Brokerages with kvCORE. Here's why: 1) Dedicated IDX websites for all offices, teams, and agents - equipped behavioral intelligence, automation, and chat. 2) Smart CRM bubbles up top priorities for agents in one single dashboard. 3) Mobile app enables agents to wake up to warm leads right on their phone everyday. 4) Marketing automation system empowers agents with mass email + text, video messaging, power dialer, pond accounts, and more. 5) Social sharing tools seamlessly drive exposure of listings. 6) Business analytics suite creates tight transaction integration and automation for quick and easy payouts. If you are looking to take your real estate business to the next level, then schedule your demo of kvCORE and get pricing information.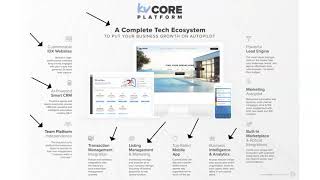 kvCORE does not have a free version.
Industry: Real Estate
Company size: 2–10 Employees
Used

Daily

for

1+ year

Review Source
---
KvCore
My overall experience with KvCore has been nothing but exceptional from the support team to success managers. I've been using KvCore since it rolled out and have generated 1,000's of leads utilizing tools provided by the platform. The platform has literally put my business on autopilot so that when leads are generated their continuously being worked while I am out running daily operations. If you looking for a system that can do it all. Look no further than KvCore!
Pros
Usability, Friendly, Sleek appearance, Tools, Customer Relationship Manager, Website, & Customizability.
Cons
There are no cons to this platform. Of course they have had growing pains but nothing you detrimental to your daily business and most issues are fixed in a timely manner.
Industry: Real Estate
Company size: 201–500 Employees
Used

Daily

for

1+ year

Review Source
---
Great CRM overall one stop shop for all your daily to do's
Having KvCORE definitely facilitates my business and keeps me organized- just not satisfied with the lack of support for agents.
Pros
All the integrations, the automation and the ease of lead window. Easy to use and customize
Cons
the software its self has been great- customer service is another story. very unhappy with the timeline and lack of communication with in the company for any help with this software.
Industry: Real Estate
Company size: 10,000+ Employees
Used

Daily

for

2+ years

Review Source
---
kvCORE used to be a Rocketship, now it's a broken down Go-Cart
Here are some of the many problems… 1.) It does not show all of the available MLS listings in my area. This is extremely disappointing when you want your Buyers to go to your website to search for properties.2.) Market Reports provide inaccurate information. They provide statistical data that is just WRONG. As Realtors®, we have a legal obligation to provide our clients with accurate information. This is untenable!3.) Now they also seem to be "throttling" the number of emails that you can send out. I have templated emails for things like recommended home inspection companies, mortgage brokers, lawyers, etc. since not every single person needs all of these referrals, they are each in separate emails. I've tested this on several contacts and I was not able to send out all 3 emails on the same day to a single client. So now the email tool doesn't work.Summary: MLS Search Alerts don't show all available homes in my area; Market Reports provide data that is not correct; and the email tool won't send the emails to my clients that I want to send.Very disappointed! Very very very disappointed. I will probably be switching to something else very soon if these items don't get fixed. This review was created February 21, 2023
Pros
This software is included for me free by my brokerage. That's a plus.
Cons
This software is NOT RELIABLE. I have spent as much time over the last 2 years engaging customer support to fix problems as I have using the product.
Industry: Real Estate
Company size: 2–10 Employees
Used

Daily

for

2+ years

Review Source
---
Best Real Estate CRM
I love it. Best CRM I have used and they continue to add more features. Customer support is very responsive as well.
Pros
I like the homepage where I can see all of my customers viewing properties. It is very easy to see which ones they are interested in and go directly to that listing info.
Cons
I wish I could select 2 Bedrooms instead of 2+. I recently had a buyer who only wanted to see 2 Bedrooms and was not interested in the 3 and 4 that kept popping up because I was only able to select 2+.
Alternatives Considered
Chime
Reasons for Switching to kvCORE
Familiarity.
Industry: Real Estate
Company size: 11–50 Employees
Used

Daily

for

6-12 months

Review Source
---
KV core review including core back office management
Overall a very good experience and 100 times better than the system I was using before
Pros
Clear integration with SkySlope and QuickBooks
Cons
Not all data from SkySlope is yet programmed to core back office. Example the W9's that are uploaded into SkySlope that will eventually need 1099s filed do not have a bucket to upload to into the back office… This Has to be a manual process for us