About QAD Digital Supply Chain Planning
Since 1985, QAD Digital Supply Chain Planning (DSCP) helps businesses optimize their supply chains providing an integrated and collaborative planning solution that includes Sales & Operations Planning (S&OP), Demand Planning, Supply Planning, Manufacturing Planning, Inventory Optimization, Financial Planning, and Integrated Business Planning (IBP) - powered by Advanced Analytics and AI Machine Learning. QAD DSCP enables organizations - in industries such as consumer products, food and beverage, life sciences, industrial, distribution and wholesale, and automotive - to improve value outcomes by building Adaptive Supply Chains. Demand Planning Forecast from a single version of the truth available in any dimension, for making the most timely and effective supply chain and market decisions. Capitalize on real-time scenario analysis, driven by an in-memory data engine, to up sales revenue, minimize expedite and inventory costs, and improve customer service. Enjoy state-of-the-art data visualization, the efficiency of machine learning, and the synergies afforded by our Single Click Collaborative ® platform for a consensus demand plan combining statistical forecasts with functional perspectives and events from Sales, Marketing and Finance. Inventory Optimization Maintain the right inventory in the right places at the right time, and be able to focus on your most critical projects, with our integrated inventory and network optimization solution. Gain real time visibility into global inventory flows, and optimize these through dynamic simulations. Powerful optimization algorithms calculate real-time forecast service levels, inventory levels, resource use rate, distribution flows, and optimal sourcing allocation, while collaboration and real-time synchronization between all players in the extended supply chain enable a truly comprehensive overview. Supply Planning Take advantage of best-in-class supply plans & processes across the supply chain by calculating optimal order and delivery schedules based on forecast and evolving requirements, inventory policies, logistics & supplier constraints. Relevant replenishment models - reorder-point quantity, days of supply, and forecast driven - deploy to determine needs, while look-ahead logic maximizes active & future transportation resources. Costs & orders can be pegged at all levels of demand & supply throughout the planning model, and simulated scenarios can drive both tactical planning and Sales & Operations Planning / Integrated Business Planning (IBP). Production Planning Minimize unforeseen downtime and delayed deliveries and manage urgent demand signals through end-to-end supply chain visibility and collaboration with all stakeholders. Intuitive planning workbenches provide material flow visibility and synchronize materials flow and resources utilization across multistage, multi-site production environments respecting all required constraints. Calculate available to promise, capable to promise, and order to promise in real-time, while supporting shelf-life constraints & the flow of materials by lot, as well as nearly all supply chain segmentation strategies. Sales & Operations Planning S&OP reconciles cross-functional plans, problems, risks, & objectives to provide visibility, stability & alignment with corporate goals, and alignment with c-suite strategic plans. Scorecards & dashboards give finance & other stakeholders a quick look at business performance across the enterprise. Task management functionality generates a set of repeatable & auditable tasks for each S&OP planning cycle. Scenario planning lets management assess risk, expense, & cash flow ramifications of all realistic decisions. Stakeholder collaboration & a single data model are also differentiators.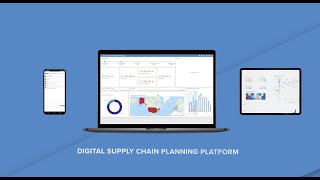 QAD Digital Supply Chain Planning pricing
QAD Digital Supply Chain Planning does not have a free version but does offer a free trial.
Alternatives to QAD Digital Supply Chain Planning
QAD Digital Supply Chain Planning Reviews
Industry: Automotive
Company size: 5,001–10,000 Employees
Used

Daily

for

6-12 months

Review Source
---
Implemented DynaSys in 2018
Forecasters (sales team) like it. Easier than prior system, saving them time.
Pros
DynaSys is working well as a replacement for our forecasting software. We have also implemented production planning functionality and we are refining that now. Our operations require the DRP module to take full advantage. We will implement that as phase 2 soon.
Cons
We should have included DRP in our initial implementation. It is needed with our distribution network structure.
Also, some of the windows align strangely within my 2 monitor setup.
Industry: Consumer Goods
Company size: Self Employed
Used

Daily

for

1-5 months

Review Source
---
QAD is complex and multi-layered
I am a new user and it was quite intuitive to get the information I need. However, it does a lot of functions. It would e helpful if there was an inquiry only feature.
Pros
There are browsers that enable a user to get many levels of information on searches. It is very unusual to have that sort of power with a system that isn't separate from the main system.
Cons
It has too many features but the ones it has are very useful.