About honeybeeBase
honeybeeBase is a cloud-based team management solution for small size businesses that allows them to track attendance, schedule tasks, clock employees in and out, communicate shifts and more. honeybeeBase allows employees to clock in and out from any browser on desktops, tablets and mobile devices. Its rule-based accessibility restricts unauthorized access and blocks users access from certain prohibited locations. The real-time alert feature sends notifications to managers when their teammates start or end their shifts. Alerts can be delivered via text messages, email or web notifications. In addition, employees can also fill in their time off and vacation requests and send them for management approval. The built-in file sharing and collaboration features allow teammates to share project-related documents within and across groups. The honeybeeBase solution is available on a monthly or annual subscription basis that includes support via phone and email.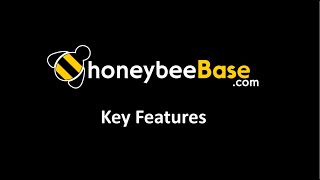 honeybeeBase has a free version and offers a free trial. honeybeeBase paid version starts at US$6.00/month.
Starting Price:
US$6.00/month
Alternatives to honeybeeBase
Industry: Staffing & Recruiting
Company size: 201–500 Employees
Used

Daily

for

1+ year

Review Source
---
Pivot
good
Pros
It is very affordable and the customer support is very responsive.
Cons
A time clock option would be a good thing to have installed
Reasons for Switching to honeybeeBase
Yes
Industry: Automotive
Company size: 1,001–5,000 Employees
Used

Daily

for

1-5 months

Review Source
---
Overall, Great!
Currently rolling out to the entire team, but it has made the vacation request & tracking extremely efficient as well as the time clock feature giving direct responsibility back to the employees.
Pros
Ease of adding employees, constantly adding updates and great customer support.
Cons
You can tell this tool is oriented towards smaller groups. For example, doing mass updates is not possible with vacation allowances or locations access. I had to manually modify the location for 67 employees 1 by 1.
When mass updating it would be a god send to be able to input hire date and employee number instead of one by one later.
While the knowledge section is a great starter, there is much left that's needed, specifically for managers , supervisors, and the account owners. There are several aspects that are missing from the tool, for example the absent function. When searching for it in the knowledge base, no results returned. How is it intended to be used?What can it be used for?
Is there a way to set specific holidays? I'm not sure at this point still. I'd hate to have to add it for 130 agents, or even add 6 different accruement policies.
Industry: Education Management
Company size: 11–50 Employees
Used

Weekly

for

1-5 months

Review Source
---
Great Dev Side - Maybe Some UI improvements
Solid. Easy for my managers to communicate, easy for clocking in and out, the application itself is quick. 9/10 just a bit too dated on the HTML/CSS/ JS side.
Pros
Well, it works. Buttons go where you need them to. Clocking in and out is the main point and it's easy to do. I've never had any api call or server errors. Everything seems up to speed.
Cons
It's a bit of an eyesore. I like the idea of a top nav with icons, but I'm not always sure which one to click on. I don't think you should have to think about a nav bar. Also, there's a lot of extra stuff on my home dashboard that I just don't need. I just need the clock in/out / break section, and the number of hours ive worked that week. The notifications on the left usually aren't that useful to me, but I can see why they're there. Beyond that, I rarely scroll to the bottom. Also the icons throughout look extremely outdated. Maybe it's the combination with the color palette? Maybe white icons? I get the honeybee idea, but I'm not sure all of the icons need to be black or with such heavy line weights.
Industry: Insurance
Company size: 11–50 Employees
Used

Daily

for

6-12 months

Review Source
---
Honeybee Review
I feel that this has eased a burden on my employer for helping track time. I know that it is frustrating and time consuming on the bosses when an employees forgets to clock in.
Pros
Accessibility, ease of using the phone app. We have a lot of agents in the field, and that travel for work after hours. This program helps track their work time and helps alleviate our Workers Compensation concerns when they are not in the office. I am sure that most companies do not think about from that perspective.
Cons
The bugs in the software, when it freezes, or throws an error, which I understand sometimes is operator error.
Industry: Automotive
Company size: 1,001–5,000 Employees
Used

Daily

for

1+ year

Review Source
---
Great Tracking!
We have been able to drastically reduce out absenteeism and tardiness, the employees are held accountable for their actions and can see it in one dashboard. Prior to this we did not have a time clock, and had tons of late employees as well as tardy employees. the point system for absences was a great way for the employees to realize the amount of call offs they made
Pros
The ease of seeing all reporting employees in one location
Cons
I had some issues when attempting to export the reports for payroll records